Watch portal montre24.com has been added by an exclusive video clip from the annual exhibition BaselWorld 2012 – by video clip of the company Eterna. In the pavilion of Eterna, which was a building in several floors, was widely presented all production range by Eterna in small glass boxes.
The watchmaker Eterna, founded in the middle of the XIX century, today is a Swiss manufacturer of watches with quartz movement as well as mechanical watches and chronographs with automatic winding, produced units of which is constantly growing. At the BaselWorld 2012 the company Eterna introduced its novelties, which the company's CEO Patrick Curie kindly agreed to show the team of montre24.com.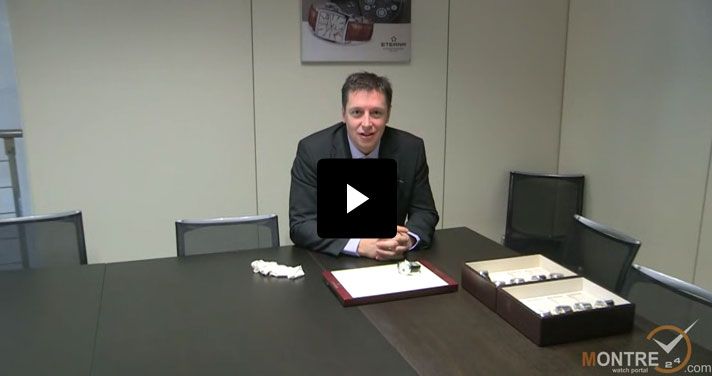 Eterna watches presentation at BaselWorld 2012
At the beginning of the video clip is presented a brief history of this Swiss brand, which is one of the first who took the path of industrial production of watch movements. Also was provided information about the main developments of the company Eterna, as well as its focus and specialization. The first presented model, which, according to Patrick Curie one of the main novelties of this year, has become a classic line Adventic. The models of Adventic are equipped with manufactory automatic caliber with 3 - day power reserve. Due to characteristics of the internal mechanism the modes from Adventic series are characterized by high accuracy and reliability. In principle, these watches can easily be classified as mass product and no different from many other brands. However, their main advantage is their history and quite reasonable prices. Next was presented the new line of mechanical watches Tangaroa, which were also represented in the democratic pricing policy for mechanical watches, in addition, for Swiss watches. The series includes both traditional three hands models and chronographs. Chronographs from Tangaroa series are equipped with complete date function: day, week and month. This series is dedicated to the famous expedition by the scientific - research vessel «Tangaroa» 2006, which took an active part in the project of the global Census of Marine Life in Antarctica. This is not the first series of Eterna, dedicated to expeditions: the company has a line of KonTiki, also dedicated to the expedition of the same name in 1947. If you decide to buy Eterna watch, this video clip provides prices of all presented models. To get acquainted in more detail with the novelties of Eterna at BaselWorld 2012 is possible clicking by following link - http://montre24.com/video/132/. In my opinion, if one is looking for a Swiss watch and in addition a mechanical at an affordable price, so Eterna watches can be quite reasonable choice.
Official site of Eterna watches.
Written by Freya
27.04.2012