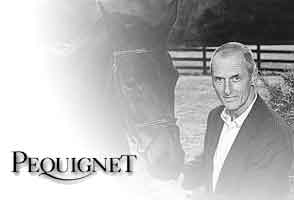 PEQUIGNET watch company was founded in Morto (it is located between the cities of Besancon (France) and La Chaux-de-Fonds (Switzerland). At the age of 16 Emil Pequignet, a watchmaker, started to work in the watchmaking industry. While working in the watch companies, he was eager to create his own watch brand. In 1973, Emil Pequignet established PEQUIGNET watch company.
All the wrist watches by PEQUIGNET are made in Switzerland and marked by the 'Swiss Made' inscription. The inscription, engraved on the dial and on the box, means, that this watch was made in Switzerland. PEQUIGNET wrist watches combine the best Swiss technology and the best French design.
The PEQUIGNET factory is outfitted with the latest high-tech equipment. PEQUIGNET watches are produced from the high-quality antiallergenic stainless steel. The watches are equipped with the reliable movements and steel bracelets (4 links of the bracelet are finished by hand). The watch assembly is done by the most skilled watchmakers.
PEQUIGNET wrist watches have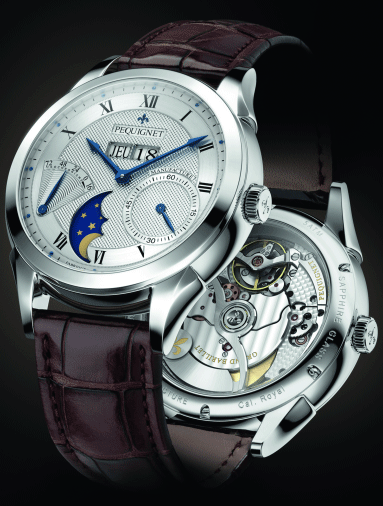 modern and independent design. However, the ancient tradition of watchmaking is noticable in the finishing of watch elements, movements and cases. Thanks to this facts, PEQUIGNET company has gained the general acceptance and enjoys wide popularity nowadays. PEQUIGNET company has managed to develop Asian, European, American and African markets.
In the beginning of the 90s, PEQUIGNET watch brand began to combine stainless steel and diamonds in the watch production.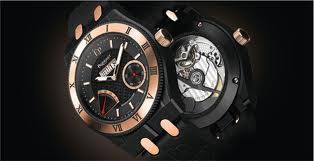 PEQUIGNET company was twice awarded the great prizes – «Cadran d'Or» (Golden Dial) in France. The first "Golden Dial" the company won for Cameleone watch in 1994, and the second – for Moorea watch, that had been issued in honour of the company's 25th anniversary in 1998.
The major PEQUIGNET watch collections are «Calibre Royal», «Moorea» and «Les Interchangeables».
While creating the Moorea collection, PEQUIGNET company used the modern technique. Every model was assembled by the most skilled Swiss watchmakers. This collection includes the wrist watches of different sizes, shapes, types and styles. The wrist watches from this collection are equipped with the wide bezel with roman numerals, the crown, protected on each side, the nubs for bracelet fastening and the unique braided bracelet. This bracelet has become the hallmark of PEQUIGNET brand. PEQUIGNET watches combine the high quality, unique design and the world-wide reputation.