| | |
| --- | --- |
| The Pequignet watch is recognized the best in Japan | |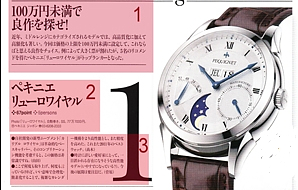 In the category of "watches costing up to 7000 Euros," as the best model of the ended year in Japan was recognized the French Pequignet Rue Royale according to one of the most respected local publications - Chronos. The choice, of course, is influenced by the installed in the watch manufactory unique mechanism Calibre Royal, which combines the excellent performance and an affordable price.

This caliber was developed during of three years. The first instances of a unique mechanism have been demonstrated at the Basel exhibition in 2009, and in 2010 the mass production of the movement is established. It has six main features, which became the key to gaining popularity in practical Japanese market.

First of all, it's a winding shaft design with a special form of latch, which allows adjustment of the additional complicated functions by means of the crown, which rotates in both directions. At the period of self-winding the manual winding shaft is disconnected from the barrel, thus preventing the mechanism from damage.
The second advantage of this mechanism is the increased winding barrel that provides a 100-hour power reserve. Thus during the first 88 hours in a vertical position the spring retains the exclusive isochronous.
A third advantage of this mechanism is a system of balance-spiral, where the Breguet hair is placed in its own carriage with patented shock-resistance.
Fourth - a sector of the self-winding is made of tungsten carbide and available in ball-bearing platform. Winding is connected to the watch movement with a single transmission - no springs, which allows the caliber to continue working even in case of disconnection or damage of the sector.
The greatest pride of the founders of the caliber Royale is a combination of the three date and day discs at the "12 o'clock", which corrects by a simple rotation of the crown.
And the sixth feature is the power reserve indicator, which is located at the "8 o'clock" position and is controlled by a one differential component, thereby reducing wear and tear of a watch movement.

The recognition of Pequignet Rue Royale as the best watch for Japan is a great advertisement for the company Pequignet. We recall that in addition to this the watch company has twice been awarded the "Gold Dial," which is like a confirmation of the fact that the watch Pequignet is good not only inside but also outside.
13.01.2012
Royale Titane by Pequignet
The new watch, designed by the watch brand Pequignet, is called Royale Titane. It is made in a classic style.
26.09.13 Comments(0)

Classic Timepieces by Pequignet - Rue Royale
The new models Rue Royale (from the Rue Royale collection) by the French watch brand Pequignet is made in classic style. The novelties have round cases in diameter of 42 mm, made of stainless steel 316L. The watch water-resistant - 50 meters.
14.06.13 Comments(0)

New men's watch Rue Royale by Pequignet
The watch house Pequignet has introduced a new wristwatch Rue Royale for men who prefer an elegance and distinctive style. The classic round case of the novelty is made of 5N18 red gold and polished.
08.12.11 Comments(0)

Rue Royale, Watch of the Year in Belgium!
After having received the Watch of the year prize in the Netherlands this June, Pequignet Manufacture's Rue Royale has now been voted Men's Watch of the Year by the renowned Passion des Montres magazine, supplement to Belgium's Le Soir, with a circulation of 240 000, which dedicated the highly sought-after front page to it.
10.11.11 Comments(0)

Watch Company Pequignet at the fourth Salon Precieux
This year the watch brand Pequignet Manufacture took part in the prestigious Paris exhibition, entitled Salon Precieux. This event is certainly an important milestone in the history of the watch brand Pequignet. The professionals of watch and jewelery industry were presented the watch collection Calibre Royal Collection.
04.10.11 Comments(0)



PEQUIGNET watch company was founded in Morto (it is located between the cities of Besancon (France) and La Chaux-de-Fonds (Switzerland). At the age of 16 Emil Pequignet, a watchmaker, started to work in the watchmaking industry. While working in the watch companies, he was eager to create his own watch brand. In 1973, Emil Pequignet established PEQUIGNET watch company. All the wrist watches by PEQUIGNET are made in Switzerland and marked by the 'Swiss Made' inscription. The inscription, engraved on the dial and on the box, means, that this watch was made in Switzerland. PEQUIGNET wrist watches combine the best Swiss technology and the best French design. The PEQUIGNET factory is outfitted with the latest high-tech equipment. PEQUIGNET watches are produced from the high-quality antiallerge...
Detailed information Pequignet