| | |
| --- | --- |
| Watch Company Pequignet at the fourth Salon Precieux | |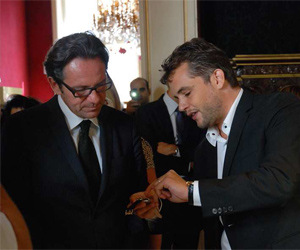 This year the watch brand Pequignet Manufacture took part in the prestigious Paris exhibition, entitled Salon Precieux. This event is certainly an important milestone in the history of the watch brand Pequignet. The professionals of watch and jewelery industry were presented the watch collection Calibre Royal Collection.
The wristwatch Pequignet Manufacture was appreciated by French State Secretary Frederic Lefebvre, who showed it personally by the managing director of the company Julien Leybundgut Mill (right photo). Secretary of State liked the watch very much. It is quite possible in the future we will see the watch of Pequignet Manufacture on his wrist.
Salon Precieux held in September 5-6 in the building Salons France Ameriques, located in the heart of Paris. Sponsors of the event were Frederic Lefebvre and Senator Catherine Dumas.
04.10.2011
Royale Titane by Pequignet
The new watch, designed by the watch brand Pequignet, is called Royale Titane. It is made in a classic style.
26.09.13 Comments(0)

Classic Timepieces by Pequignet - Rue Royale
The new models Rue Royale (from the Rue Royale collection) by the French watch brand Pequignet is made in classic style. The novelties have round cases in diameter of 42 mm, made of stainless steel 316L. The watch water-resistant - 50 meters.
14.06.13 Comments(0)

The Pequignet watch is recognized the best in Japan
In the category of "watches costing up to 7000 Euros," as the best model of the ended year in Japan was recognized the French Pequignet Rue Royale according to one of the most respected local publications - Chronos.
13.01.12 Comments(0)

New men's watch Rue Royale by Pequignet
The watch house Pequignet has introduced a new wristwatch Rue Royale for men who prefer an elegance and distinctive style. The classic round case of the novelty is made of 5N18 red gold and polished.
08.12.11 Comments(0)

Rue Royale, Watch of the Year in Belgium!
After having received the Watch of the year prize in the Netherlands this June, Pequignet Manufacture's Rue Royale has now been voted Men's Watch of the Year by the renowned Passion des Montres magazine, supplement to Belgium's Le Soir, with a circulation of 240 000, which dedicated the highly sought-after front page to it.
10.11.11 Comments(0)



PEQUIGNET watch company was founded in Morto (it is located between the cities of Besancon (France) and La Chaux-de-Fonds (Switzerland). At the age of 16 Emil Pequignet, a watchmaker, started to work in the watchmaking industry. While working in the watch companies, he was eager to create his own watch brand. In 1973, Emil Pequignet established PEQUIGNET watch company. All the wrist watches by PEQUIGNET are made in Switzerland and marked by the 'Swiss Made' inscription. The inscription, engraved on the dial and on the box, means, that this watch was made in Switzerland. PEQUIGNET wrist watches combine the best Swiss technology and the best French design. The PEQUIGNET factory is outfitted with the latest high-tech equipment. PEQUIGNET watches are produced from the high-quality antiallerge...
Detailed information Pequignet