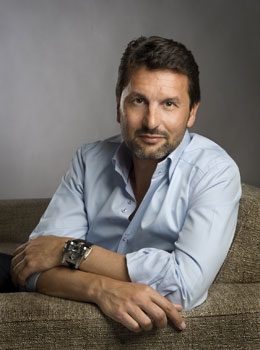 According to Maximilian Büsser, the founder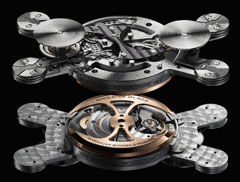 of Maximilian & Friends (MB & F) company, the MB & F company is creating machines which tell the time, but not the machines, made to tell the time. These are the Horological Machines, that reflect the microtechnological possibilities while displaying the time. By the creation of these masterpieces Maximilian Büsser & Friends watch company shows such a drastic approach to watchmking, that at first sight it is difficult to detect a wrist watch in these robotic mechanisms.
Maximilian Büsser & Friends is not just the watch brand. It is a unique laboratory that is engaged in developing of modern cutting-edge Horological Machines. In company's works of mechanical arts Maximilian Büsser demonstrates a complete renunciation of traditional ideas of watchmaking.
In 2005, Maximilian Büsser founded the world's first company developing a complex concept-watches. In 2006, Maximilian Büsser & Friends company presented its first wrist watch – the Horological Machine No. 1. These watches are conceptually and technically different from all present watches that have ever been developed. Unusual architecture of the Horological Machine No. 1 (HM1) represented in 3D style plays the primary role in ensuring the functionality of the watch movement, and in creating a great watch design. The watch consists of 48 elements. The case of HM1 is complex and refined. There are two separate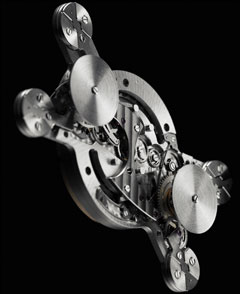 dials on the watch, that show minutes and hours, respectively. There is a minute tourbillon in the center of the dial. The tourbillon carriage is driven by two wheels located on the both sides of the carriage. Thanks to this solution the torque is reduced and the life time of the watch movement is prolonged. Four parallel barrels with the mainsprings allow to reduce the torque of each mainspring. As a result, the tear and wear is reduced and the life time of the wrist watch is also prolonged, all while maintaining an incredible seven days power reserve.
The HM1 wrist watch was followed by HM2 (2006) and HM3 (2007). In 2010, at the annual Baselworld the MB & F company presented its new product — the HM4 wrist watch. This Horological Machine reminds of a mysterious spaceship. The engine consists of 311 elements, each of them has been specially developed for these superwatches. The HM4 case is made of titanium and sapphire. The transparent panels on the dial allow you to appraise the movement by eye. Due to parallel mainspring barrels numbering two, the wrist watch has 72-hour power reserve. The mainspring barrels transfer energy to the indicators, made in the form of turbines. An ocular of the left turbine shows the power reserve and an ocular of the right one shows the time. The ponderous architecture of the HM4 watch has a technical purpose, every line and curve is in poetic harmony. This wrist watch is aimed at the future world of technical accomplishments and endless innovations.
The Swiss company produces very limited editions of the Horological Machines. Maximilian Büsser & Friends Swiss watch company releases approximately 200 – 220 wrist watches per year.