45 hours of continuous work on deterioration. The day turned out to be a heavy one and forces have almost gone. Initially to sit right was relatively easy, now the fatigue fell upon, the back helplessly bent, the head hung. Mr. Up turned into Mr. Down. But before Mr. Down quite lose heart, life-giving breath of energy gives him new strength, back straightened, his head raised. Mr. Up came back to life!
Welcome to the world of Legacy Machine No.1 Xia Hang. Welcome to the world Mr. Up and Mr. Down, a collaborative effort between MB & F and a Chinese master Xia Khan.
Like the original model LM1, the Legacy Machine No.1 Xia Hang watch remained true to the traditions of pocket watches of the 19th century. It also features a smoothly oscillating balance wheel hanging from the majestic arches and two indicators of time zones whose testimony can be set independently of each other. However, the new model has its own peculiarity: power reserve indicator serves as a miniature man of polished aluminum, designed by the talented Chinese sculptor Xia Khan.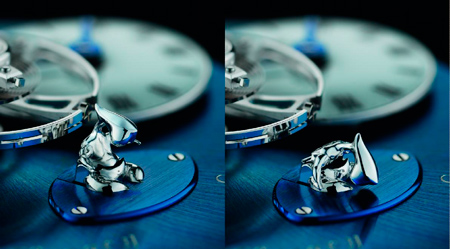 When the mechanism is fully wound, the man (Mr. Up) sits right, and as the depletion of the winding, he leans forward (Mr. Down).
"I call them men- commas, their unusual shape is taken from the collection of works created by me from 2005 to 2008. Commas exist in Chinese writing. For me, a man - comma – this is a chubby boy "- says Xia Han.
Xia Khan and company MB & F have a lot in common. MB & F creates serious works of kinetic art that shows the time, but it does not consider itself a major company. Similarly, Xia Khan is confident that the art world is often too serious. He wants art to be playful, and his sculptures entertained and made people smile. In addition, just like MB & F, he calls his kinetic sculptures as machines.
"I was introduced to Xia Khan a few years ago a friend of mine from China, an art collector. We visited Xia in his studio on the outskirts of Beijing. I felt like a little boy in a toy factory!" - Maximilian Busser says.
The manufacturing mechanism, driving the model LM1 Xia Hang, indicates an inexhaustible talent of its creators. Together with his team from Chronode Jean-François Mojon developed caliber LM1, which is equipped with the world`s first vertical power reserve indicator and allows the testimony on both dials (including minutes) independently. Another renowned independent watchmaker Kari Votilaynen created the design, adherence to tradition and unmatched finish.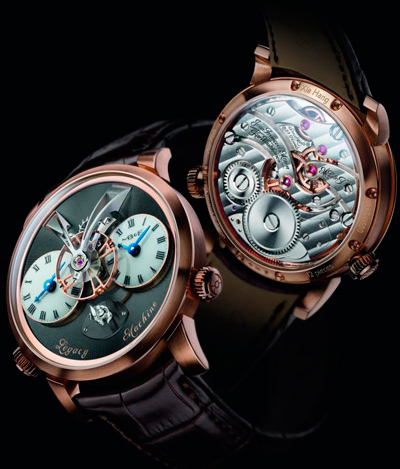 "Historical machine number 1" was the fruit of fantasy Maximilian Büsser: "Whatever would happen, if I was born in 1867 and not in 1967? The first wristwatch appeared in the early of 20th century. I would want to create three-dimensional machines for the wrist, but for inspiration there would not be "Star Wars" and fighter jets. But there would be pocket watches, the Eiffel Tower and the novels of Jules Verne. Since, how would my car look like in 1911? It was supposed to be round and three-dimensional. The Legacy Machine ¹ 1 would be the answer to my question.
The model Legacy Machine No.1 Xia Hang is released in pink or white gold in limited editions to 12 copies. Each model comes with a pair of steel sculptures: a large-scale version of Mr. Up and Mr. Down with the Xia Khan signature.
Legacy Machine No 1 Xia Hang - Details
Inspiration and realization: Maximilian Busser has long had a passion for pocket watches of 18th and 19th centuries. Virtually all of today`s existing complex watch functions were not only invented in that era, but also developed using only pencil and paper (without advanced computer programs ), and precision parts made using relatively primitive ( by today`s standards) machines on muscular and artfully drawn handled, collected and regulated in accordance with the strictest quality criteria that we seek today. Their impressive compared to modern wristwatch size allows using laconic in its architecture with elegantly carved mechanisms bridges and boards.
Although the futuristic watch machine MB & F are rooted in the best traditions of watchmaking, Mr. Busser decided to pay tribute to watchmaking history, imagining the watch model that he created would be born 100 years earlier - in 1867, not 1967. With its large, smoothly oscillating balance, domed dials, historical bridge design and classic finish, LM1 is ultramodern and, simultaneously, traditionally elegant imagination of Maximilian Büsser.
Movement: An artful dimensional mechanism of the model LM1 has been specially developed for MB & F of Maximilian Büsser sketches by Jean -François Mojon and his team of Chronode in the Swiss city of Le Locle. The balance wheel and spring are located in the heart of any mechanical watch mechanism and are responsible for the accuracy of the adjustment time. Large, gently swaying (with frequency 18 000 today instead of the usual 28,800 vibrations / hour) balance wheel vintage pocket watch long attracted Maximilian Büsser. It`s no wonder that it is the starting point for the flight of his rich imagination. What is surprising how radically he reinterpreted tradition: From its normal position at the balance wheel, mechanism moved not just to the top of the mechanism, and soared over the mechanism ... and even on the dials!
Although the location of the regulatory mechanism of the "Historical machine number 1" can be considered avant-garde, about following tradition indicates large balance wheel with a diameter of 14 mm with the adjusting screws, drawn up by special request of the MB & F, the balance spring with Breguet spiral and mobile support.
Another feature of the mechanism LM1 is the ability to set two time zones independently. The vast majority of mechanisms with time display of two time zones allow you to install separate readings of hours, rarely time can be adjusted up to an hour. "Historical machine number 1" allows setting the hours and minutes on both dials to any desired mark.
The vertical power reserve indicator of the model LM1 Xia Hang actuated ultra- transmission system with ceramic ball bearings allow for a more subtle design and at the same time, high strength and wear resistance of the mechanism.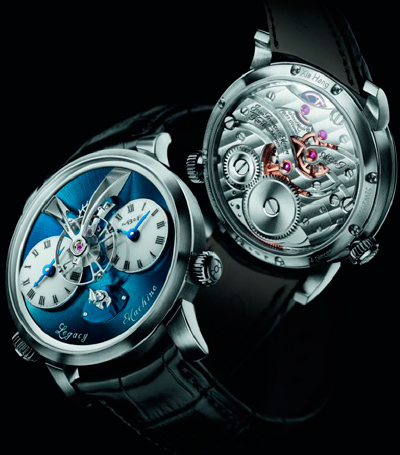 Power reserve indicator: the device of a power reserve indicator in the model LM1 was transformed so that man, designed by Xia Khan, could of lowered state when the power reserve is weak, easily lifted and straighten the back, when the spring is fully armed. Xia Han initially created full-scale sculpture, and then the company MB & F has reduced them to 4 mm and has developed the necessary joints. Thanks to a special countersunk hinge head, shoulders, back and chest man to bend until it is horizontal, turning from Mr. Up to Mr. Down. Micromechanical tiny sculpture is made of aluminum, which reduces the need for energy. Figurines skillfully polished surface shimmers beautifully, pulling eyes of the observer.
Dial and display: display of time on both dials controlled by a single regulator (balance and trigger), so after installation they remain synchronized with each other. The hours and minutes of both dials can be set to any desired mark by the corresponding winding crown.
In addition to floating in space balance, the three-dimensional picture complemented by two white dial with bright blue gold hands that seem to hover above the mechanism. Dials are covered by the transparent glossy lacquer, applied using a special technique laque tendue, the essence of which consists in applying several layers of hot lacquer, so they are stretched over the surface of the dials.
To achieve the aesthetic purity and perfection of the dials with traditional Roman numerals is used the skilful mount, removing the need for visually protruding screws. Subtle golden framing of both dials serves to illustrate their elegant classical essence.
Artful decoration and historical heritage: The purpose of the renowned watchmaker Kari Votilaynen was the compliance historical style and finish of the mechanism" Historical machine number 1". It is a very difficult task, considering that the start was to design with unconventional "suspended" balance.
Sunrays pattern, elaborately engraved on the mechanism (on the dial side), at certain angles attracts the attention of the observer, but without disturbing admire two white dials, floating balance or vertical power reserve indicator. Stay true to tradition Kari Votilaynen especially succeeded in design and decoration boards and bridges, opening the view through a special display on the reverse side of the mechanism. Evidence of that - elegantly curved bridges and traditionally large distance between them, as well as bridges between the perimeter and the case.
On the reverse side of the mechanism super-large ruby stones enshrined in polished gold bezel, contrast with the Cotes de Genève pattern, applied over the entire surface of gracefully curved bridges. Recalling large stones used in rich mechanisms of the vintage pocket watches, ruby bearings, meanwhile, are of great practical importance, since increase the durability of the mechanism, serving as support large diameter gears and holding more lubricating oil.
Sculptures Mr. Up and Mr. Down: To all the 24 models of LM1 Xia Hang (12 in pink gold and 12 copies in white gold) is attached a couple of full-size (approximately 15 cm in height) sculptures of Mr. Up and Mr. Down in polished steel, signed by the artist.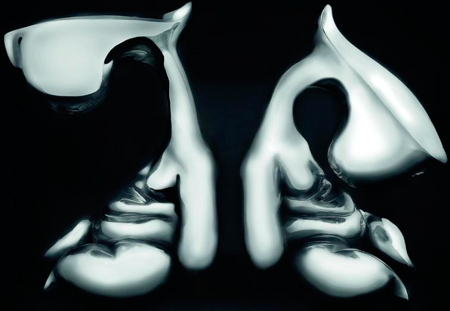 "Legacy Machine No.1 Xia Hang" - this is the first (and hopefully not the last), a joint project between the master, whose works are presented in MB & F MAD Gallery (Xia Han), and by MB & F (model LM1). Thanks to the Geneva M.A.D. Gallery, bringing together the work of these amazing craftsmen , we have opened numerous opportunities for collaboration and the creation of new works based on existing machines of MB & F", - says Maximilian Busser.
Xia Khan - Biography
Xia Khan was born in 1978 in Shenyang (Liaoning Province, China). He started painting at the age of 10 years, and in 1997, he entered the College of Arts. In 2002, Xia Han received his BA from the Chinese Academy of Fine Arts. Lu Xun.
His graduate work was the composition of the group in comma-shaped men, made of stainless steel with a mirror finish. These men served as the prototype figures, which now adorns the power reserve indicator of the model Legacy Machine No.1. Xia Han also received a Master of Arts degree at the Faculty of Sculpture at the Central Academy of Fine Arts in China.
From the outset, the sculptor Xia Han had a special passion for steel. "I am always interested in metals. Probably shine and durability draws me. Metal is much stronger than stone or wood, but it is quite ductile. I think metal changeable behavior is similar to the nature of man. So I decided to work with this material".
Xia Han believes that his sculptures to be taken as a toy. He wants people to be able to touch his work, to play with them. In support of this philosophy, an exhibition of works of Xia Khan in 2008 was called "Please, do not touch", where the particle "not" was crossed out. Many see the sculptures Xia Khan aliens, though Xia believes that his men are kids. Chubby kids.
"When I first met Max, he was in the HM3 watch, and I just fell in love with their playful sculptural form. Thanks to Max, I realized that the watch can also be extraordinary. I admire the zeal with which Max finds passion and creative people that share common views and Geneva MB & F MAD Gallery - one of my favorite galleries in the world. I hope that one day I will be able to collect watches by Max, because micromechanical creations of MB & F have no equal. I am happy to be working with MB & F, their hourly machine inspire me "- says Xia Hang.
Legacy Machine No 1 Xia Hang - Specifications
The model Legacy Machine No.1 Xia Hang is released in two limited editions to 12 copies of each: in rose gold and platinum with ruthenium- plated and white gold with platinum blue.
Each model LM1 Xia Hang attached with a pair of steel sculptures: a large-scale version of Mr. Up and Mr. Down with the Xia Khan signature.
Movement:
Dimensional clockwork designed exclusively for MB & F by Jean -Francois Mojon / Chronode, with impeccable finish work of Kari Votilaynen
Manual winding, one barrel
Power reserve indicator: a miniature man, developed by the Chinese master Xia Khan
Power reserve: 45 hours
Balance wheel: made by special order 14 -mm balance wheel with four traditional adjusting screws floating above mechanism and dials
Balance spring: traditional Breguet spiral on a movable support
Frequency oscillations of the balance: 18,000 vibrations / hour (2.5 Hz)
Number of parts: 274
Number of jewels: 23
Bezel: gold chatons with polished sockets
Finish: excellent hand-finishing with time style of the 19th century, the interior angles with polished edges manually; Cote de Genève; hand engraving
Functions:
Hours and minutes, two independent displays of two time zones and a unique vertical power reserve indicator in the form of a miniature man of polished aluminum
The left crown at the 8 o`clock position to set the left dial and crown at the 4 o`clock position to set the right dial and winding the watch
Case:
Versions are available in pink or white gold 750-carat
Dimensions: width - 44 mm, thickness - 16 mm
Number of cases: 65
Sapphire crystal:
The front cover of the domed sapphire crystal with double-sided anti-glare treatment, back with sapphire crystal with double-sided anti-glare treatment
Strap and clasp:
Hand-stitched black or brown alligator strap with a gold buckle - pin to adjust the size
"Friends" who participated in the project Legacy Machine No 1 Xia Hang
Concept: Maximilian Busser - MB & F
Design: Eric Giroud - Eric Giroud Design Studio
Copyright power reserve indicator: Xia Han
Technical and production management: Serge Kriknoff - MB & F
Development Mechanism: Jean-François Mojon - Chronode
Mechanism design and decoration: Kari Votilaynen
Scientific research and experimental development: Guillaume Thevenin - MB & F
Wheels: Jean-Marc Nawal - Rouages SA
Equity Bridge: Benjamin Signud - AMECAP
Balance wheel: Yann le Martret - μdec
Power reserve indicator: Sebastian Keller and Alexander Gillet - Mutech
Plates and bridges: Rodrigue Bom - Damatec
Hand engraving mechanism Eddie Jacquet and Sylvan Betteks - Glypto
Manual processing of movement parts: Jacques -Adrien Rochat - CL Rochat
Assembly mechanism: Didier Dumas, George Weiss, Bertrand Sagoran - Querol, Ann Giter Emmanuel Maitre - MB & F
Housing: Bertrand Jaunay and Dominique Meunier - G & F Chatelain
Clasp: Erbas S.A.
Dials: François Bernhard and Denis Parel - Natéber
Hands: Pierre Shile, Isabel and Felix Shile Seletta - Fiedler
Glass: Martin Stettler - Stettler
Strap: Olivier Pyurno - Camille Fournet
Case: Olivier Berton - ATS Développement
Production logistics: David Lamy - MB & F
Providing information and advertising: Charris Yadigaroglu, Virginie Meilan, Eleanor Picciotto - MB & F
M.A.D.Gallery: Herve Estienn - MB & F
Sales Management: Louis Andre and Patricia Dyuvillar - MB & F
Graphic Design: Damien Seydou - MB & F
Photographing products: Maarten van der Ende
Portraits: Régis Golay - Federal
Website development: Stephen Bale , William Schmitz, Victor Rodriguez - Sumo Interactive
Lyrics: Ian Skellern and Steven Rogers - underthedial
MB & F - Genesis concept lab
In 2007, MB & F created her first "watch machine" with three-dimensional sculptural case and movement with an extraordinary finish. Thus began a series of "Sentinels machines" that shows the time, but not specifically designed to serve as a tool to display the time. In 2011, MB & F introduced the world to a collection of "Historical machines" equipped with a round case. These more classical models (by the standards of classical MB & F) pay tribute to watchmaking traditions of the 19th century and represent a modern interpretation of complex watch movements born in the hands of the greatest watchmakers. Each year MB & F alternates new issue affecting the imagination "Time Machine" with the release of the last inspired "historic machines".
Official site of Maximilian Busser & Friends.
Press release
04.03.2014