Rebellious individualism is an incredibly powerful creative force. It is a force that has been responsible for some of – if not all – the greatest art in history. Art often thrives under adversity, so perhaps it should come as no surprise that during WW2, artists found their canvases in unusual places – such as on the nose cones of aircraft.
That led to a thriving aesthetic genre called 'nose art', which often expressed rebellious individualism coupled with a light-hearted jab at the establishment – that's a winning combination at MB&F!
HM4 Razzle Dazzle and Double Trouble take their inspiration from, and pay homage to, these airborne masterpieces. And, as they provocatively fly by, the cheeky pin-ups also take a playful poke at the establishment.
Maximilian Büsser explains: "When I was making model airplanes as a boy, they were mainly WW2 aircraft. HM4 Thunderbolt is an aviation-inspired Machine with its roots in those model plane kits, so it was only natural to start imagining what might HM4 have looked like in that era. Hand painted nose art, real rivets, vintage-look dials, authentic military leather strap and the metamorphosis of the Thunderbolt is complete."
Although the military never officially sanctioned nose art, it unofficially approved it as a morale-booster in the harsh environments because allowing a little individual expression went a long way towards increasing pride and spirit. The portrayal of women in nose art can be best characterised as free-spirited and daring and in general, the further away from headquarters, the racier the compositions.
To create the vivacious artwork of Razzle Dazzle and Double Trouble, the titanium fuselage of HM4 Thunderbolt has been carefully machined out for the design so that the paint and its protective layers of lacquer finish flush with the surface, so minimising the risk of damage.
To set the scene and provide further authenticity, real titanium rivets have been hand applied to the Thunderbolt's titanium fuselage. The dual dials glow and sparkle with a warm vintage patina created using a special blend of paint mixed with cream-coloured Super-LumiNova and very fine copper particles. The period look is further enhanced by the distinctive strap, which has been crafted from leather obtained from genuine antique Swiss military bags.
Razzle Dazzle and Double Trouble's authentic vintage accoutrements adorn a thoroughly modern, state-of-the-art Horological Machine featuring a 311-component, in-house movement developed specifically and exclusively for the Thunderbolt. To transform an opaque solid block of sapphire crystal into the sophisticated transparent curves of the central case section requires over 185 hours of machining and polishing – over four weeks' work for that one piece!
Razzle Dazzle and Double Trouble are ebullient limited editions of eight pieces each. And as each mildly subversive illustration is individually hand painted, each is unique.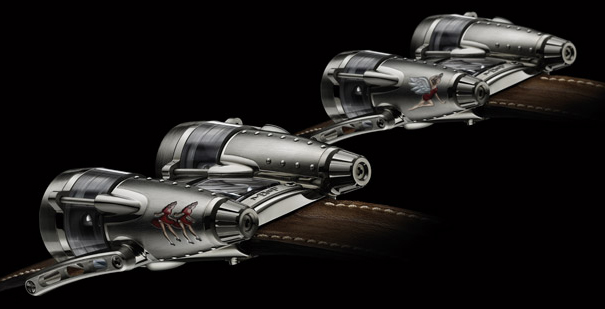 HM4 Thunderbolt Razzle Dazzle & Double Trouble
Inspiration and Realisation: A long childhood passion for assembling model aircraft had Maximilian Büsser's walls, cupboards and ceiling covered in small aircraft of every description. Planes were what he saw last thing at night and planes were what he saw first thing each morning.
Many boys sketch supercars and fast planes, but few have the drive and determination to make their dreams come true. Büsser created MB&F to do just that. The HM4 Thunderbolt is born of the child's fantasy and the man's tenacity.
Nose art: With her colourfully playful hand-painted renditions of Razzle Dazzle and Double Trouble on Horological Machine No.4, award-winning miniature painter Isabelle Villa has perfectly captured the style and spirit of WW2 nose art. The case is first machined out to create a 'canvas' and after the painting is dry it is coated with protective layers of transparent lacquer so that the nose art finishes flush with the case.
Rivets: To complete the transformation of Horological Machine No. 4 into a nose art adorned miniature WW2 aircraft, real titanium rivets have been hand applied to HM4's titanium aerodynamic body. The rivets add an extra tactile dimension to the case; increase visual allure by playfully reflecting light; as well as adding to the historical bona fides of Razzle Dazzle and Double Trouble.
Dials: The dual dials of Razzle Dazzle and Double Trouble – one for the time, the other the power reserve – reflect an accurate patina of age due to the very special hue created by a carefully blended mixture of paint and microscopic flakes of copper, against which the vintage-look, cream-coloured Super-LumiNova numbers and indices are easily read.
Strap: The leather for the straps on Razzle Dazzle and Double Trouble has been sourced from genuine vintage Swiss military issue bags, further enhancing the period spirit of the timepieces. Contrasting white hand-stitching sets off the natural colour of the leather and provides a visual bridge to the custom titanium/white gold folding buckle.
Engine: HM4's engine was entirely designed and developed by MB&F over three years of intensive work with Laurent Besse and Beranger Reynard of Les Artisans Horlogers. Each of the 311 components were developed specifically for the Thunderbolt, no off-the-shelf mechanisms or parts were used at all due to the extreme nature of its architecture.
Two mainspring barrels connected in parallel provide 72 hours of energy, and they transfer their power to the dual jet-turbine-like indication pods (one displaying the hours and minutes, the other the power reserve) via vertical gear trains.
Visible through a shaped sapphire display panel on the top of the case, a distinctive streamlined cock supports the balance, its centre is cut away to reveal as much of the oscillating wheel as possible and validating the "kinetic" in MB&F's "kinetic art".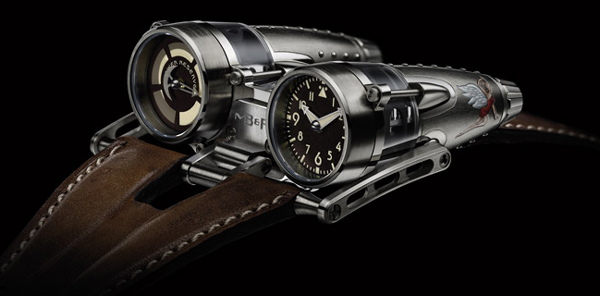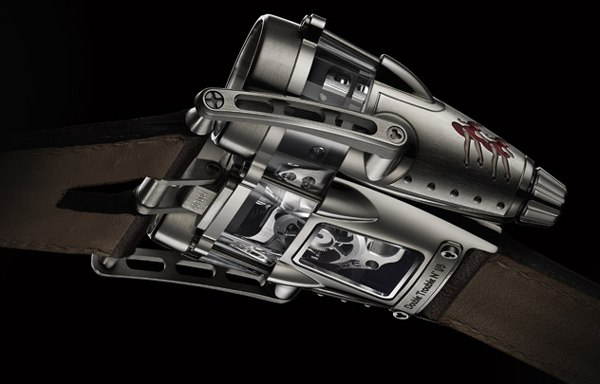 A work of art rewards when viewed from different angles and the Thunderbolt is no exception. Turning the machine over reveals a veritable panorama of meticulously finished micro-engineering through the sapphire sections. In a playful trompe d'œil, what at first glance appears to be a micro-rotor in the form of MB&F's iconic battle-axe is actually a bridge.

Indications: For a timepiece not developed specifically to tell the time, HM4 performs that role superbly. In fact, with its highly legible dials perpendicular to the wearer's wrist, Horological Machine No4 might be described as the perfect pilot's watch.

On the left pod, the power reserve is clearly indicated by a skeletonised hand echoing MB&F's battle-axe motif. On the right, hours and minutes are displayed by bold, arrow-tipped Super-LumiNova filled hands. Each of the two aviation instrument-styled vintage-look dials is directly controlled by its own crown- one to wind and re-fuel the tanks, the other to set the time – providing instantaneous feedback of the action performed.

Case: Inspired by aviation, more specifically the model aircraft kits of Maximilian Büsser's childhood, the case of HM4 imparts speed, power, technology and refinement in equal measure. Visually, the case is composed of three parts: two streamlined jet-turbine-styled pods supported by a horizontal section housing the engine, which is clearly visible through transparent sapphire display panels and the central section of the case itself.

Technically there are also three main sections, but these comprise a fore section in titanium, which includes the dials and articulated front lugs; a central section in sapphire offering unprecedented 360° access to the superbly finished engine; and an aft section tapering down to the dual crowns and framing the animated balance, which is supported by an aerodynamic cock. Methods borrowed from aeronautic engineering are visible in the externally mounted screws, which provide both rigidity and watch resistance to hold the case's three sections solidly and elegantly together.

Beginning with a solid piece of sapphire, more than 185 hours of intricate machining and meticulous polishing are required to turn an opaque block of crystal into the clear, light-filled atrium of the central case section, which reveals part of the Thunderbolt's engine and engineering details. The metal case sections are milled from solid blocks of high-tech Grade 5 titanium, which undergoes hundreds of hours of machining before polishing, masking and finally satin-finishing of the surfaces. The results speak for themselves.

The contrasts of matte with highly polished surfaces, titanium with sapphire, straight lines with seductive curves and rigid forms with articulated arms endows Horological Machine No4 with a life and vibrancy that sets it apart from anything that has ever gone before.

HM4 Thunderbolt is the quintessential machine as three-dimensional kinetic art.

Horological Machine No4 Thunderbolt – Technical Specifications
Razzle Dazzle & Double Trouble are each limited editions of 8 pieces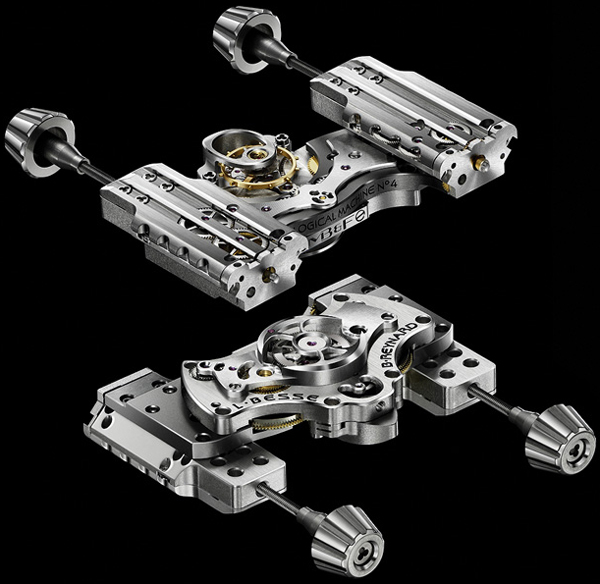 Engine:

Three-dimensional horological engine developed 100% by MB&F
Manual winding with two mainspring barrels in parallel
Power reserve: 72 hours
Balance frequency: 21,600bph/3Hz
Number of components: 311
Number of jewels: 50


Functions:

Hours, minutes and power reserve indicator
Hours and minutes on right dial, power reserve indicator on left dial
Separate crowns for time setting and winding


Case:

Grade 5 titanium and sapphire
Dimensions: 54mm wide x 52mm long x 24mm high
Number of components: 65
Articulation of lugs: 3°
Nose art hand painted on case side.


Sapphire crystals:

Five sapphire crystals: 2 x dials, 1 x central case section, 2 x display panels (top and bottom)


Strap & Buckle:

Authentic vintage leather strap crafted from Swiss military bags with contrasting white hand stitching. Titanium/white gold custom designed deployment buckle attached to articulated lugs

24.11.2011