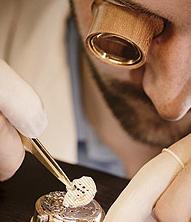 It is amazing but in the whole Switzerland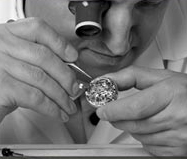 the definition of manufacture can be just Jaeger-LeCoultre, and Saxon town Glashutte became the house of two manufactures. They refer to the most original and advanced manufactures in watch industry. There are Glashutte Original manufacture among them. During quartz crisis in Switzerland they lost many original developments, and Glashutte Original almost did not come to harm, as it is situated on the territory of ex-GDR and in social countries there was high demand on mechanical watches.
"Because of that demand-says general director Franc Muller-we kept our now-how. And though movements, which produced GUB, famous watch manufacture from Glashutte, were simple, its watchmakers did not lost their skills for development new and elegant movements".
It all began in 1845, when Ferdinand A. Lange and Gustav B. Gutkaes organized first workshop in Glashutte. Soon another explorers joined them, and in several decennaries Glashutte became one of world center of watchmaking.
But years of prosperity finished when crashed First World War and economic crisis in 20-s. In 1921 "German manufacture of accurate watches Glashutte" registered brand Glashutte Original to protect itself from fakes from Swartzwald and Switzerland. After Second World War socialistic control nationalized all the rest watches companies and join them to one at the end of 40-s. From this moment rich Glashutte watch history intermited for long years. They finish to make it in 30-s, then they were supplanted by military commissions. But it should be noted two important achievements of new company, so called manufacture.
In 60-s-70-s appeared new quartz watches and mechanical watch industry almost finish its existence, and in France it disappeared completely. That time the manufacture continued to develop and collect cheap but mechanical watches. Because of lack of currency all watch details were made there and did not import from West. And manufacture kept knowledge and experience, which were the power of ex-manufactures of Glashutte.
When the founder of Glashutte Original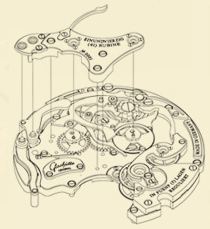 Heinz Pfifer, dreaming to create a center of elite watchmaking, bought ex-GUB, he got this invaluable experience. At the beginning of 90-sGlashutte Original provided new Glashutte manufactures with watchmakers and even licensed the brand of pre-war companies to new firms. Thus, with the help of Glashutte Original the town became the center of real watchmaking, and its manufactures were full of eventual life. Pfifer immediately decided the audience: he turn to them who were interested in watch movements. That is why from the moment of foundation of Glashutte Original focused on watch movements. For the first 13 years of its activity the company produced more than ten own calibers, and two watch models with brand movement won prestigious awards-this is watch Senator with Perpetual Calendar in 2000 and watch PanoRetroGraph in 2001.
One of the stron sides of Glashutte Original is development and making with own power a watch movement or caliber. But it would be impossible without rich experience, modern technology and group of talented and enthusiastic engineers. Thank to all this the manufacture always strives to high quality and functionality, always improves its watches and strengthen the reputation .

Glashutte Original created and presented many original developments to world. Here just some of them: module panorama date, mechanical chronograph with straight and reverse counters, intelligent self-winding movement which adjusts itself to the rhythm of its owner, or, for example, machines with digital indicator weeks and with a reset function to zero, without interference in the descent. But Glashutte Original doesn't limit itself only with technical side. Company watches won many awards for design. As a result there is complicated watch with rich internal content.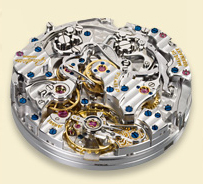 Widely known the statement of sociologist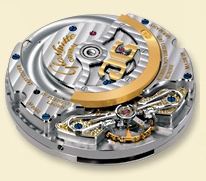 Paul Watzlawick : "A man can not without self-expression". That means whether you wear watch or not, whether you wear a perfect watch or not, anyway you self-express. Some person doesn't need watch, the time you can see on the screen of computer or mobile phone. But there are plenty of good reasons why we love and want to wear sturdy watch. For example, traditions, rich mechanic history, the beauty of design. All this let to self-express, your inner world, let know others, like you want to be perceived. Fine watches are the manifestation of character. Eventually, perfect watch becomes friends and partner. Watch, inherited from a father, a watch that you put on your wedding day, or expensive watch purchased at first earned money - they all serve as a constant reminder that in life there are such wonderful moments. And finally, we can not admit that men, unlike women, the choice of jewelry is very small.

Glashutte Original has survived hard times and marked the beginning of the revival of luxury watchmaking industry in Germany. Today, the German luxury watch brand of the marked «Glashutte I / SA» again recognized throughout the world.