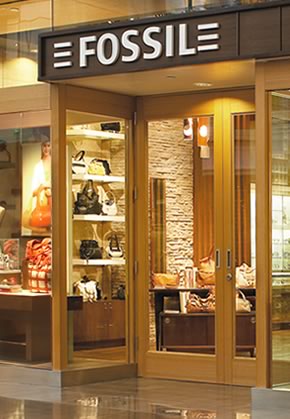 An American company Fossil began to work in 1984. That days the special attention was paid to functionality and not to design. American company Fossil has always been a leader in the manufacture of high fashion watches. But this does not mean that the watch of Fossil brand is worse than other watch brands, instead they exceed.
The founders of the brand were the brothers Tom and Kosta Kartsotisty. Their goal was to create fashion watches. And they succeeded. The fashion watch is created by designer team which has 80 people. They monitor every stage of production, from development of new image to manufacturing the packaging of watches.
In the development of the company an important stage were the conclusions of an agreement to manufacture and sell watches and jewelry such famous brands as The Walt Disney Company, DKNY, Diesel, Emporio Armani, Philippe Starck. American watch company Fossil produced products for the well-known retail chains, fashion houses.
In 2001 the company completed the acquisition of three companies, which are located in Switzerland. These acquisitions have brought new possibilities for the production and sale of watches to the brand. The company has worldwide rights Fossil trademark Zodiac, and in 2002 acquired a license for the brand Burberry.
Style of the brand dates back to the explanation of 50 - s. The mood of joy, humor, fashion and novelty are reflected throughout the company's products of Fossil.
American watches Fossil - a product range which is designed for audiences of all ages. For example, for young people are popular digital watches with liquid crystal display and animation capabilities, or watch Fossil Big Tic, in which the seconds hand replaced with digital display. These original watches were issued by Liquid Crystal dial and special unique technology, which is owned by only Fossil company.
There is no doubt attract the attention of Fossil watches for men. In this series there are two separate movements: mechanical, responsible for running seconds and the quartz, which is in hours and minutes. Women's Fossil watch - it's bright and different models. The collection of Fossil Charm watch company's designers developed a model on a steel bracelet with beautiful pendants. There is a broad collection of exclusive leather belt, as well as traditional. American watch company Fossil has a unique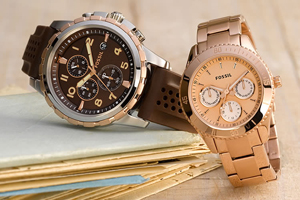 design and are in great demand. Fossil offers watches for every taste. For example, Fossil F2 - this is elegant women's watch with original bracelet, slightly elongated case, which is decorated by zircon. There are models that are decorated with Swarovski crystals, and a collection of Fossil Charm bracelets for each model are attached pendants in the shape of hearts, ballerinas, buttons.
There are also riginal design men's watches Fossil Twist with two independent movements. Quartz is responsible for the hours and minutes, and mechanical - for showing the seconds. Through a transparent window on the dial you can see the second part of the movement. It should be noted that all the watches made by Fossil from high quality materials are practical and reliable.
The success of this company is that it produces a fashionable, and at the same time, high-quality watches. Designed by straps, and in general all the details of watches created in its headquarters, and for making bracelets, and shells and used only high quality materials. That is why Fossil watches were and remain relevant and in demand.