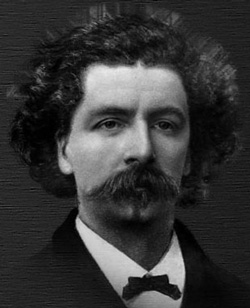 EDOX watch company was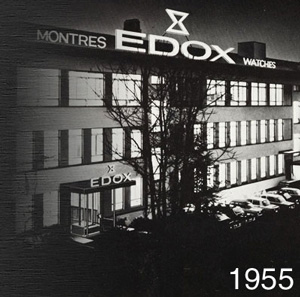 founded in 1884 by Christian Ruefli-Flury, the talented craftsmen, who came from a family of watchmakers. The business had a stable foundation – that is a great love for the art of watchmaking, a large experience in this sphere and a huge number of horological secrets, passing from father to son.
As we know, none of the great inventions can be completed without a woman's influence. Christian Ruefli-Flury's wife, Eva-Maris, induced him to launch such a business. A pocket watch, a gift for her husband, had won the heart of this woman.
The company's name is not accidental, "Edox" comes from the ancient Greek and means "hour".
The watch brand became very famous in 1960s, after the release of Delfin watch collection. This watch, due to its double case back and sturdy protective gaskets, has acquired a reputation as the model with the highest water resistance.
In 1970s, the multi-purpose Geoscope watch created a furore in the watch market. The watch covered several time zones simultaneously, so it became very popular among the travelers. But it was the thinnest Les Bemonts Ultra Slim model with a perpetual calendar, that brought to Edox the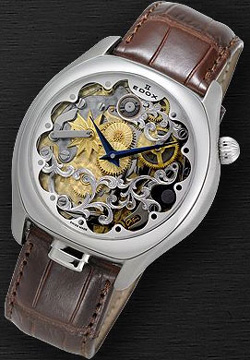 world-wide glory. The movement was just 1.4 mm thick. Such a movement is considered a real work of art. In 1999, according to the results of the public opinion poll, posted in Orologi, one of the most popular Italian magazines, Les Bemonts Ultra Slim watch was awarded the prestigious "Watch of the Year" prize. The world's record by Edox is unbeaten till the present day. Les Bemonts collection has also won several prizes at the most prestigious international watch exhibitions.
Les Bemonts watches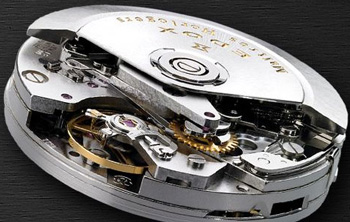 are powered by the ultra-slim movements, just 1.6 mm thick. The watches from this collection are mainly preferred by businessmen: the elegant and plain watch design does suit their style.
All Edox watches are equipped with the Swiss movements and assembled in Switzerland. The main Edox supplier is the Swiss ETA factory.
Edox company is the official timekeeper of different sports competitions. In 1966, Edox company became the official timekeeper of Vuelta bicycle race. In 2007, Edox became the exclusive timekeeper of Class-1 races. This collaboration resulted in Class-1 collection, that consists of chronometers with high water and shock resistance. Class-1 models are distinguished by their unique design. The straps are optionally made of rubber or titanium. The watches from this collection are very reliable due to their sapphire crystals and screw-down crowns. In addition to the reliability, Edox watches have a beautiful style.
In 2009, Edox signed a contract with the World Rally Championship for the next three and a half years. Edox watches will provide precision timing and results solution.