Jumping into a freezing, ice-covered lake and then plunging 75 metres under the ice into the pitch black - all the while holding your breath, only a 5mm neoprene wetsuit to help block out the mind-numbing cold.
However free diving champion Christian Redl is neither mad, nor reckless - and his attempt next month to break his own world record for free diving under the ice, dubbed Mission X-Deep, will be the culmination of many, many months of meticulous preparation.
When 38-year-old Redl, nicknamed The Iceman, enters the frigid waters of Austria's Lake Weissensee on February 15 he faces a test of human endurance that requires ice-cool concentration, superb physical conditioning and - thanks to boutique Swiss watchmaker Edox - an ultra-reliable dive watch.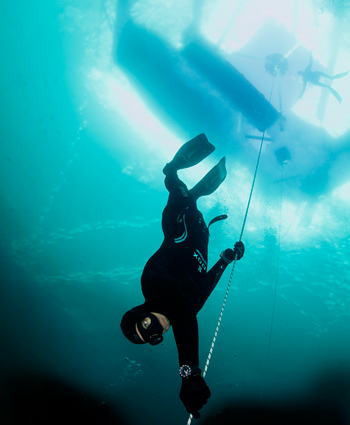 free diving champion Christian Redl in Edox Iceman III watch
Edox is official timing partner for Austrian-born Redl, who will be wearing a Edox Iceman III timepiece on the dive.
The Iceman III is the ideal companion for Redl's extreme dive exploits and a successor to the Edox Iceman I he wore in 2011 when he set his world under-ice free diving record (61 metres), also at Lake Weissensee.
The Iceman III is perfectly suited to Redl's Mission X-Deep; water-resistant to 1000m, the case is forged from super-tough 316L stainless steel with black PVD coating and the 45mm watch features a striking black carbon fibre dial with ceramic unidirectional diver's bezel.
A Swiss quartz chronograph movement ensures super-accurate timekeeping, essential for Redl's dangerous task.
Redl will use a powered water "scooter" to plunge down a guide rope into the lake's icy void and return to the surface via the same method. With the super cold and pressure squashing his lungs to the size of a fist, the Austrian will require the utmost concentration - and precision readings from the Iceman III - to keep focused mentally on the task at hand.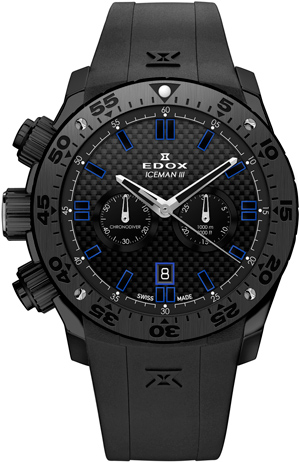 Edox Iceman III (Ref. 10306-37NR-GIR)
But ever since 1996 when Redl, then aged 20, saw the cult film The Big Blue and took up the extreme sport of free diving this is the type of challenge he has relished - and conquered. Redl is now considered one of the foremost free-diving specialists of his generation.
For the Les Genevez-based Edox, which celebrates its 130th anniversary this year, Christian Redl's exploits in pushing the boundaries of human endurance are an ideal fit.
Edox, too, relishes pushing the limits of watchmaking to produce ultra-accurate, reliable and technically advanced timepieces. Edox is also the official timekeeper for the Extreme Sailing Series and the world's toughest motorsport event, the Dakar Rally. Last year Edox signed an agreement to become the official timekeeper of the World Curling Federation.
Official site of Edox.
Press release
04.02.2014