| | |
| --- | --- |
| News of Montre24.com: exclusive video of Edox at BaselWorld 2012 | |
Information watch portal montre24.com presents to all lovers of fine watch making and lovers of original watches an exclusive video clip of the famous watch company Edox, which kindly opened the door of its pavilion at BaselWorld 2012. BaselWorld exhibition is a kind of special place with special atmosphere, which annually collects a huge number of visitors on the vast territory who want to see the huge number of presented watch and jewelry brands. Every watch and jewelry company try to present here, as BaselWorld provides all participants an excellent opportunity to present all its luxury watches and jewelry creations in the most favorable light and to the largest number of visitors: general public of amateurs, professionals, distributors, partners and potential customers. BaselWorld is no ordinary exhibition, but exhibition - fair, because visitors can purchase liked jewelry or watches directly from the highest-ranking corporate executives. Here, all the attention involuntarily focuses exclusively on luxury and simple, complex and extraordinary, single and massive creatures of watch and jewelry business. BaselWorld - is a vivid and memorable event, in which each strives to distinguish their the brand and attract an increasing number of visitors to their pavilion: some brands' pavilions are different by beautifully decoration, some - by the huge size in several floors, decoration of some pavilions have become their watch or jewelry creations.
The pavilion of Edox at BaselWorld 2012 was a huge building in several floors, which apparently was the result of the enormous popularity of Edox products. In glass boxes were conveniently placed Edox watches, designed to be a reliable and robust attribute in any undertakings.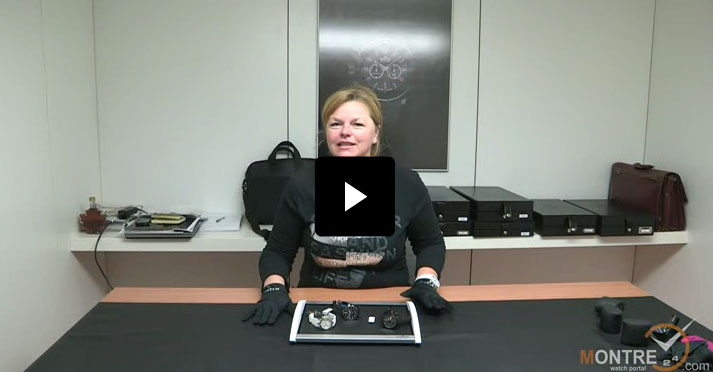 At the annual exhibition BaselWorld 2012 the company Edox introduced its nice watch creations. PR - manager of the company Edox Laurence Wiedmer has kindly agreed to present new models by Edox at BaselWorld 2012. The company introduced three new items, which included both men's watches Edox, and women's watches Edox. The first presented model was women's watch Grand Ocean Chrono Lady, which case has diameter of 46 mm. New ladies watch Grand Ocean Chrono Lady is equipped with quartz movement with chronograph function. An interesting feature of this new item has become the case back, which is decorated with engraved map of the world. The next presented was men's watch Grand Ocean Chrono Diver. Due to the black dial, black rubber strap, case with diameter of 49 mm and black PVD coating new men's watch Grand Ocean Chrono Diver is a rather brutal attribute. This watch is equipped with a quartz movement with chronograph function. The case back of the new model Grand Ocean Chrono Diver is also decorated with engraved map of the world. The final new product by the company Edox at the BaselWorld 2012 Edox has become men's watch Double Chronograph Automatic, equipped with an automatic mechanism Valjoix 7750. New men's watch Double Chronograph Automatic is executed entirely in black: black dial is made of carbon fiber, case is covered with black PVD coating, and the black strap is made of rubber. Double Chronograph Automatic watch with case diameter in 42 mm is a worth attribute for reasonable price, which has distinctive features: a rather massive buttons of chronograph functions and transparent case back, which opens the eyes mesmerizing work of the internal mechanism. The video clip also shows the basic philosophy of the company Edox – timing for champions, as well as information about the most promising markets of the company. Also were indicated the prices of the presented models. To get acquainted with new Edox watches at BaselWorld 2012 in more detail is possible in the presented by team of montre24.com video clip, clicking by following link - http://montre24.com/video/121/.
Official site of Edox watches.
12.04.2012
Edox Iceman III Steels For Record Ice Dive
Jumping into a freezing, ice-covered lake and then plunging 75 metres under the ice into the pitch black - all the while holding your breath, only a 5mm neoprene wetsuit to help block out the mind-numbing cold.
04.02.14 Comments(0)

Edox - Watch for the Winners!
Swiss brand Edox presents the watches as prizes for the winners of the world tour curling stage "Red Square Classic".
26.01.14 Comments(0)

Edox Supports Red Square Classic Tournament
In Moscow`s Red Square on the eve of the Winter Olympics 2014 with the support of Edox, the world curling Red Square Classic tour among men`s teams kicked off.
23.01.14 Comments(0)

Edox supports the world record for freediving
Christian Redl, a world record for free diving without scuba gear in ice-depth, is planning to establish a new record. The company Edox is his official partner.
16.11.12 Comments(0)

New Chronodakar Chronograph Watch by Edox
Swiss watchmaker Edox, the official sponsor of major international races Dakar, presents its limited edition novelty featuring the event's logo.
09.11.12 Comments(0)

New Limited Edition Watch Iceshark III by Edox
Swiss watch brand Edox has announced the release of a new model of men's watches Edox Mens 10,304 37N2 GIN Iceshark III Limited Edition Chronodiver, the world premiere of which will be held at the upcoming exhibition Baselworld-2012 in March this year.
21.02.12 Comments(0)

Edox watches in honor of Dakar rally-raid
Last month, the watch company Edox has signed a collaboration contract until 2014 with the Dakar Rally Raid. The appearance of a watch on this occasion in honor of the famous rally is expected event. And now it is issued a limited edition of 500 items of watches Edox Dakar.
16.12.11 Comments(0)

The first online exhibition of watches on Facebook
In September 6- 9, 2011 the first online exhibition of watches was carried out. The event was held at the in the most famous social networking site of the World - Facebook. Moreover, it was the International Watch Exhibition. During the four days of exploring the masterpieces to buyers, sellers and journalists have been able to fully evaluate novelties of the industry without leaving the computer.
02.10.11 Comments(0)



EDOX watch company was founded in 1884 by Christian Ruefli-Flury, the talented craftsmen, who came from a family of watchmakers. The business had a stable foundation – that is a great love for the art of watchmaking, a large experience in this sphere and a huge number of horological secrets, passing from father to son. As we know, none of the great inventions can be completed without a woman's influence. Christian Ruefli-Flury's wife, Eva-Maris, induced him to launch such a business. A pocket watch, a gift for her husband, had won the heart of this woman. The company's name is not accidental, "Edox&rd...
Detailed information Edox