| | |
| --- | --- |
| Edox watches in honor of Dakar rally-raid | |
Last month, the watch company Edox has signed a collaboration contract until 2014 with the Dakar Rally Raid. The appearance of a watch on this occasion in honor of the famous rally is expected event. And now it is issued a limited edition of 500 items of watches Edox Dakar.

Edox Dakar has a 42-mm steel case, which provides a 100-meter water resistance. For participants of rally to win such a depth is hardly necessary, but at such impermeability even dust particles of sand will not get into the case. The crown is applied with the relief, reminiscent of the tire tread, but that is very functional decoration, as to wind the watch is much easier - the fingers do not slide off. The model is delivered on a steel bracelet. The case back of the watch, equipped by seven screws, is ornamented with a stylized graphical image of a racing helmet. Serial number of the instance is engraved on the left side of the case.

The black carbon dial is adorned with a company logo Dakar Rally Raid - a crocked man in the manner of the Bedouin - as well as a detailed framework depicting the route of the legendary race in South America (the competition was moved there 2009), including the flags of Chile, Argentina and Peru. That is, the watch at the same time provides to the owner a map of the route. Of course, if it is a party of rally. The minute markings are placed on the periphery of the dial. The hands and hour markers are coated with white phosphor compound, which ensures an excellent readability both at night and in the twilight of a sandstorm.

Small seconds hand is offset to the position of "6 o'clock." The model also displays the date in a dual aperture at the position of "12 o'clock". However, within the Edox Dakar is installed a Quartz Edox 64, urbanized on the foundation of Swiss Ronda 6004B. The thickness of this mechanism is only 3.3 mm.

Externally, the new watch looks quite sporty and functional. As to its contents, the usage of the quartz mechanism for extreme rally, perhaps, is the only true solution - the mechanics is certainly upset during the continuous driving over bumps and potholes, how reliable it would not be.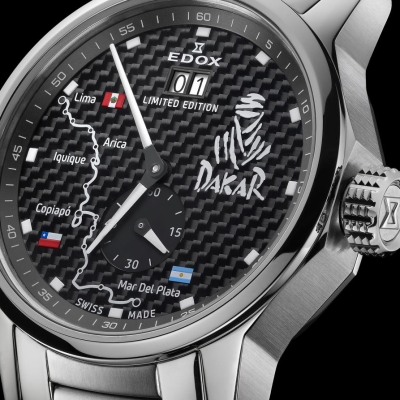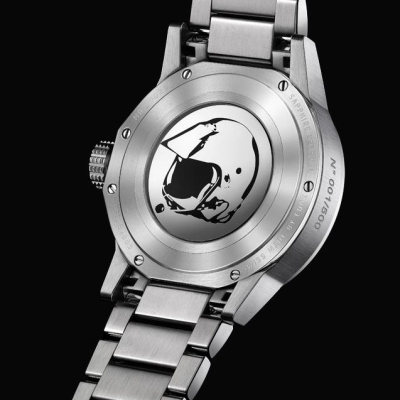 16.12.2011
Edox Iceman III Steels For Record Ice Dive
Jumping into a freezing, ice-covered lake and then plunging 75 metres under the ice into the pitch black - all the while holding your breath, only a 5mm neoprene wetsuit to help block out the mind-numbing cold.
04.02.14 Comments(0)

Edox - Watch for the Winners!
Swiss brand Edox presents the watches as prizes for the winners of the world tour curling stage "Red Square Classic".
26.01.14 Comments(0)

Edox Supports Red Square Classic Tournament
In Moscow`s Red Square on the eve of the Winter Olympics 2014 with the support of Edox, the world curling Red Square Classic tour among men`s teams kicked off.
23.01.14 Comments(0)

Edox supports the world record for freediving
Christian Redl, a world record for free diving without scuba gear in ice-depth, is planning to establish a new record. The company Edox is his official partner.
16.11.12 Comments(0)

New Chronodakar Chronograph Watch by Edox
Swiss watchmaker Edox, the official sponsor of major international races Dakar, presents its limited edition novelty featuring the event's logo.
09.11.12 Comments(0)

News of Montre24.com: exclusive video of Edox at BaselWorld 2012
Information watch portal montre24.com presents to all lovers of fine watch making and lovers of original watches an exclusive video clip of the famous watch company Edox, which kindly opened the door of its pavilion at BaselWorld 2012.
12.04.12 Comments(0)

New Limited Edition Watch Iceshark III by Edox
Swiss watch brand Edox has announced the release of a new model of men's watches Edox Mens 10,304 37N2 GIN Iceshark III Limited Edition Chronodiver, the world premiere of which will be held at the upcoming exhibition Baselworld-2012 in March this year.
21.02.12 Comments(0)

The first online exhibition of watches on Facebook
In September 6- 9, 2011 the first online exhibition of watches was carried out. The event was held at the in the most famous social networking site of the World - Facebook. Moreover, it was the International Watch Exhibition. During the four days of exploring the masterpieces to buyers, sellers and journalists have been able to fully evaluate novelties of the industry without leaving the computer.
02.10.11 Comments(0)



EDOX watch company was founded in 1884 by Christian Ruefli-Flury, the talented craftsmen, who came from a family of watchmakers. The business had a stable foundation – that is a great love for the art of watchmaking, a large experience in this sphere and a huge number of horological secrets, passing from father to son. As we know, none of the great inventions can be completed without a woman's influence. Christian Ruefli-Flury's wife, Eva-Maris, induced him to launch such a business. A pocket watch, a gift for her husband, had won the heart of this woman. The company's name is not accidental, "Edox&rd...
Detailed information Edox