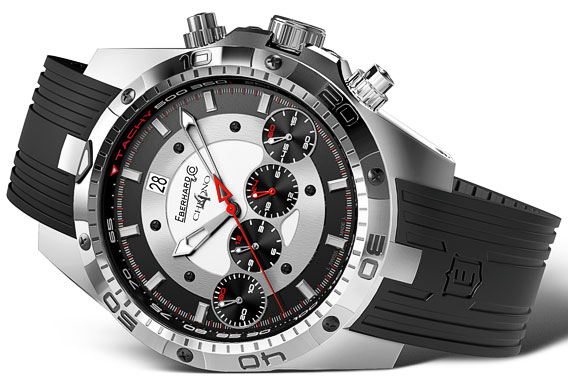 A Swiss watch company, Eberhard & Co, presented the "Chrono 4 Geant" watch model with a very dynamic design, that draws the eye, at the world's biggest Baselworld 2010 international watch exhibition. After the revolution in the ergonomics of reading data from the dial with the help of a patented instrument with 4 lined meters, the "Chrono 4 Geant" collection, symbolic for the Swiss Eberhard & Co watch manufacturer, is a real "ideas laboratory", offering the highest combination of balance, power and dynamism.
As a result, we got a chronograph, possessing a determined and resolute character: it's equipped with a big steel 46-mm case, a rotating PVD-coated bezel, a protected screw-head crown, a thickened sapphire crystal, withstanding the pressure of 20 ATM, with an antireflective coating, fixed to the case with 8 sunk screws.
The Crono 4 Geant chronograph's peculiarity is its tridimensionality and unique performance, working on different "levels". According to the requirements, the thin steel plate, aligning with the first level has round shape and is fixed with 6 screws on the dial, equipped with 4 meters; panels on the side of the case are also fixed with screws and, finally on the bezel's inner side, which is characterized with a tachometric km/h scale, contrary to the verticality limits.
The Chrono 4 Geant sportive and dynamic design is refreshed by an inevitable presence of red elements, such as the second layer, and a small number of indexes, situated on the dial. The black rubber strap, echoing the chronograph's general outlook, is emphatically thick, which gives a better perception of the image of the Eberhard & Co Chrono 4 Geant men's wrist watch's power and balance.
Chrono 4 Geant expresses the constant evolution of ideas and projects, created at "Eberhard & Co", which emphasizes this unleashed power energetic chronograph as never before.