| | |
| --- | --- |
| Eberhard & CO joins the Tazio Nuvolari collection with another model dedicated to the famous racing driver Tazio Giorgio Nuvolari | |
The watch company Eberhard & CO, which is the official timekeeper of the Gran Premio Nuvolari - the famous rally dedicated to the memory of Tazio Giorgio Nuvolari, - an Italian auto- and motorcycle racer known as the "Flying Mantuanets" has released another model, dedicated to this event. The race shall be permitted only certified FIVA cars up to 1970.
For 20 years the Tazio Nuvolari line is one of the leading collections of the company, because the history of Eberhard & Co brand from the beginning linked to the history of motorsport. Since the foundation in a few years the watches Eberhard & Co brand were chosen as an official watch of a European auto racing. After that, the company has gained popularity among watch connoisseurs and motor-car enthusiasts.
The case of the new model (Ref. 31 037) is made of stainless steel or 18K yellow gold. The watch course is provided by the mechanical caliber ETA 7750 13 ¼ with self-winding. The bezel - of stainless steel, the tachometer scale is graded in mph. On the dial there are hours, minutes, seconds, and chronograph. The sapphire glass is with double-sided anti-reflective coating. Water Resistant - 30 meters. Strap - alligator leather.
Mark Eberhard & Co was founded in 1887 in La Chaux-de-Fonds (Switzerland). The founder of the company is Georges-Emile Eberhard.
The watches Chronomaster Flymatic and Champion are available for the Italian army.
Scafomaster is the special watch collection for diving, with a suitable color dial and water resistance to 500 meters.
All watches of Eberhard & Co are worked out very carefully; as a result they are reliable and meet all the standards of high watchmaking.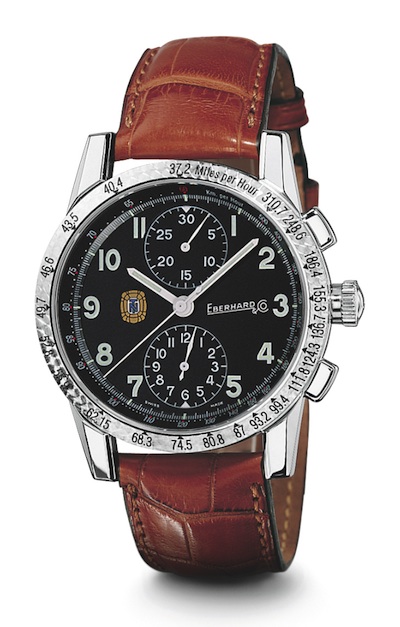 17.09.2011
CgECzCNxMkhHOVL
Your pocket watch does wraarnt a few comments if you don't mind!One have it cleaned by a GOOD watch man,as I can tell its not keeping good time by the setting of the fast and slow indicator on the movement! Its way to one side ,and if running properly it should be toward the middle of the slow and fast indicator. Second it is a low jewel count watch ,most likely a 7 jewel ,not that that's bad in itself,but it would be better if it was at least 15 jewels. Have the crystal changed!
New Version of Scafodat 500 Timepiece by Eberhard & Co
Eberhard & Co presents a new version of diving watch Scafodat 500 (Ref. 41025) with a round case made of stainless steel. Diameter - 44.00 mm, thickness - 15.00 mm, water resistant - 500 meters.
13.07.13 Comments(0)

Chrono 4 Geant Full Injection by Eberhard & Co
The collection Chrono 4 from the Swiss watch company Eberhard & Co has been added with a novelty Chrono 4 Geant Full Injection (Ref. 31062). The originality of the model lies in its design - the four counters are located on the dial in a row.
09.02.13 Comments(0)

Eberhard & Co. will present its models at the show Belles Montres
The famous Swiss watchmaker Eberhard & Co. this year celebrates its 125th anniversary. The comppany will take part in the international exhibition Belles Montres-2012, which will be held from 23 to 25 November in Paris at the shopping center Carrousel du Louvre.
05.11.12 Comments(0)

Eberhard & Co. and "Les Pommes du Jardin d'Eden"
The "Les Pommes du Jardin d'Eden" project, through which "Les Amis Suisses de l'Université de Haifa" charity organization raises funds for breast cancer research carried by Dr Dalit Barkan, supported by Haifa University, is back for the third year running.
28.09.12 Comments(0)

New Ladies Watch Eberhard for Valentine's Day
The famous Valentine's Day is approaching and the watch company Eberhard & Co. has produced to it a couple of options for special gifts. This is a women's watch with jewels belonging to the line of Gilda.
02.02.12 Comments(0)



Eberhard & Ñî watch company was launched in 1887 in La Chaux-de-Fonds (Switzerland). George-Emile Eberhard, the company founder, was born in 1865 in the Swiss town of Saint-Imier. The pocket chronograph, released by the company, helped it to carry forward. The demand for the time measuring instruments was gradually increasing, so the company was thoroughly observing this market segment. The numerous researches bore fruit: in 1919, Eberhard & Ñî company released its first wrist-watch chronograph. The manufactory was developing very fast, and in 1930, it prese...
Detailed information Eberhard & Co