Eberhard & Co watch starred in a music video «Viveme» of the singer Laura Pausini, who sang along with the famous Spanish singer Alejandro Sanz. In the video on the wrist of singer flaunted wrist watch Eberhard & Co Gilda.
The song «Viveme» has already become the second international track that is included in the book, released in honor of the 20th anniversary commemoration of the brilliant career of the singer.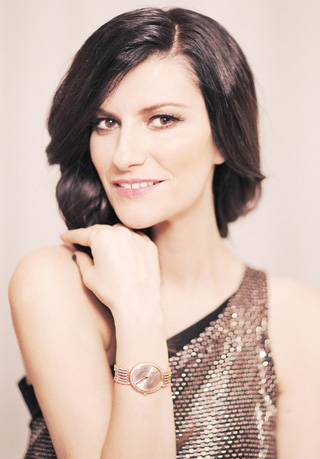 Gilda watch by Eberhard & Co on the wrist of Laura Pausini
Earlier this year, Laura Pausini surprised her fans on Facebook and Twitter, posting a new video for the song, which was first introduced in Spain and Latin America, and later on around the world. Video was filmed in Madrid, where in the hotel ME Hotel Laura Pausini and Alejandro Sanz through music and words transferred all emotional and unrestrained passion of the heroes in song «Viveme». Here Gilda Édition Spéciale watch found: a cascade of gold and diamond wraps the wrist of singer, giving a perfect image.
The company Eberhard & Co., which specializes in producing high-tech watches, especially for this occasion the singer Laura Pausini has chosen the model Gilda Édition Spéciale, the most expensive model in the line of women's watches Gilda. Selected Gilda watch is made of precious materials and have a curved case in the form of an ellipse.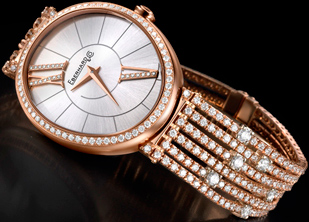 Gilda watch by Eberhard & Co
"We are delighted that such an important year for Laura when she took her honor place among music icons after 20 years of career, she chose Eberhard watch to celebrate the most significant moments of her latest music video," - Mario Peserico, Managing Director of Eberhard.
Exclusive Eberhard & Co. Gilda Édition Spéciale watch is available only to order.
Official site of Eberhard & Co.
Freya
13.02.2014