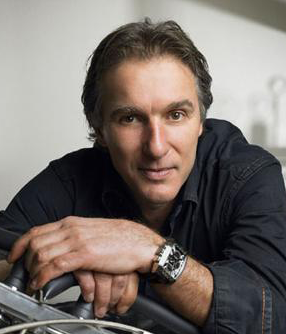 Antoine Preziuso is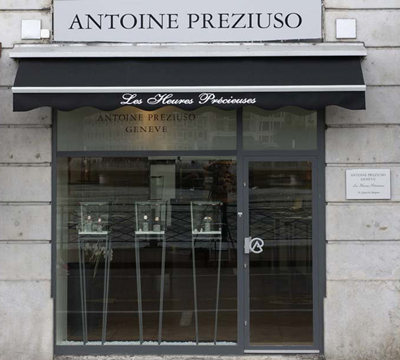 a Swiss watch brand, founded in 1996 by Antoine Preziuso, which produces luxe-class watches. Antoine Preziuso has been a member of Fondetion de la Haute Horlogerie (FHH) since 2008. The foundation was created in Geneva in 2005 by 3 establishers: Richemont Group, Audemars Piguet and Girard Perregaux, to support high watchmaking art on worldwide scale, to encourage creativity and innovations in watchmaking art. FHH is a high watchmaking art think-tank and it provides professional education and informational support for its patner watch brands.
Antoine Preziuso was born in Geneva in 1957. The watchmaker's occupation choice was not a mere chance. He followed his father's steps, who had been working at Geneva Rolex department for a long time. In 1974 Antoine Preziuso enrolled to an Ecole d'Horlogerie (watchmaking school) in Geneva, which he graduated from with honors and with "The Best Student" title. He executed his graduation work (Equipping a standard Rolex Oyster wrist watch model with a perpetual calendar and a retrograde Moon phase indicator module) in cooperation with Franck Muller, a creator of the cognominal powerful watch empire in future. After his graduation work successful defense, A. Preziuso worked at Patek Philippe watch brand workshop for some time. Later, after a year of working as a watch reconditioner at an antique workshop, he started up his own business in 1981. He called his workshop Antiquorum – in the name of a famous auction house, which trusted him in working with the most precious lots.
A. Preziuso has elaborated complicated watch models for other brands on his way to worldwide fame. In 1989 Breguet watch brand trusted him elaborating a complicated watch model with a minutes repeater and a perpetual calendar, which became a limited edition model in future. He has also elaborated a tourbillon watch for Harry Winston Rape Timepieces watch brand and a tourbillon for Gerald Charles watch brand. Antoine Preziuso has been producing tourbillons, which became his watch models' main peculiarity in future, since the mid-90s. In 1992 Antoine Preziuso's watch collections were completed with 2 models with tourbillons: the Tourbillon Universal, dedicated to the great French film director, Jean Cocteau, and the Tourbilon Regulateur model with a hand engraved dial. In 1996 Antoine Preziuso, already an AHCI (Académie Horlogère des Créateurs Indépendants) member, presented the new Sienna model with an automatic movement and a marble mosaic dial, which was designed by him in 1986 and had been lying around for almost 10 years, at the BaselWorld watch expo. It was a stunning success. While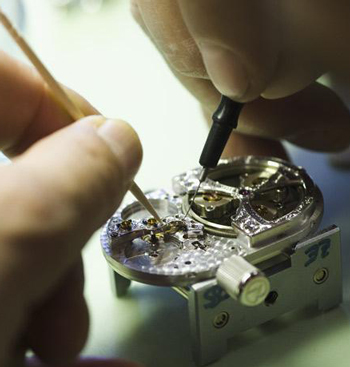 designing the Stardust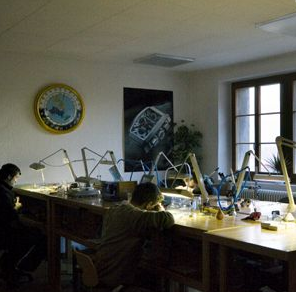 watch model (supplied with a platinum case, decorated with unique diamonds, and a complicated tourbillon), A. Preziuso showed himself not only as a genius complicated functions constructor, but also as a prominent designer. In 2002 6 tourbillon wrist watch models with a common name – The Art of Tourbillon, – were presented at the BaselWorld watch expo. The models had super-high technical quality and original design and were dedicated to Abraham-Louis Breguet birth 200-year anniversary. This model lineup had a great success and became one of the major reasons for the tourbillon fever, which eminent watch brands underwent in 2 years after its production. Antoine Preziuso also participated in designing of the Harry Winston Opus 2 wrist watch model's tourbillon, which also became one of the most dramatic events in the watchmaking world. These events made A. Preziuso an incontestable authority in the sphere of tourbillons, "The King of Tourbillon" title bearer. In 2005 the revolutionary "3-Volution" wrist watch model with 3 tourbillons, fixed on a counterclockwise winding platform, was presented. All 3 carriages resonate synchronously, generating a common oscillation frequency, creating a self-regulating system. Antoine Preziuso watch brand's pieces' movements are basic ETA production calibers, the tourbillons and other complications are produced at Antoine Preziuso's atelier.
Antoine Preziuso brand's wrist watches are distinctive not only for their high quality technical complications, but also for their originality. Inventive Preziuso also experiments with shapes and materials, of which the watches' cases are made. Together with the traditional materials – gold (the rose of black one), titanium and platinum, he also uses such a rare material, as meteorolite. In this way the Meteorit Tourbillon watch model with a case, made of meteorolite, appeared. Some pieces of the model, made of a deficit and unmanageable material, are produced yearly. Together with the complicated models, Antoine Preziuso watch brand produces models with unexpected designer solutions. Some models are dedicated to people, who became the symbols of struggle for equality and brotherhood: the models have Che Guevara and Bob Marley, portrayed on the dials. The Robusto Cigar Cutter is supplied with a cigar clipper on the case's back side. The B - Side Tourbilon watch model, apart from the tourbillon, is supplied with a fold-out titanium case, consisting of 2 modules: the case itself, which contains the watch movement, and some movable frames, enabling you to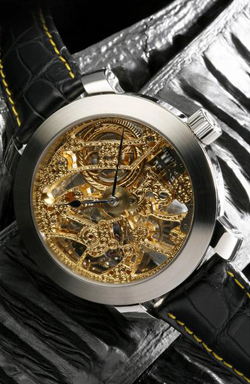 reform the case – transpose its front and back sides without taking the watch off your wrist. Antoine Preziuso watch brand also offers a collection of jewelery with built-in watch movements. The Tourbillon of love is a pendant with a tourbillon and charms with a Moon phase indicator. A. Preziuso brand has partnership relations with a motorcycle production company. 3 motorcycles, hand assembled by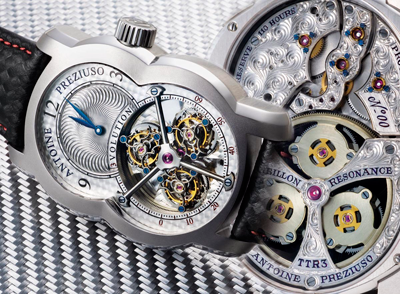 Yves Mutzner, are exhibited at Antoine Preziuso watch boutique – Les Heures Precieuses. Each motorcycle buyer gets a unique Antoine Preziuso watch with a dial, imitating the motorcycle paint color.
When Antoine Preziuso first came to Russia, he was invited to the Kremlin and asked to repair an antique clock. He performed the task successfully and conciliated rather fast. Seizing the occasion, the Swiss expert was asked to inspect all Kremlin clocks.
A.Preziuso watch collection is designed to satisfy people of different tastes and preferences. The watch brand produces classic watches and watches, decorated with jewels, it produces both functionally complicated models and wrist watch models without any complications.
Soon you'll be able to buy an Antoine Preziuso watch at watch boutiques all around the world. Antoine Preziuso watch brand's plan for development implies raising its production rates and opening the brand's boutiques on all 5 continents.