Japanese watch company Tokyo Flash, producing exclusive models of watches, presents a new model Kisai Blade. The watch is available in several versions: metal and leather straps, metal dials, black and gold colors. Diodes are also made in different colors: red, blue, green.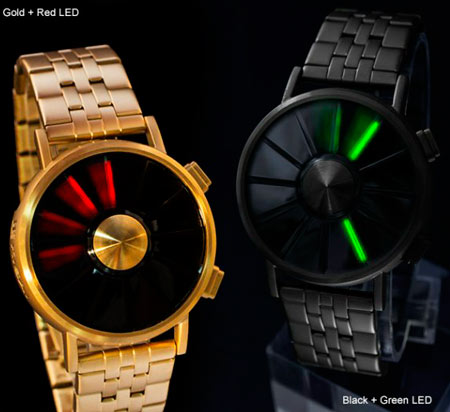 Tokyoflash Kisai Blade watches
The watch dial simulates a turbine aircraft, and the LED backlight complements the effect of rotating propellers. The Kisai Blade watch is equipped with two "temporary" mode, allowing the wearer to choose a favorite mode of him.
The first mode is «Turning Mode», in which the diode strips simulate the rotation of the propeller, making emphasis in three positions. The first means hours, the second – tens of minutes, and the third - minutes.
The second mode is «Flashing Mode». In this mode, no movement occurs; LED strips are transformed into traditional watch hands. The minute hand shows the time to the nearest five minutes. The exact time can be found with additional points placed at the top of the dial.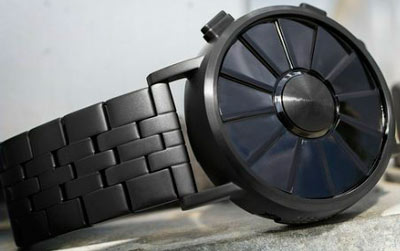 Original Novelty by Tokyoflash – Kisai Blade Timepiece
The novelty has also a mode «Animation Mode», which can be used to explore the city at night.
The battery is charged by Kisai Blade USB and keeps for about a month on a single charge.
To buy the Kisai Blade by Tokyoflash is possible at a price of $ 139 to $ 159.
Official site of Tokyo Flash.
Written by Angel
28.08.2013