| | |
| --- | --- |
| Kisai Upload Watch with a removable USB memory by Tokyoflash | |
Japanese watchmaker Tokyoflash presents another unexpected and original novelty with LCD / LED display - a Kisai Upload watch.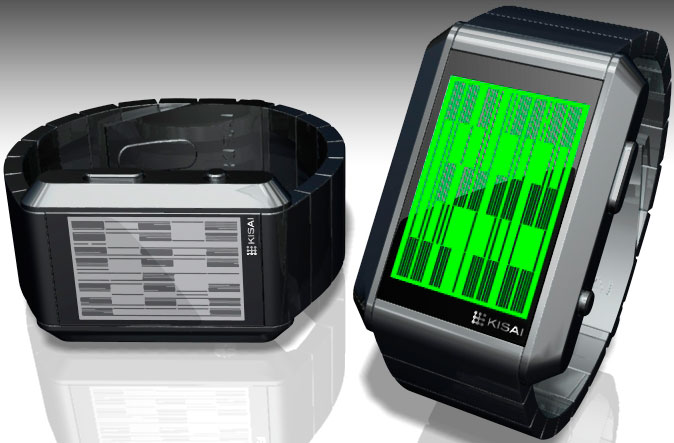 Tokyoflash Kisai Upload watch
Mostly the concepts of the Japanese manufacturer are based on the optical illusion, that's why many people hard-define the time over the Tokyoflash watches. Reading of the novelty is easy to read, if you choose the correct angle. LCD display shows time in a digital format in hours, minutes, seconds and hundredths of seconds. The date appears on the display when you press the lower side switch. The top button is responsible for a large LED backlight. The Kisai Upload watch is proofed with USB memory - MicroSD 2GB. It can be replaced with another card capacity. Exchange of data from the computer to the watch and vice versa is carried out by using of the USB-cable.
The novelty is presented in a case with dimensions of 36 mm x 52 mm x 13 mm, weight of the watch – 160 g, the watch comes on a black or silver bracelet, display color - blue, green or gold.
To buy a new model with a removable USB memory will be available through the official representatives of the company Tokyoflash for $ 169 (137 €, 108 £). From 16 to 18 August up to 11:00 (in Japan time), they can be purchased at a special price - $ 149 (118 €, 95 £).
Official website of Tokyo Flash watches.
Written by SinCera
20.08.2012
New Kisai Timepiece by TokyoFlash
The Japanese watch company TokyoFlash, produces unique models of watches, delighted its fans with the next novelty Kisai.
23.12.13 Comments(0)

Kisai Xtal by Tokyo Flash
The Japanese watch company Tokyo Flash has released a new watch Kisai Xtal. This is a LED digital watch with a metal bracelet. Compared with the previous models of Tokyo Flash, the novelty has mysterious modes of time display.
04.11.13 Comments(0)

Original Novelty by Tokyoflash - Kisai Blade Timepiece
Japanese watch company Tokyo Flash, producing exclusive models of watches, presents a new model Kisai Blade. The watch is available in several versions: metal and leather straps, metal dials, black and gold colors. Diodes are also made in different colors: red, blue, green.
28.08.13 Comments(0)

New Kisai X by Tokyoflash
Watch Japanese watchmaker Tokyoflash has always differed from other models of its custom design and time display. This time the company is pleased its fans an original novelty Kisai X with LED dial.
08.03.13 Comments(0)

New Kisai Spider Watch by Tokyoflash
Japanese watchmaker Tokyoflash pleased its fans with a novelty Kisai Spider. Like all models of the brand, the novelty is characterized by its unusual design.
17.12.12 Comments(0)

Another Original Model by TokyoFlash
Famous Japanese watch company TokyoFlash, whose products are characterized by original design and is equipped with sophisticated features, presents its next novelty - a Kisai Maru watch.
14.11.12 Comments(0)

Creative Novelty by Tokyoflash – a watch-handcuff
For fans of specific gadgets, the international design blog Tokyoflash has presented an unusual novelty - a digital watch in the form of handcuffs. The author of the new project is a young designer from Canada.
19.09.12 Comments(0)

Tokyoflash announces the release of its novelty Kisai Zone
The name of the Japanese watch company Tokyoflash is associated with a variety of exclusive watches that are unique with the appearance and functions. The brand is known worldwide for its models with LED / LCD - displays.
07.09.12 Comments(0)

Novelty by Tokyoflash – Subway watch
The watch company Tokyoflash, known worldwide for its innovative products with totally "crazy" design and difficult readability of time, presents its new product - a new, unusual accessory – Subway watch.
08.08.12 Comments(0)

Tokyoflash Presents: Kisai Online
As a rule, the product from Tokyoflash has always distinguished by the originality and creative campaign, both in terms of design and in terms of time indexing.
14.07.12 Comments(0)

Tokyoflash watches with changeover board
The time indication by means of changeover board each of us could see the old alarm clocks or on the information billboards in airports and train stations.
29.12.11 Comments(0)

The real racing watches by TokyoFlash
The famous Japanese watchmaker TokyoFlash as always presents a very unexpected and original novelty for all fans of electronics. This is a racing watch GP race, the time indication in which is fixed right on track.
28.12.11 Comments(0)



"If you need a watch, that simply tells the time, our products are not for you" - say the members of Tokyo Flash company. The watches by Tokyo Flash, the Japanese watch company, are the "eccentric" accessories. At the first sight, it is difficult to recognize the watch in this strange object, and it seems altogether absurd to determine the time. All watches belong to the "fashion" style. These electronic gadgets are prefered by the designers, engineers, IT managers and just fans of different puzzles. There are no dials and hands on these watches. The periods of time are observed by the diodes, displays, and matrixes. It is very difficult to buy Tokyo Flash watch even in Japan, because they are not mass-produced. You can place your order on the official website of the company. I...
Detailed information Tokyo Flash