Information watch portal montre24.com presents to all lovers of fine watch making and lovers of original watches an exclusive video clip of the famous Italian watch company Welder, which kindly opened the door of its pavilion at BaselWorld 2012. Each year this great event, where try to participate virtually all manufacturers of watch and jewelry products, collects in one place an innumerable variety of watch and jewelry brands, as well as the huge number of visitors from around the world who come here to get acquainted with the novelties of the year, and maybe even purchase, because BaselWorld - it's not just an exhibition, but exhibition - fair. BaselWorld - is one of the most important and impressive events for all watch and jewelry companies, as well as a unique opportunity to demonstrate their luxury watch and jewelry creations in the most favorable light, and the very large number of visitors: general public of amateurs, professionals, distributors, partners and potential customers.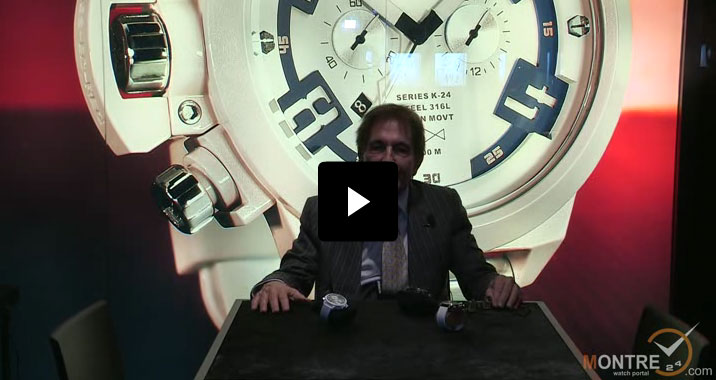 At BaselWorld 2012 the Italian watch company Welder participated, wrist watches of which is a kind of projection of the future into the present. Italian watches Welder have become "the brainchild" of the legendary and talented designer Italo Fontana, who experimented with design of his "watch the future" in very interesting way. Italian watches Welder have striking industrial look, which attracts the bold and independent men, who prefer practical and functional, yet stylish and original things. President of the company Welder with courtesy agreed to talk about the company and new Welder watches presented at BaselWorld 2012. At first at presentation was provided information about the basic strategy of the company Welder - time travel for all. After it were presented the models equipped with a function of three time zones. Undoubtedly, this non-standard watch will be indispensable attribute during the travel, of course, if a person decides to wear a wrist watch with such a huge case size and innovative design. Case diameter of Welder watches ranges from 45 to 53 mm: it's rather massive and snazzy Italian watch. The team of montre24.com has prepared an interesting video clip where you can clearly see new Welder watches presented at BaselWorld 2012, clicking at the following link - http://montre24.com/video/115/.
Official site of Welder watches.
06.04.2012