| | |
| --- | --- |
| Arnold Schwarzenegger at the Baselworld-2012 | |
Italian watch brand Welder was founded in ... 2075 and it's not a typo. The production by Welder is the watches of Future. To estimate them highly is not a problem for the Terminator, who arrived from the future - Arnold Schwarzenegger. He visited the exhibition Baselworld-2012 and the first day of the event paid a special attention to the stand of Welder.

Schwarzenegger met at the exhibition with the famous designer Italo Fontana and bought the world's largest watch U-Boat U-42 in diameter of 65 mm. Leaving the hall of U-Boat the famous actor and politician was interested in the neighboring stand of the watch brand Welder, where he was particularly attracted the attention of the new model 3311, which which is included in the K-24 collection. This line enjoys huge popularity in the market. This year the traditional black shades in this collection were diluted with white fashion watches.

By the way, in creating of this watch by Italo Fontana took an active part - perhaps this played a significant role in the interest of the "iron" Arnie to this product. Surrounded by bodyguards, Schwarzenegger has considered with interest the showcase with new Welder wristwatches, as well as actively interested in the technical side: their functions and characteristics.

Today it is no secret that the former governor of California and the famous Hollywood star Arnold Schwarzenegger likes to watch, especially the expensive Swiss watch companies Audemars Piguet and Panerai. But a couple of years ago, he began collecting gift models from U-Boat. Probably in the near future, his watch collection will be added by Welder watches.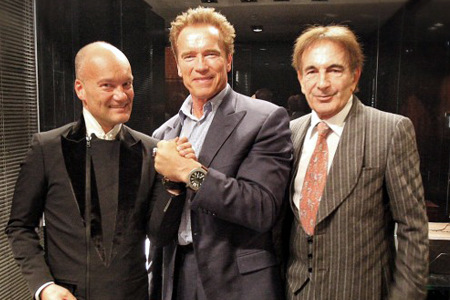 23.03.2012
News of Montre24.com: exclusive video of Welder at BaselWorld 2012
Information watch portal montre24.com presents to all lovers of fine watch making and lovers of original watches an exclusive video clip of the famous Italian watch company Welder, which kindly opened the door of its pavilion at BaselWorld 2012.
06.04.12 Comments(0)

A new watch from the Italian company Welder
The watch company Welder presents another futuristic chronograph. It is no mere chance the brand name is translated as "welder" – the watches by this brand always combine industrial and futuristic design elements developed by Italo Fontana - creator of the brand U-Boat.
24.11.11 Comments(0)



Italian wristwatches Welder is a kind of projection a future in present. Their futuristic design is inspired by dreams about future, in which a man will have ability to travel not only in space, but also in time. Wristwatches Welder are differ from well-known brands with huge history, which are based on own experience and traditions. In creating of its original collection Italo Fontana, who has the brand U-Boat, participated. Addictions of Italian designer very obviously affected on image of wristwatches Welder. It has massive sizes: diameter of the smallest case in line (K25) is 45 mm, the biggest cases - K29 – are 53 mm. Wristwatches We...
Detailed information Welder