| | |
| --- | --- |
| A new watch from the Italian company Welder | |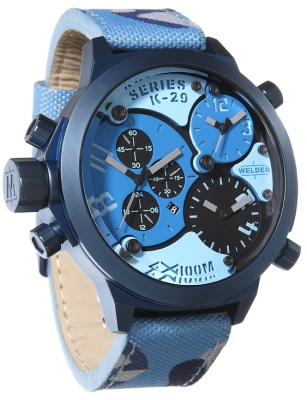 The watch company Welder presents another futuristic chronograph. It is no mere chance the brand name is translated as "welder" – the watches by this brand always combine industrial and futuristic design elements developed by Italo Fontana - creator of the brand U-Boat.

As always, it is quite massive and masculine watch. Novelty of the Series K-29 has a diameter of 53 millimeters. The watch is "packaged" in a steel case. Its water resistance is 100 meters. The crown is on the left side of the watch. The model has three dials for time zones: next to markings 9, 2 and 4 hours. On the largest of the additional dials there are three chronological counters, as well as the date aperture.

It seems that it is a very large number of different counters, but one believes, they have a place to stay in the watch diameter of 53mm. For convenience and speed of reading a watch dial is made multilayer, which allows each counter to be on its depth.

This watch has been released, but in very different colors: chocolate and camouflage colors. The novelty is more close to the sea theme.

Inside is set a Japanese Quartz movement Miyota.
The new watch comes on a blue camouflage fabric strap.

The massive and the most functional watch Welder Series K-29 is an ideal tool for men who want a real instrument for measuring time. Gray hands are applied with fluorescent coating that provides excellent readability in absolute darkness.

In advertising of the brand Welder it is said that the company was founded in 2075 - a hint of futuristic design. Probably in 2075 the majority of people on the planet will be left-handed - hence the left-hand position the crown on all the models. To wear such a watch, of course, one must possess a certain amount of courage, but the extraordinariness of its design is more than compensated the maximum convenience of use and high functionality, within one watch you will get several.
24.11.2011
News of Montre24.com: exclusive video of Welder at BaselWorld 2012
Information watch portal montre24.com presents to all lovers of fine watch making and lovers of original watches an exclusive video clip of the famous Italian watch company Welder, which kindly opened the door of its pavilion at BaselWorld 2012.
06.04.12 Comments(0)

Arnold Schwarzenegger at the Baselworld-2012
Italian watch brand Welder was founded in ... 2075 and it's not a typo. The production by Welder is the watches of Future. To estimate them highly is not a problem for the Terminator, who arrived from the future - Arnold Schwarzenegger.
23.03.12 Comments(0)



Italian wristwatches Welder is a kind of projection a future in present. Their futuristic design is inspired by dreams about future, in which a man will have ability to travel not only in space, but also in time. Wristwatches Welder are differ from well-known brands with huge history, which are based on own experience and traditions. In creating of its original collection Italo Fontana, who has the brand U-Boat, participated. Addictions of Italian designer very obviously affected on image of wristwatches Welder. It has massive sizes: diameter of the smallest case in line (K25) is 45 mm, the biggest cases - K29 – are 53 mm. Wristwatches We...
Detailed information Welder