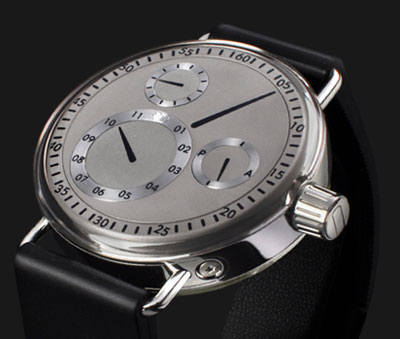 The company "Ressence" was established by a Belgium designer Benoit Mintiens. This brand was presented with a great success at BaselWorld watch exhibition in Basel, Switzerland, in 2010. The presented brand appeared among five best models. These automatic watches show the time by the painted hands on the four independent rotating disks which give them special charm. The model looks unique, the dial looks like auto panel making an illusion of painted speedometer. But don't worry! The Ressence Watches are real: automatic with the back, trough which you can see winding mechanism and rotor.
At the World Exhibition in 2010 in Geneva (Geneva Time Exhibition) watches Ressence were awarded a "special mention" from the jury of the exhibition.
Ressence creates an innovative way to present the Time. The creators of this model avoided the ordinary and usual hands. On the dial there are four virtual hands, each of which moves along its circumference. This design solution is visually "separate" the timeframe and increase the readability and individuality of the dial. The patented system of the dial is based on the Swiss caliber.
These watches are also equipped with a special quick-change straps system. A small button, which is located on the case, helps you quickly and easily change the strap of the watch.
In a word, watches Ressence are for people who love the unexpected and bold decisions, the novelty and the freshness in the details.