Information watch portal montre24.com has been added by a video clip, at this time dedicated to the company Ressence. Along with a lot of jewelry and watch companies, the company Ressence widely introduced its watch production at the annual exhibition - fair BaselWorld 2012. The watch company Ressence was founded by Belgian designer Benoit Minten. The main feature of produced by Ressence watches is four rotating independent discs. The appearance of the dial resembles a car dashboard, which gives the watch a special charm.
At BaselWorld 2012 in a small pavilion were presented the main novelties Ressence 2012. As mentioned above, the main feature is the absence of the traditional watch hands which are deftly replaced by miniature disks, each of which is designed to display hours, minutes, seconds, etc. Also very interesting is the fact that the location of discs on the dial, more time, can be changed with a simple rotation of a special lever on the crown. More clearly you can see it in the presented video clip. Ressence watch is equipped with an automatic mechanism, the rotor of which can be seen through the coated by solid sapphire glass case back. Sapphire glass covers not only the case back, but also the dial and sides of the case, in short we can say that this Ressence watch is enclosed in a solid sapphire shell.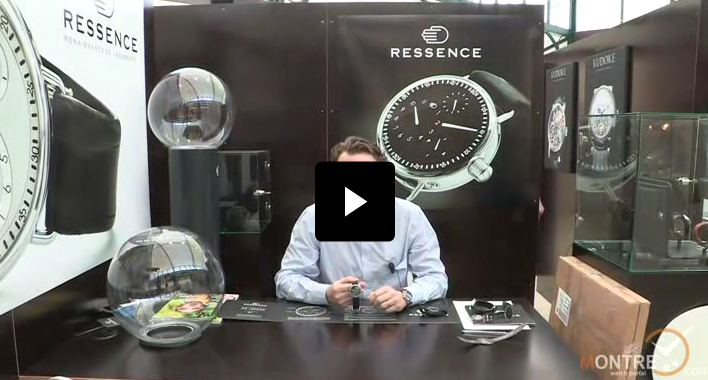 Ressence watches presentation at BaselWorld 2012
Next was presented the novelty Ressence, which is still a prototype. The entire set of functions of the previous model is fully preserved and the main feature has become the addition of date display. Watch is completely in black, which gives it a kind of depth. On the black dial perfectly contrasts white disks. This watch doesn't have a crown: setting of functions is performed by rotating the case back. The prototype is presented in five different versions. The estimated cost of a black version of Ressence watch is 11,000 Euros. Price of titanium version with a titanium dial is 12.900 Euros.
More clearly see the novelties Ressence 2012 at BaselWorld 2012 is possible by clicking on the following link - http://montre24.com/video/177/.
Official site of Ressence watches.
Written by Freya
07.06.2012