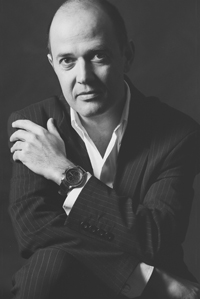 Quinting is the first transparent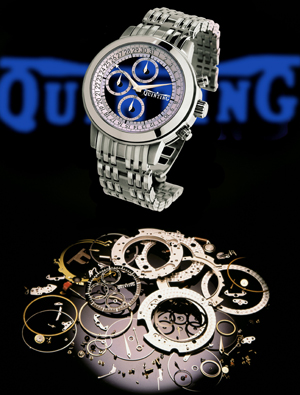 watches as diamonds in the world. To create transparent wristwatches was a dream for masters for a long time. Nobody could imagine that this dream will come true. The company of five Swiss engineers united their skills, experience and power, to create absolutely transparent chronograph. In 1999 appeared first prototype absolutely transparent chronograph with unique sapphire movement.
It should be noted that company wear the name of the youngest engineer from this company – Rene Quinting.
Movement of this watch consists from superimposed sapphire discs, which are covered with reflecting coating. It is rather complicated system, which demands accuracy, because the distance between sapphires should be from 0,08 till 0,01 millimeters. Here are moving discs, which are situated between sapphires and provide movement with hands, and fixed, which are situated in front and from behind of the case and protect movement. Sapphire for these movements was chosen not by accidence; it is the one in the world stone, which has ability to move inside of watches. For watch to work accurate, movement functions rightly , it is needed with microscopic accuracy to assemble these sapphires. The smallest mistake can lead to loosing the stone. This painstaking work is done in special white hall, and for absolute transparency of sapphire movement, the air in that hall should be completely clear from dust.
Dial of watch Quinting is transparent, and it wear effective paintings. Though this wristwatch is original exactly with its transparency.
All lines of Quinting - Chronographe, Transparante, Quardinale, Sirius – are charming, secret watches of eternal transparency. And wristwatch Black Top is a confrontation between light and darkness.
Quinting created such a system of tripping of movement wheel, which let to do automatic restoration of watches in case of shock. These wheel movements are fixed in special coupling, which let to recover it automatically.
Company Quinting can be proud that it, managed to develop its own movement.
Quinting are unusual, original, qualified, elegant watches, which amaze every time.