| | |
| --- | --- |
| BaselWorld 2012: Art Collection by Quinting. Model ¹ 2 - The Moonlight Watch | |
The peculiarity of watches by Quinting is a completely transparent mechanism of sapphire - a unique patented Swiss movement, which has not yet been able to repeat by the other watch company.
The company Quinting, known in the watch market with its unique products, has presented at the annual international exhibition BaselWorld 2012 the Art Collection line, consisting of four unique models. Masters of the company has prepared to the watch exhibition more than thoroughly: each model of the represented collection is a unique wrist watch, made for an unprecedented technology.
The watch mechanism is made of several layers of sapphire, each of which is processed in a special way that turns the design into a magical invisible mechanism.
The Swiss watch company has continued to shock the watch community, united by the annual international exhibition BaselWorld 2012, introducing the second model of the Art Collction line - The Moonlight watch.
The transparent watch dial has become the canvas for the space effect: on the dial is depicted the Earth and its satellite - the Moon. The entire lunar cycle on your wrist - that The Moonlight watch represents. The main feature of the model can be called the index of lunar phases, however, the decoration of the watch - a kind of magic space fairy tale by the masters of Quinting.
The moon on the watch dial of The Moonlight, as befits in the nature, revolves around the Earth, thus indexing the lunar phases in miniature. Meanwhile, every hour around the Earth goes through a comet, supplementing the magic of the weightless transparency.
The Moonlight watch is presented in a limited edition of 360 items, so that admirers of romantic moonlit should hurry to buy a watch, if they wish to become an owner of a small "space" on the wrist.
The uniqueness of this edition was the fact that each instance is different from the following: enamel picture of Earth - done by hand, and, therefore, each model The Moonlight and the image of planet Earth - is unique and unrepeatable.
An incredible image is "concluded" in black with a black strap, which perfectly set off the "cosmic" picture.
The Moonlight watch is made on the basis of a unique mechanism of sapphire, which feature is its absolute transparency, patented as a Swiss mechanism. The mechanism consists of eight perfectly parallel sapphire disks coated with anti-reflective coating. The diameter of the mechanism - 39.00 mm, height - 8.60 mm. Functions: hours, minutes, moon phase indication. Warranty work is two years.
The watch case in diameter of 43.80 mm and 14.00 mm in height is made of stainless steel. The watch water resistance is 50 meters.
Images, made on a transparent dial, are located as follows:
Luna is located on a modified sapphire, which indexes the date. Meteor is on a minute sapphire disk. The land is located at an intermediate static sapphire disk.

Official website of Quinting watches.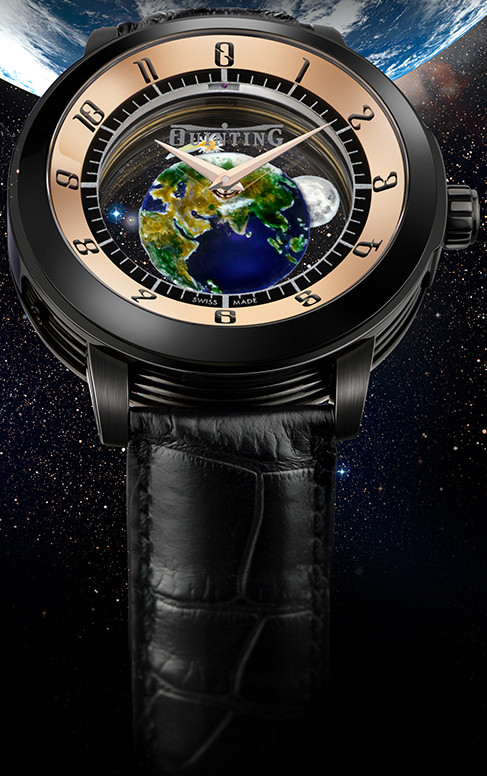 22.03.2012
CHAMPIONS COLLECTOR. FIFA World Cup with Quinting
Swiss watchmaker Quinting invites to the world of football. Combining its absolutely unprecedented transparent mechanisms of Swiss watchmaking tradition and high technology, Quinting proudly presents its new collection: CHAMPIONS COLLECTOR, dedicated to the World Cup.
28.03.14 Comments(0)

Russia and Moscow Kremlin Watches by Quinting
Russia - the largest country in the world located on two parts of the world: in Europe and Asia. Its territory is 25 of France, 56 of Italy or 8 million of Monaco!
06.02.14 Comments(0)

ZODIAC: OUT OF SIGHT AND ON OUR MIND
Because looking far literally means looking in the past, Quinting launches this year its exclusive Zodiac Collection. First to remember its roots and its attachment to the Swiss watchmaking tradition but also to use this knowledge to enhance the future.
07.11.13 Comments(0)

President of Quinting, Pascal Berkeley in Russia
President of the watchmaker Quinting, Pascal Berkeley, has recently visited Russia. He was invited by the jewelry house Gold Union, which is a distributor of several brands - Quinting, Gavello, Korloff and Van Der Bauwede in Russia and Ukraine, as well as Boucheron in the North-West region of Russia and Ukraine.
30.12.12 Comments(0)

BaselWorld 2012: Quinting Presents a Cigar Cutter Double-Guillotine Watch
The company Quinting has presented at the annual international exhibition a novelty - a wrist watch Cigar Cutter Double-Guillotine, which at one time was the "first swallow" the Metal Discs collection. The watch dial is made up of two rigorously identical disks, which are tapered five-pointed stars.
03.04.12 Comments(1)

Quinting Ñompany and its Art Collection
"Overcoming the impossible to achieve perfection" - the company's Quinting philosophy, intending it to create the first model of a wristwatch with a completely transparent mechanism.
16.01.12 Comments(0)

Masterpieces of Art Collection by Quinting at Moscow Warch Expo 2011
Swiss watch brand Quinting will take part in the exhibition of exclusive watches Moscow Warch Expo 2011, which will be held from 27 to 29 October. At the exhibition the company will introduce new models of luxury and executed in a single copy of wrist watches Art Collection, for the manufacture of which the brand masters and artists under the microscope apply a thin layer of enamel to a sapphire disk of the transparent mechanism.
18.10.11 Comments(0)



Quinting is the first transparent watches as diamonds in the world. To create transparent wristwatches was a dream for masters for a long time. Nobody could imagine that this dream will come true. The company of five Swiss engineers united their skills, experience and power, to create absolutely transparent chronograph. In 1999 appeared first prototype absolutely transparent chronograph with unique sapphire movement. It should be noted that company wear the name of the youngest engineer from this company – Rene Quinting. M...
Detailed information Quinting