| | |
| --- | --- |
| BaselWorld 2012: Quinting Presents The Tree of Knowledge Watch | |
For more than ten years, the company Quinting presents to the world the original Swiss watches, each instance of which - a unique solution of technical tasks. Beginning in 2000, when the company introduced its first chronograph, inventive brand's masters are proven, as a kind of wizards who have realized the reality of the old dream of Swiss watchmaking: hands, which will float in the air as if in a completely transparent case.
At the watch annual international exhibition BaselWorld 2012 the company has introduced the original watch - The Tree of Knowledge. As noted by the company's representatives, the creation of the original model is inspired by the philosophy statement: "Everybody knows something, but nobody knows everything." And even if everyone has the opportunity in their lives to learn constantly something, he still cannot know everything. And it says that the intelligence is collective. Every branch, every leaf, every fruit of collective intelligence, depicted on the dial of the model, are the part of the total.
The Tree of Knowledge watch is made on the basis of a unique absolutely transparent sapphire mechanism on a transparent background which shows a symbolic tree, which, however, is quite palpable.
The tree trunk is made of gold enamel, fruit made of ruby, and the apple represents the exquisite inlaid with sapphires.
Tree of Knowledge stands firmly on the ground and turned to the sky, which is also symbolic: in fact the owner of the watch stands firmly with both feet on the earth, drawing from her life force, and seeking the blessing of sight in the sky...
To buy the original The Tree of Knowledge watch will be available through the official representatives of the company at the end of the exhibition.

Official website of Quinting watches.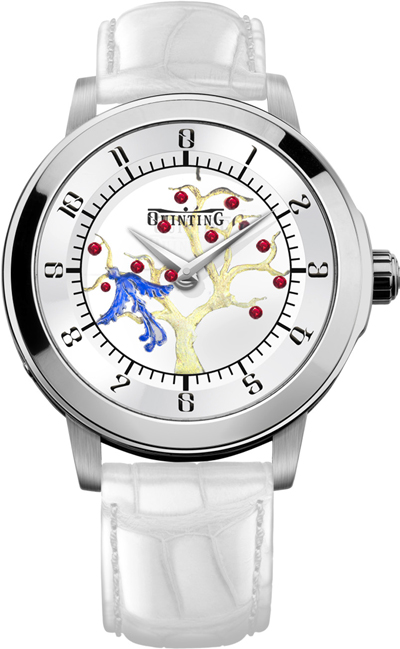 31.03.2012
CHAMPIONS COLLECTOR. FIFA World Cup with Quinting
Swiss watchmaker Quinting invites to the world of football. Combining its absolutely unprecedented transparent mechanisms of Swiss watchmaking tradition and high technology, Quinting proudly presents its new collection: CHAMPIONS COLLECTOR, dedicated to the World Cup.
28.03.14 Comments(0)

Russia and Moscow Kremlin Watches by Quinting
Russia - the largest country in the world located on two parts of the world: in Europe and Asia. Its territory is 25 of France, 56 of Italy or 8 million of Monaco!
06.02.14 Comments(0)

ZODIAC: OUT OF SIGHT AND ON OUR MIND
Because looking far literally means looking in the past, Quinting launches this year its exclusive Zodiac Collection. First to remember its roots and its attachment to the Swiss watchmaking tradition but also to use this knowledge to enhance the future.
07.11.13 Comments(0)

President of Quinting, Pascal Berkeley in Russia
President of the watchmaker Quinting, Pascal Berkeley, has recently visited Russia. He was invited by the jewelry house Gold Union, which is a distributor of several brands - Quinting, Gavello, Korloff and Van Der Bauwede in Russia and Ukraine, as well as Boucheron in the North-West region of Russia and Ukraine.
30.12.12 Comments(0)

BaselWorld 2012: Quinting Presents a Cigar Cutter Double-Guillotine Watch
The company Quinting has presented at the annual international exhibition a novelty - a wrist watch Cigar Cutter Double-Guillotine, which at one time was the "first swallow" the Metal Discs collection. The watch dial is made up of two rigorously identical disks, which are tapered five-pointed stars.
03.04.12 Comments(1)

Quinting Ñompany and its Art Collection
"Overcoming the impossible to achieve perfection" - the company's Quinting philosophy, intending it to create the first model of a wristwatch with a completely transparent mechanism.
16.01.12 Comments(0)

Masterpieces of Art Collection by Quinting at Moscow Warch Expo 2011
Swiss watch brand Quinting will take part in the exhibition of exclusive watches Moscow Warch Expo 2011, which will be held from 27 to 29 October. At the exhibition the company will introduce new models of luxury and executed in a single copy of wrist watches Art Collection, for the manufacture of which the brand masters and artists under the microscope apply a thin layer of enamel to a sapphire disk of the transparent mechanism.
18.10.11 Comments(0)



Quinting is the first transparent watches as diamonds in the world. To create transparent wristwatches was a dream for masters for a long time. Nobody could imagine that this dream will come true. The company of five Swiss engineers united their skills, experience and power, to create absolutely transparent chronograph. In 1999 appeared first prototype absolutely transparent chronograph with unique sapphire movement. It should be noted that company wear the name of the youngest engineer from this company – Rene Quinting. M...
Detailed information Quinting