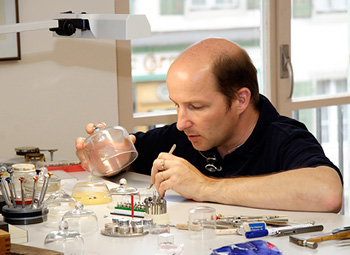 Kari Voutilainen was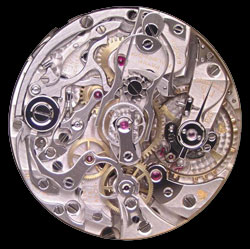 born in Finland in 1962 and is a passionate watchmaker for already thirty years. The initial watch education he got in world known Finnish school Tapiola. In 1989 he entered Swiss International school of watchmaking, where he finished graduate school on reconstruction of complicated, high quality rear watches, he did this work for 10 years. Thanks to considerable baggage of experience, soon he began to teach in School of watchmakers WOSTEP, and also headed the faculty of complicated watches.
In 2002 in village Môtiers Kari Voutilainen founded his own business as an independent watchmaker. Nowadays a famous Finn makes only handmade high quality wristwatches, which perfectly combine Swiss watch heritage and experience, and watchmaker's skills. The perfect example of this combination can be a model Voutilainen Decimal repeater 9 "Tantalor". Watches are equipped with movement LeCoultre with repeater, which bits every hour and ten minutes time intervals. Power reserve of this watches is 34 hour. 45-millimeter massive case is made from tantalum, and crown, bezel and clasp of the strap are made of crocodile skin present in variant from gold. Sapphire crystal protects gold dial with anthracite covering and guilloche clou de Paris. Rhodium gold hands and indexes have cumulative light covering.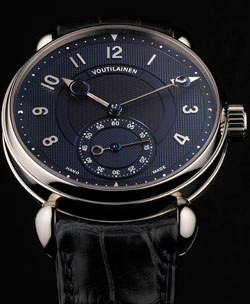 In 2007 Kari Voutilainen was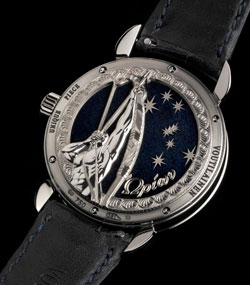 awarded with Grand Prix d'Horlogerie de Geneve for his perfect model of wristwatches OBSERVATOIRE, which dedicated to achievement of perfect accuracy. This model with basic caliber Peseux on 21 stone presented with limited series. Movement of this watches has rather rare and unique system balance spring on the basis of curve Grossman. Not looking on its modest design, it is rather accurate and "serious" watches. Case with 38 mm diameter and crown are made from 18-karat gold. Gold dial with guilloche Côtes de Genève are covered with sapphire crystal. Hands and Arabic numerals are made from gold. Strap is made of crocodile skin and equipped with durable gold clasp. Not long ago there was a model Voutilainen Minute Repeater 10 presented by master. Stylish case with diameter of 38 mm is made from steel. Handmade dial with opened center is made from 18-karat gold and has rather unique gray color, which gives anthracite covering. Power reserve is 38 hours. Case is equipped with sapphire crystal. The strap is made from crocodile skin.
Kari Voutilalinen is one of the best independent watch manufacturer, and his wristwatches – Kari Voutilainen have individuality and unique character.