Especially for fans of independent watchmakers' creations information watch portal montre24.com presents an exclusive video clip of honorary member of the Academy of Independent Watchmakers - Kari Voutilainen. At the annual exhibition of BaselWorld 2012 a watchmaker Kari Voutilainen presented his novelties Voutilainen 2012. His own watch manufacture Kari Voutilainen founded in 2002 in the village Môtiers. Today, a skilled watchmaker Kari creates high-quality watches Voutilainen entirely by hand. Voutilainen watches have a kind of recognizable design, which gives them individuality and unique character. Production of Voutilainen watches is extremely limited: annually craftsmen create no more than 40 - 50 pieces.
At BaselWorld 2012, together with his counterparts - independent watchmakers - Kari Voutilainen presented his novelties Voutilainen 2012 and kindly agreed to show to the team of watch portal montre24.com. Master introduced only one new product, which, no doubt, deserves attention. Watches are equipped with manufactory caliber with a special escapement, which work can be seen through the coated by solid sapphire glass case back. All components of the internal mechanism are made in the workshop of Kari. Diameter of perfectly round gold case is 37 mm. The central part of the dial is made of white mother of pearl, and external - of silver. If you liked demonstrated model and you decide to buy watch Voutilainen, so the price of this model Voutilainen is 82,000 CHF. The model is presented in several versions of the case, issued in a limited edition: 10 pieces with the case made of white gold, 5 pieces with case made of pink gold and 3 pieces with case made of yellow gold.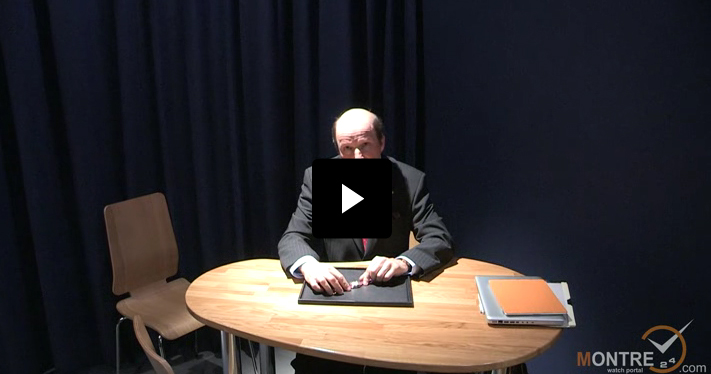 Voutilainen watches presentation at BaselWorld 2012
Then Kari Voutilainen briefly talked about his becoming as a skilled watchmaker. The initial watch education he received at the world famous Finnish Tapiola School. In 1989 he enrolled at the Swiss International School of Watch making, in which he finished graduate school of the restoration of complex, high-quality rare watches than he did the next 10 years. Thanks to much baggage of experience, he soon began teaching at the School of watchmakers WOSTEP, as well as the head of Department of complicated watches. Kari moved to Switzerland 20 years ago and since then horology is his sole occupation. For many years, he manufactured watches for different watch companies. His first watch Kari Voutilainen created in 1994, which was a pocket watch with a tourbillon. It was from then he began to make watches already on a regular basis. Kari began her first steps as an independent watchmaker in 2002. Then his favorite activity was a small workshop in which the artist worked for hours in complete solitude. However, the subsequent success has served to the fact that a small workshop became a real watch manufacture, in which employs more than a dozen people. Finally the master said that the aesthetic side of Voutilainen watches is also a very important aspect of his work.
More clearly to get acquainted with novelties Voutilainen 2012 at BaselWorld 2012 is possible by clicking the following link - http://montre24.com/video/170/.
Official site of Voutilainen watches.
Freya
01.06.2012