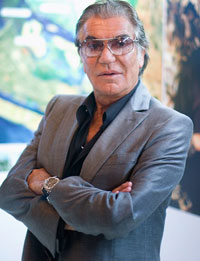 The founder of the famous Italian brand Just Cavalli Roberto Cavalli was born on November 15, 1940 in the Florentine family. Despite the very poor wealth, parents of the present king of fashion, being a seamstress and impressionist painter, were able to provide a creative atmosphere in the house strongly influence its future activities. But his talent and passion for creativity and creativity, he took over from his grandfather on the maternal side the eminent Florentine artist Giuseppe Rossi.
His training began in Roberto Cavalli's Academy of Fine Arts in Florence. It was during his student years he began to experiment with clothes. For the first time the designer on the skin caused prints. He was noticed. In the early 60's Cavalli launched his first fashion collection based on works of art. The European elite was thrilled, and the models were sold like hot cakes.
Until the mid-'90s collection of Cavalli's was not a success due to its overly scandalous images, and a long time he remained an outsider in the fashion industry. Knockout came back to the designer with the launch of a new collection consisting of coat, decorated with crystals in the form of prints animal skins and leather with simulated wear. These bright and shining stars like Kate Moss, Naomi Campbell and Madonna are fans of the talent of Roberto Cavalli. Focusing on a casually vicious-style, reflected in the garish color combinations, the erotic, glamor, veiled frankness, the great designer has won and is now at the peak of a well-deserved fame.
The brand Just Cavalli, along with collections of clothing manufactures a line of perfume, a collection of lingerie, jewelry and watches.
In the assembly, the company uses high-quality watches with Swiss and Japanese quartz movements. Cases of models are made of solid stainless steel. To protect the dial is used mineral crystal. The straps are made of genuine leather.
A bold, unique design and unprecedented performance style - are the main characteristics that distinguish the models from Just Cavalli other watches in the style of fashion. Watches are perfectly suitable for wearing in everyday office life and the luxury of star parties. Watch models feature striking color combinations and unorthodox combinations of materials.


Release of the first collection of watches brand dates back to 2001, when the world-famous watchmaker Sector Group has received an order to produce models with the logo of Just Cavalli. High-tech Swiss movements, combined with exquisite Italian design company's products have raised a wave of well-deserved success.
Bright and expressive model collections 2Use, 4Face, Asimmetric, BAMBU, Chinese, Criss Cross, Hoops remembered his cutting-edge, avant-garde look.
If you want to highlight your outrageous, you just need to buy a watch from Just Cavalli. This sophisticated and too extravagant accessory for many years to be your favorite companion.