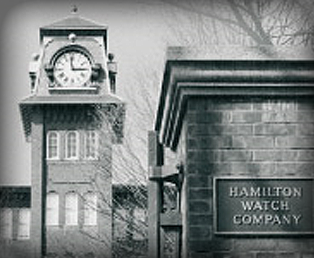 The history of Hamilton watch company began in 1892 in Lancaster, Pennsylvania. This watch company was named after the man who donated a large plot of land to the city community. Some time later a new watch factory appeared on this territory. In 1893, Hamilton produced the first collection of pocket watches "Broadway Limited". The watches were successfully used by the staff of the railway transport department in the USA. These watches quickly advanced in popularity thanks to their accuracy and reliability. That is why, Hamilton watches were known as the "Watches of Railroad Accuracy." The accuracy of Hamilton watches made it possible to improve the work of the U.S. transport department. The watches had put an end to numerous accidents. Soon, Hamilton company became the official watches supplier of the U.S. Army. Hamilton watches became the accessories that were used as the equipment of the famous First Infantry Division of General Pershing during the World War II.
During the World War II the watch company created a collection of military watches, that had a round dial, Arabic numerals and a khaki-coloured strap. So there was a beginning of famous Khaki watches production.
In 1957, Hamilton company made a breakthrough by creating the fist electric watches, running on batteries. So, Hamilton watch company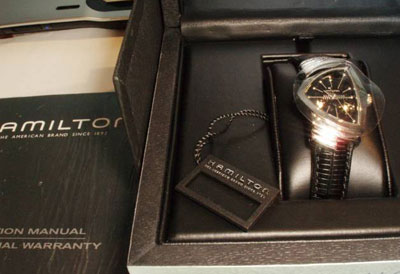 broke new ground in the history of watchmaking. In 1970, Hamilton's watchmakers introduced a new product development - the first electronic watch.
There are two areas of watch manufacturing in Hamilton watch company. They are American Classic, associated with Hollywood style, and Khaki - marine and aviation watches for the U.S. Army.
In the past, Hamilton was rather a categorical watch brand. Hamilton wrist watches were sold mainly in the USA, France, Japan and Italy. However, at the turn of 90-s the watch company was bought by the Swatch Group, which decided to make Hamilton the international watch brand. To this end, the main office of Hamilton watch company and the company's workshop moved to Switzerland.
Hamilton watch brand has found its own niche in the the Swatch Group structure. These watches combine the wonderful spirit of American dream and unsurpassed accuracy of Swiss watch movements.