Information watch portal montre24.com presents to all lovers of fine watch making and lovers of original watches an exclusive video clip of the famous watch company Hamilton, which kindly opened the door of its pavilion at BaselWorld 2012. The annual exhibition BaselWorld is a special place with special atmosphere and mood, where all attention is focused exclusively on luxury and simple, complex and extraordinary, single and massive creation of watch and jewelry business. Each year, BaselWorld exhibition collects a huge amount of jewelry and watch brands in the vast territory, as well as a huge number of visitors from around the world. BaselWorld – is a kind of "sacred" place where every jewelry and watch brand tries to participate. BaselWorld - is no ordinary exhibition, and exhibition - fair, because visitors can purchase liked jewelry or watches directly from the highest-ranking company's executives. It is a great opportunity for all exhibitors to provide all of their luxury watch and jewelry creations in the most favorable light and to the very large number of visitors: general public, amateurs, professionals, distributors, partners and potential customers. The annual exhibition BaselWorld is a special place with special atmosphere and mood, where everything goes by the wayside, giving way to luxurious and simple, complex and extraordinary, single and massive creatures of watch and jewelry art.
The pavilion of Hamilton at the BaselWorld 2012 was the embodiment of the company's orientation. In large glass windows were placed Hamilton wrist watches, as well as pocket watches by Hamilton. There were also presented historical models of the company. On the two screens were presented video clips that remind the visitors that Hamilton watches – are not only real pilot's watch, but the real pilot's watch with interesting and long history.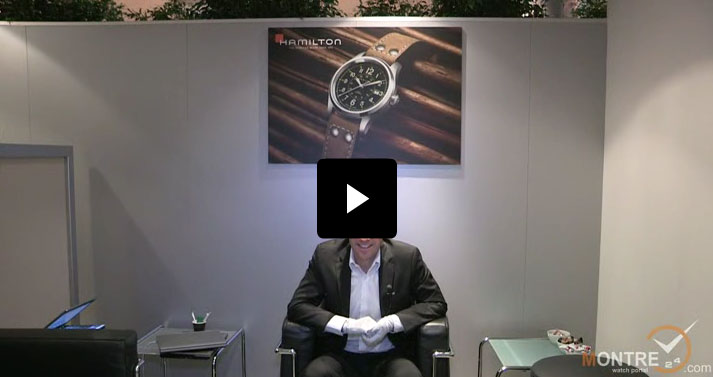 At BaselWorld 2012 exhibition the company Hamilton, founded back in 1892 in Lancaster, Pennsylvania, presented its fine watches. Hamilton watches are distinguished by accuracy and reliability, so they are very popular to this day. Original watches Hamilton are true embodiment of the American dream and unsurpassed precision of Swiss movements. At the BaselWorld 2012 the company introduced its fine and high quality watches. The first presented model was men's watch, an inspiration for the creation of which served watches of 60s. The new rethought of 60s watches marked the 60th anniversary of the company. New men's watch Hamilton is presented in a version with white dial and with case diameter of 42 mm and with black dial with case diameter of 48. The next presented was men's watch, which has become a worthy addition to the well-known series Jazzmaster. The dial of this new watch is decorated with pattern Clous de Paris, which gives the watch a special charm. In this watch can clearly be seen attention to even the tiniest details. It is no coincidence, because this is the key to the accuracy and reliability. This men's watch have a very powerful feature: it is equipped with an original mechanism of Hamilton. This model is available in versions with black and silver dial, as well as with various straps and steel bracelet. The next presented model was a wrist watch - rethought version of the first electronic watch of Hamilton, which adorn the wrist of Elvis Presley. Release of this watch has marked anniversary of Hamilton. New watch comes in pair: women's and men's watch. The main feature of this model is a triangular case, which is not typical of traditional watch making. Women's watch is decorated with two rows of diamonds, which gives watch a luxury appearance. The next model of the company Hamilton was pilot's watch equipped with a converter for the pilots, which is integrated into the rotating bezel. The watch case back has a quite interesting design, which resembles an airplane propeller. All in this watch says about that this is a real pilot's watch, equipped with numeral of useful functions for pilots. The watches are equipped with an original automatic movement of Hamilton. This new watch is presented in a version with black and silver dial, and with the leather strap or steel bracelet. At the conclusion of the Hamilton presentation was presented a very important for the company watch. This year the company Hamilton celebrates its 120 - year anniversary, which is why it introduced a powerful and worthy attribute – a marine chronometer for the U.S. Navy, which was developed by the company during World War II. This chronometer of Hamilton has become part of the equipment of all U.S. warships during the war. One of these chronometers is in the museum of Hamilton, which the company presented at BaselWorld 2012.
The company also introduced a rethought version of the chronometer of the war years in form a little chronometer, which operates on the same principle. This is a tribute to the merits of the former chronometer. The new miniature Hamilton timepiece with one hand move becomes into a beautiful table clock, as well as into luxury pocket watch and wrist watch. This amazing model is presented in a limited edition of just 1892 pieces, which embodies the date the company's foundation - 1892. To get acquainted more clearly and in detail with the new Hamilton watches at BaselWorld 2012 is possible in the video clip of montre24.com, clicking on the link - http://montre24.com/video/116/.
Official site of Hamilton watches.
13.04.2012