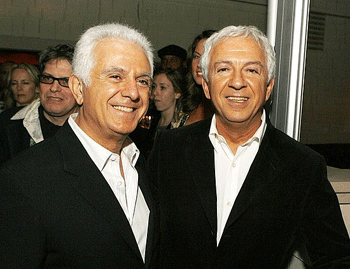 In 1981, brothers Paul and Maurice Marciano founded the company Guess in California (USA). Maurice and Paul were born and raised in France. Their brand initially produced only a pair of jeans. In 1984, brand began to make watches. The development of a new direction was going well and was not dependent on primary sector. Guess quickly mastered the company a new market segment. High quality and style of Guess watches have brought popularity and recognition around the world. The company opened 12 000 Guess watch shops in more than 70 countries. In order to promote its brand brothers Marciano used a novel approach. Instead of advertising to attract a larger audience, the company operates Guess a narrow group of people. This is mainly the youth, who is bright, independent, ambitious, active and outdoor lifestyle. To promote the brand used by a party, contests, prizes, gifts and other unusual technologies. Especially popular contest «Faces to Watch». It can engage anyone. Claudia Schiffer, Eva Herzigova, Naomi Campbell, Laetitia Casta and Carla Bruni became famous thanks to this contest. Guess Watches harmoniously combine the classics and the latest trends, the unpredictability and contrast, sophistication and innovation, elegance and chic, the constant generation of new ideas and originality. Guess watch instantly soaked in pop culture and became a symbol of generation. A huge advertising campaign paved the way for many previously unknown top-models. Under the leadership of Paul Marciano photographers Meyser Wayne and Neil Kirk were inspired by the deserts of Western America, on the beaches of Rio and the streets of Paris. In the early 90's wristwatch Hess stepped outside America, branded boutiques have appeared in Europe, Asia, Africa, Australia and South America. In the late 90's line of products enriched with clothes for the beach, bags,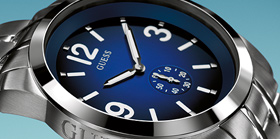 belts, watches for recreation and jewelry. The very first series of watches Hess was published in 1984. The basis of the idea of production has become fashionable and interesting watches for women, as well as technologically feasible designer watches for men.
Guess collection of frequently updated, allowing the buyer to choose the watches in any direction.
Each collection is unique in design. Watches are manufactured in a factory, equipped with modern technology. For the manufacture of watches high quality materials and arrangements of Japanese movement Miyota. Guess watch is decorated with crystals on the brand of Swarovsky. Chic image Guess watches created by talented designers. Guess watches embody style, success and respectability. Brand Guess one of the most famous and fashionable brands in the world. Production is the result of technological and design skills and cover all costumer tastes.