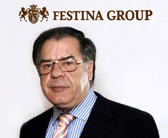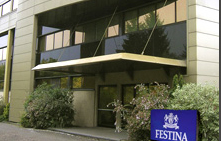 In 1902 was founded the Swiss watch company FESTINA. In 1984 the FESTINA company bought the Spanish entrepreneur, owner of Lotus, Miguel Rodregez. Brand has mastered the market in Spain, Germany, Italy, France, and USA. By 2002 the company won perfect and reliable reputation in the watchmaking world. Today the company has offices in 85 countries and employee over 2,000 people. FESTINA watches combine a high quality assembly and precision of watches. The company has two factories: in Switzerland (Herbetsvil) and Spain (2 plants for the production of gold bracelets and buildings, and factory assembly.) FESTINA concentrates all its products on its own ultra modern terminal, which is located in Barcelona, and then distributes all over the world. Therefore the firm does not specify exactly which plant produced the watch. FESTINA annually produces more than one million watches, while carefully considering every detail of the movement, and repeatedly test production. One hundred percent of quality control have all models. Department of design follow the watch fashion trends of the world and dictate its own rules.
Festina watch is a leader with the average prices. Each collection is unique and different from others, but they share emotions (love, freedom, passion and sophistication) that Festina brings to all its customers. Its revered in many countries, such as Canada, Greece, USA, Russia, Brazil and China. Brand goes in step with evolving technology and design.
Swiss company FESTINA is the official timekeeper of bicycle racing. FESTINA has its own cycling team, which won the race twice TOUR DE FRANCE, a leader of the team was three times voted as the best driver. The company annually creates a new collection dedicated to cycling. In this collection features high-precision professional sports chronographs.
By tradition the company Festina makes technological innovations that have become apparent by looking at a considerate. These innovations include automatic mechanical watches, which are combined with quartz technology to dial additional second time zone, or specially hardened crystal glass, which are polished by hand. Chrono Festina deserves respect, whether quartz or mechanical, male or female, with a calendar and an alarm clock, steel, composite or titanium.
Most chronographs Festina are multifunction quartz model with a calendar, stopwatch, timer, alarm clock and a pointer to the second time zone. However, Swiss watch company Festina has classical and automatic chronographs.
At Baselworld 2004 Festina presented complicated diver's watch. These watches are equipped with a combined analog-digital display and an electronic depth gauge. The watch automatically goes into dive mode when activating the sensor, which is activated upon contact with water. During the dive screen shows the current depth, dive time, water temperature and the maximum depth. The watch can save the result of 4 dives. ISO/6425 confirms that the watch water resistant is up to 200 meters. On the rubber bracelet printed reduce pressure limit, which corresponds to the Guide to Diving navy of America.
At Baselworld 2005 in Basel, Festina presented complicated quartz watches that have a minute repeater and perpetual calendar. These watches are equipped with an electronic sound repeater, full automatic calendar which keeps track of the date of each month, including leap year. Also, these watches are equipped with chronograph function, which carries up to 12 hours running time, the functions of an alarm clock and a graphical representation of phases of the moon.
Swiss brand FESTINA produced hundreds of different models. The most popular collections - Tour de France, MegaQuartz, Mambo, No. 9, Multifunctional, Chronograph, Sport, etc.