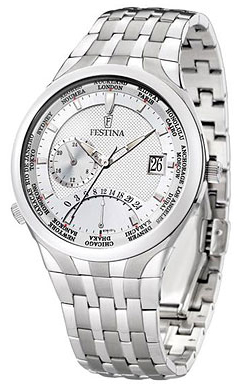 Practically watch company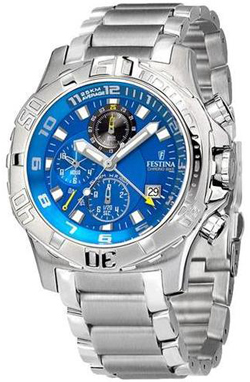 Festina is a perfect answer on the question of watch shop owner about what brand can choose on role of "universal product": it combines such qualities as real Swiss background and history, wide range of collections (sports, classic, modern and even gold watches), low price and quality guarantee, provided with big production manufacture, having several modern factories in Switzerland. Someone thinks that Festina is a sports brand, as its bicycle chronograph are famous among young people, someone rank it to fashion watches, especially when they produce seasoned bright series, for someone chronographs Festina is accessible Swiss classic. And if count all pluses of the company Festina in the whole, it appears very enthralling and unusual suggestion, which will wide the range of the shop. The brand was founded in La Chaux-de-Fonds in 1902, in the period of prosperity of art nouveau style. Owners decided to call watch company not by their names, but first word from well-known Latin proverb Festina Lente, which translated as "hurry up slowly". At the beginning of XX century in the epoch of art nouveau allegory was modern, and exactly this combination of words, consists from 12 letter, often write on the dial instead of standard marking. Who doesn't know Latin language the name Festina resembled word "fest" which means celebration, and it is immediately disposes people to this perfect watches. Successful name and general up of Swiss watch industry that times made brand popular. In 30-s during Europe economic crisis, grandsons of the founders of the brand sold it to businessman Willi Burkhard, after war the company changed some owners, till at the beginning successful Spanish businessman Miguel Rodriguez got interested in it.
By that time he founded his own watch brand Lotus popular in Spain and Italy, but he needed something serious and prestigious to come to Swiss market, and then all the Europe. In 1984 Rodriguez bought Festina – popular Swiss brand with good reputation. Thus, was laid the foundation of Festina Group – concern, became one of successful in middle price segment. Changing the owner opened new and interesting horizons before brand: in 1985 after a year of union, Festina produced revolutionary model with Moon phase, and in 1995 became the first brand, which made case from light and hypoallergenic titanium. Nowadays, Festina Group has several assembling factories, including in Swiss town Hebertsville, and standard purchased components, assembling and tests of chronographs Festina don't yield to expensive Candino and Jaguar (also from Festina Group).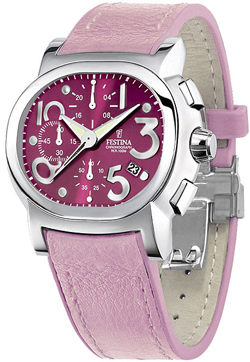 Mostly Festina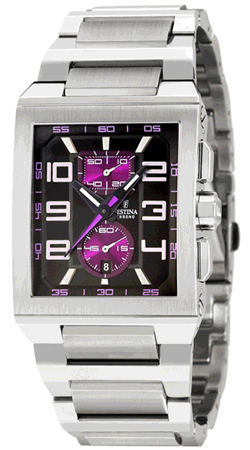 collections are made on the base of quartz movements, but there are exceptions: in 1999 watch group bought factory which produced gold cases in Kordobe, as a result prestigious and expensive line Festina Gold appeared, paied tribute to times of creation of brand. It presents gold men's and women's models, the first one are equipped with automatic movements.
But mechanical chronographs are priority for Festina, because the brand firstly oriented on them, who buy watches for life and values durability, accuracy, stylish design and diversity. Here owners of Festina are not disappointed. Except the series Festina Gold, in the basic collection of the brand has three directions: Classique, Sports and Tendance, which present models standard, sports and fashion. Annually in frames of every direction produces absolutely newest models. Sports segment is one of the strongest in range of Festina, brand for many years is a sponsor of cycle race Tour de France and produces popular series of modern and bright watches. This year watch company Festina invented double chronograph Festina Tour in men's and women's variants. It has unique and memorable details, for example, inserts from carbon on bezel (men's watches bezel is made like bicycle tire tread) or unusual bracelet of women's version from rubber and rose denim.
Designers of Festina very relaxed treat colors, using fantasy, which is not inherented to many Swiss brands. This Spanish, Mediterranean interesting and colorful style mark the brand, and not just watches, but also packaging products, displays and POS-materials.
Stylish ladies remember bright collection Mambo and collection 9 Collection with exclusive case, as if adnated to perfect Italian leather strap. The main feature of series – chronographs counters, dial details and strap, colored in bright purple color.
In frames of classic standard line Festina made unique model of retrograde watch. Retrograde counters of quartz movement are designer's finding itself: on "12 hours" is situated hand of the calendar, on "6 hours" - duplicate the main time 24-scale, and on "9 hours" - added dial GMT.
Looking at models of Festina watches it is clear why it is taken just first part from Latin proverb and why brand is not taken as a one hundred years of history. Every model Festina lighting with energy and created special for modern active person.