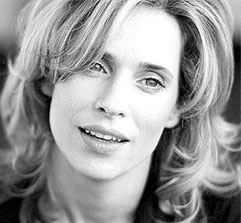 The Swiss DeLaneau watch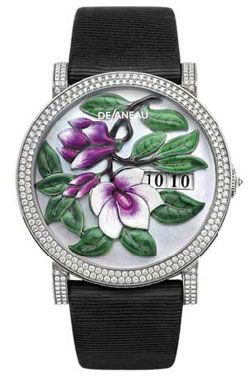 company was founded in 1880 in the city of Bienne. DeLaneau company's wrist watches are masterpieces of jewelery art, created in the best high watchmaking art traditions. It was among the first Swiss watch companies, that started producing watches with jewelery garnish.
DeLaneau company is declared a Haute Joaillerie in women's wrist watches production. The correspondence to the high technical standards of the Swiss watchmaking style, the stylish and luxurious outlook, the usage of rare and expensive precious stones allow DeLaneau watch manufacture to hold the firm position in the luxe-class jewelery products market.
In 1997 DeLaneau company was headed by Thevenaz family and its headquarters was moved to Geneva. Under the company's president, Philipp Thevenaz and its creative director, Christina Thevenaz's government, DeLaneau watch company produces prestigious wrist watches for modern, successful, and self-assured women. At the same time, men's collections are designed. DeLaneau company got an international patent for the designing a men's watch with a classic movement, supplemented by 2 quartz movements, which lets it indicate time in 3 time zones simultaneously.
Christina Thevenaz, being a novelty supporter, has marked the new style in the Haute Horlogerie world. Before coming to DeLaneau watch company, Christina Thevenaz studied graphic design, architecture and interior design. The first collection, produced by DeLaneau watch brand with Christina Thevenaz in 200, was the "Les Capricieuses", which won great polularity.
In 2004 a women's tourbillon watch collection was created, combining high quality with the art of precious stones incrustation.
DeLaneau watch manufacture's designers widely use the old traditional technique of enamel and engraving, allowing to make wrist watches works of high imaginative arts. An enamel craftswoman, Dominique Baron, has been studying the old enamel painting techniques for years and now she successfully uses them in exclusive DeLaneau wrist watches.
DeLaneau Geneve brand's collections include: "LOTUS", "LES INVISIBLLES", "BLUEBERRIES", "LES MINIATURES", "DAHLIA", "ANGEL HEART", "LILY", "MAGNOLIA", "WAVES", "SUNRAYS", "ATAME", "PSYCHEDELIC CIRCLE".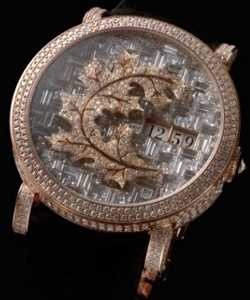 The DeLaneau Lotus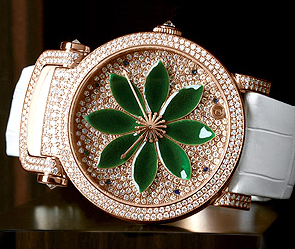 watch collection develops the floral theme. There's a lotus flower on the dial. Depending on the model, the flower's leaves can be enamel-coated or diamond-paved.
The DeLaneau "Marlene" watch model's case is made as a box with an opening lid in the shape of a cut cylinder. If you replace the strap with a bracelet, incrusted with pearls and onyx, the wrist watch becomes a luxurious bracelet.
The DeLaneau "Le Paon du Jour" watch model's case is made of 18-carat rose gold, there's a butterfly, decorated by enamel, on the dial.
DeLaneau manufacture produced 5 women's tourbillon watch models specifically for the Russian watch market. The watches' cases are planned to be made of white or rose gold, incrusted with precious stones: diamonds of Baguet cut, sardius, emeralds, sapphires. The dial is made of colourful nacre. DeLaneau wrist watch production is limited by 1500 pieces a year. The average price of a DeLaneau watch is about $40000.
DeLaneau watch company produces limited wrist watch series, not more, than 200 pieces of every model. All models are hand-finished. DeLaneau manufacture specializes in "Piece Unique" models production, most of which are made by order for collectors.
According to the company's creative director, Christina Thevenaz, "DeLaneau watches combine exceptional quality, high watch craftsmanship and genuine art, that moves you deeply". DeLaneau brand's watches' singularity is based on the capability to create watches with female character. You can buy a DeLaneau watch at the brand's boutiques.