The watch company DeLaneau has introduced a new collection of luxury women's watches Translucent with enamel dials. Each dial, made in the technique of hot enamel Grand Feu, is a unique instance of fine watchmaking, the result of 8 months of research. As noted by the creator of the collection Bridget Morina, "There are several ways to cover the surface of the enamel, but they all require a lot of time."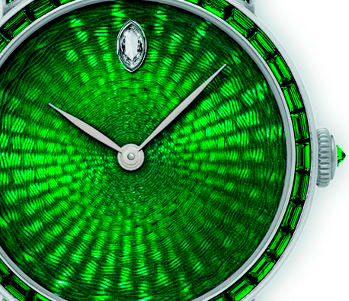 women's watch Translucent by DeLaneau
Talent of the enamellers of the house DeLaneau coupled with the skill of engravers and artists in guilloche - the key to the success of the collection. The collection consists of impeccable female models with graceful feminine lines. The source of inspiration for Bridget Morina became an old enamel box found in Portobello. Enamel is well preserved, and experts of the brand were able to identify the initial colors of the enamel.
Due to absence of hour markers on the dial, moving diamonds on the bezel are floating above the enamel. Gold disc of the dial at first is covered by hand with enamel guilloche pattern, and then apply the technique Bonfire in red. The ultrathin date aperture is laser-cut in the shape of an ellipse. The presented models are decorated with precious stones, representing the four seasons: winter - diamonds, spring - emeralds, summer – sapphires and autumn - rubies.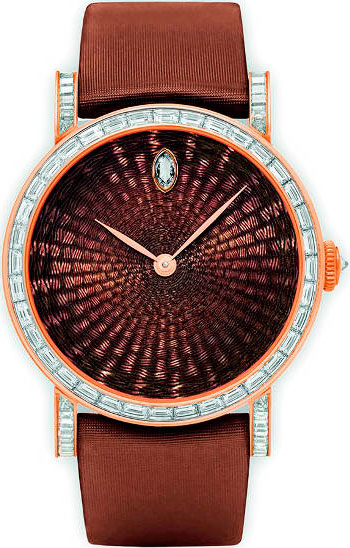 women's watch Translucent by DeLaneau
Models have white gold cases, encrusted with 69 gemstones. The crown, which is located at the 3 o'clock position, is decorated with the appropriate gemstone cabochon. The model functions on the basis of automatic mechanisms.
To buy the Translucent watch will be available through the officials of the company DeLaneau.
Official site of Delaneau.
Written by Lucy Vuiton
31.12.2012