History of the company Citizen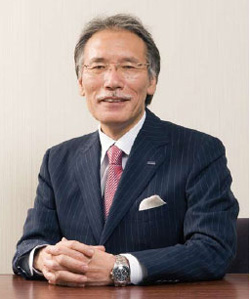 The faith of Tokyo Mayor Shimp Goto in success of pocket watches was embodied in the creation of the company for the watch production in 1918. The main motto of the company Citizen became the phrase: "Being close to the hearts of people everywhere". It was in 1918 at a research institute in Shokosh, where was based the watch company Citizen.
This company has made a great contribution to the global watch industry. For first time in history Citizen has created the first quartz watch, which has the error only in 3 seconds. Diligent developments and hard work brought its result, and soon, by the end of 60th Citizen acquired a reputation of watch company, which produces watches of the highest quality. By this time to buy a watch Citizen becomes possible in Hong Kong and Southeast Asia. The company's production quickly conquered the Asian market, which has allowed the company to step into the next level of development in the world. In 1976 Citizen presented solar-powered watch, and two years later united in its movement analog and digital time displays.
In 1985 the achievement of the company Citizen became models with an electronic depth gauge, designed for divers. Four years later the company created wrist radio watch Citizen, indicating the exact time in different time zones.
In 1995 the company Citizen began to develop a watch with a borrowed environmental technology Eco-Drive.
In 2000 Citizen presented a model with thermal actuator, timeless timepiece and watch Eco-Drive INFINITUM with automatic start mode of saving energy and perpetual calendar.
In 2001 the company Citizen produced watches for professional divers with the ability to connect to a PC.
In 2003 Citizen presented to the general public watches in solid metal cases, with high water resistance. For the company Citizen 2005 was marked by presenting of a new model in the series Citizen Promaster E 2100 Power Reserve with a complete set of analog charging indicator.
In 2006 Citizen produced a model Citizen Eco-Drive Minute Repeater – a minute repeater, beating off an hour and a quarter of hour at the request of its owner.
The combination of luxury and ease of watches Citizen is key to the success of the brand, and the faith of the company's founder Goto that they will become popular not only in Japan but around the world, is becoming a reality.
Wrist watches Citizen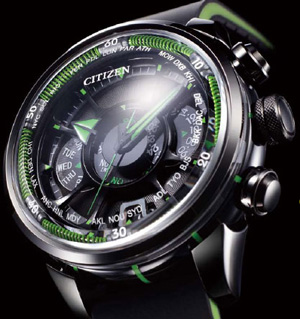 Wristwatch Citizen is unique attributes by their technological saturation, which characterizes its owner as a man, walking in step with the times. These watches are equally respectable as on the wrist of successful businessman as on the wrist of conventional employee. This popularity and "omnipresence" of watches Citizen is provided by high-tech production, a constant search for Watches Citizen give unlimited possibilities for their use: sports, professional chronometers for swimmers, climbers, divers, yachtsmen and simply elegant and solid models both for men and women. During 85 years of continuous work the company Citizen has been successful on a global level and has distributed its products throughout the world. Per year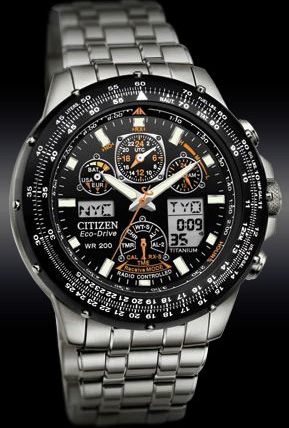 Citizen produces about 292 million watches. Proven over the years the quality is the firm's reliability. In 1975 an independent survey watches of the company Citizen occupied first place among the most accurate watch. Manufacture of sports watches is one of the main activities of Citizen. In this case products of the company are not just a wrist watch; it's practically a minicomputer - shockproof and waterproof. Model Citizen Promaster are usually preferred for water sports; this watches have a built-in stopwatch, automatic perpetual calendar, timer, depth gauge and alarm. Citizen Promaster operates flawlessly as on land as under water and in air. Professional chronometers Citizen for divers withstood the test of one kilometer depth. For climbers Citizen offers watches with a height gauge and a barometer. Citizen Eco Drive is completely autonomous from Citizen model. This watch uses solar energy. Light catching elements on the dial use light energy for charging of mechanism. Citizen Eco Drive can be considered a perpetual watch, because the sun's energy is sufficient for continuous operation up to 80 days for this model. The watch mechanism does not stop, even after lying in the dark for several months. Citizen Titanium is a collection, which has a great popularity. Titan, which the case of these models made of, is extremely durable, lightweight and hypoallergenic. The case of female models Citizen Titanium has a thin layer of gold, giving the watches elegance and solidity. Models Citizen Titanium have a built-in alarm, stopwatch and tachometer. Among other things, watches from the collection of Citizen Titanium have water resistance up to 50 meters.
In the model line of Citizen you can also find a stylish and inexpensive quartz watches, high-quality mechanical chronometers with modern design and variety of functions.