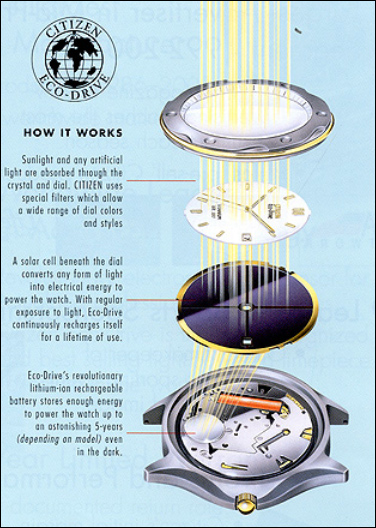 Eco-Drive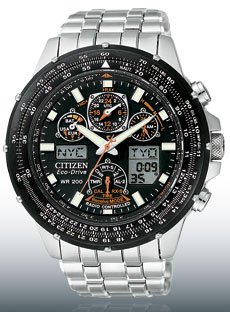 is a unique technology developed by a reputable company Citizen. This technology is used in most models of watch brand Citizen, and it has become a hallmark of the brand. Innovative system of recharging Citizen Eco-Drive represents the limitless desire for knowledge of nature and the modification of that knowledge in the latest technologies to help people discover more deeply the world without compromising the environment.
Eco-Drive is the name of the watch series designed by Citizen Watch Co, which are charged, mostly by light energy. The first "energy" wrist watches were sold in 1995 and then successfully continue growing collections of judges of "environmental chronometers."
Most models of the Eco-Drive series are equipped with special titanium lithium - ion battery, which is charged with the amorphous silicon solar cells. Eco-Drive system can not only convert sunlight or artificial light into electricity, but also to extract energy from the kinetic and other heat sources. Using basic technology Eco-Drive, Citizen has created a number of new games: Eco-Drive Thermo, Eco-Drive Infinitum and Eco-Drive Eclisse.
Depending on the model, a fully charged battery can provide the clock at no extra charge from 30 to 3175 days (8.7 years). If a watch is in the dark for a long time, some models go into sleep mode, in which the watch is stopped its movement, but the internal quartz movement keeps over time. If any energy source appeared, the hands resume the course, continuing to show the correct time. Eco-Drive watch is a fully autonomous mechanism. This is a kind of original incarnation of future technologies in the world of watches. It requires no battery change, because it can be charged by any light source due to the unique light catching elements of which is made a watch dial. A full charge of Eco-Drive watch is enough for continuous operation for six months, even in complete darkness. Eco-Drive watch is very accurate, durable and lightweight due to titanium case.