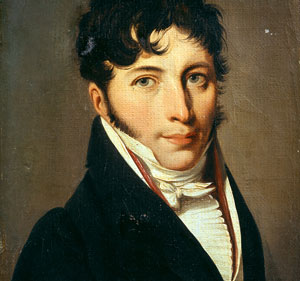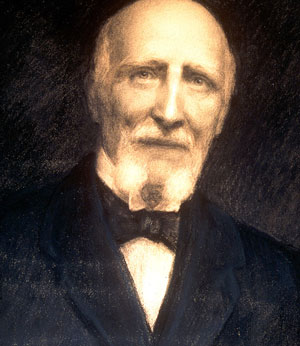 The French company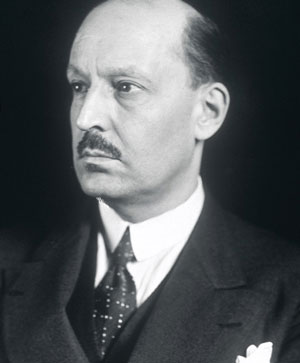 Chaumet is creator and keeper of a precious cultural heritage for 230 years. Products of this jewelry house combine craftsmanship, reliability, beauty and exclusivity. Models of watches by the jewelry house Chaumet hit by combination of understated elegance and creativity - new aesthetic luxury.
The founder of the jewelry house Chaumet - Marie-Etienne Nitot in 1789 opened a jewelry store in Paris. Success and fame come to him after 1802, when he became Napoleon's personal jeweler. Together with his son Nito he created luxurious decoration in the Empire style. By order of the emperor, he produced imperial regalia and sword. The case of the dynasty Nito continued Jean Batiste Fossen and his son Jules. Their clients were the elite: the family of King of France, French and foreign aristocrats. Father and son worked in the style of naturalism, carefully reproducing the shape of flowers and leaves, bunches of grapes. Succeeded by Jean - Valentine Morel with his son Prosper after the Revolution of 1848 opened a branch office in London and became a jeweler of Queen Victoria. Jozeph Chaumet after marrying the daughter of Prosper Morel became the head of jewelry house and in 1895 the jewelry house was called - Chaumet. In 1907, Chaumet opened its store at Place Vendome, 12, where the present day is a boutique of this legendary jewelry house. In 1928 Marcel Chaumet inherited his father business. He was already working in the Art Deco style, characteristics of which were contrasting combination of colors and materials and the use of semi-precious stones. Since 1999 the jewelry house Chaumet is a part of LVMH Group.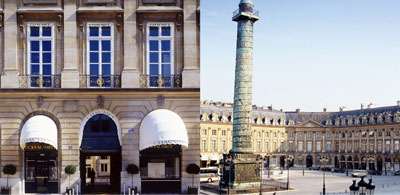 The company Chaumet is at the forefront of fashion trends. In the style of the house there is a note of "aristocratic-rock", which let to create a new collection of watches: Class One, Liens de Chaumet, Dandy, Attrape - moi ... sit u m'aimes, Khesis and Grad Frisson.
The collection of watches «Attrape moi ... si tu m'aimes» (Catch me ... if you like) is composed of 24 pieces of white gold with diamonds. The dials are decorated with notched enamel, which set off the splendor of diamonds and colored stones cut "cabochon."
Collection Dandy Arty Edition is designed for men. These models are made with absolute creativity: a combination of restrained elegance and couture details. Distinguish features of collections Dandy are convex shape case and black sapphire glass. The two dials - the hour and minute offset relative to the center and overlap. The crown is located at the position 12 o'clock. Wristwatch Dandy Edition Arty demonstrates the wealth of black color. Strap is a combination of patent black leather and satin, finds its continuation in the strips Bajadera. Bajadera is guilloche stripes crossing the dial of the watch created on the principle of contrast matte and shiny surfaces. These strips are also reproduced on the platinum of automatic caliber and on the case back. Self-winding mechanism was created for the brand Chaumet on an exclusive basis and in the best traditions of Swiss watch making. Case diameter is 40 mm. Water resistance is up to 3 ATM (30 meters). Power of reserve is 42 hours.
Chaumet Dandy Normandy - Niemen is released in limited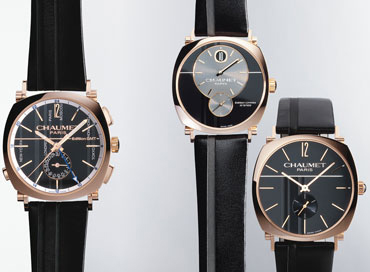 edition special for the 65th anniversary of the company. It is based on the model Dandy GMT. On the dial on both sides with 12 numbers are vertically written names of capitals - Paris and Moscow. Near the numbers 3 and 9 with gold letter is written – Normandy and Niemen. Strap of the watch with red stitch is made of calfskin. Cases of models Dandy Normandy-Niemen are made of steel (45 pieces) and rose gold (7 pieces).
Case diameter of the model Class One GMT is 45 mm, case is made of titanium with a PVD-coated. Dial decorated with the "sun" and "24 time zones" motif. Hour and minute hands are in black, hand of second time zone is blue, and hand of date indicator is with rhodium-plated. Strap is made of rubber. Water resistance is up to 100 meters. Class One chronograph is available in three variations-in the case of rose gold, in polished titanium and steel, matt titanium and PVD-coated. Series of women's watch is Class One au feminine-Class One White & Black.
Jewelry Collection of Chaumet is available in limited series: of 25 pieces, 12 pieces, and there are models Chaumet watches produced in a single piece. Wrist Watch Chaumet Le Grand Frisson is available in white gold case, diamond pave, dial of Polynesian pearl - 25 pieces. Wristwatch Attrape-moi ... sit u m'ailes is jewelry series in different variations - 12 pieces. Wristwatch Class One Haut Joaillerie is in white gold case, with bezel, encrusted with cut diamonds "baguette" diamonds, dial motif "chessboard" in different variations on the same instance.
Authors writing of Chaumet is luxurious, but not the caller, classic, yet modern in spirit. Models of male and female watches interest both lovers of luxury watches and collectors. Constant striving for perfection allows the company Chaumet creates products customized - it's a privilege of favorite jewelry houses.