Intelligence watches of Agent 007
As the proverb runs, it's the retinue that makes the king. The most famous secret agent in the world James Bond works alone, but he also has a kind of assistants. For example, his Achates – special wrist watch. We are speaking about those unusual gadgets, created by genius Doctor Q for agent 007. By the way, these wonder-devices have real prototypes. The fans of Bond would buy with pleasure the Rolex or Omega wrist watches, even if they were not provided with additional functions, like in the movie. The point is that they are just like the favorite hero's ones, and have many of their own privileges.

In the beginning was the Word…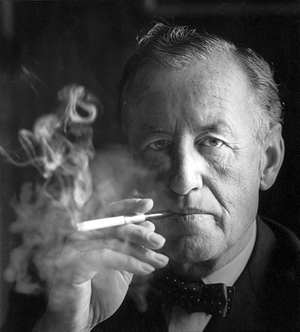 To say more exactly, it wasn't one word, it was a whole novel, written by ex-journalist Ian Fleming. We must say that the creator of famous agent 007 served as a personal assistant of British Royal Fleet Investigation Director during the war on Nazis. Probably, his personal impressions, completed with fertile imagination, underlay his novels.
Ian Lancaster Fleming – an Englishman, son of Valentine Fleming, Oxford landowner, member of parliament, outstanding political figure and hero of the war. The future writer was born in 1908, and when he was only 9, his father died at one of the front lines at the First World War.
At first Fleming studied at prestigious Eton college, which he was drummed out of in a couple of months. An unpleasant incident with some girl was the reason. As a result, Fleming had to continue studying at the Royal Military Academy Sandhurst. But he couldn't manage to get a commission. To get an education Fleming moved to Europe. In small town of Austria, Kitzbuhel, he finished his education. Fleming was dreaming of a post in the Ministry of Foreign Affairs. However, he failed his entrance test. Then Fleming made a decision to get engaged in journalism, like his elder brother, who, by the way, was much more famous at that time. In the beginning he collaborated with the agency "Reuters", and later he became a correspondent of the most prestigious edition in England – "Times" newspaper.
When the Second World War started, Fleming didn't stand off. From May of 1939 he had been working in maritime reconnaissance. In a short time Fleming managed to better himself and become the "right hand" of one of chiefs – the admiral John Godfrey. By hearsay in 1945 Fleming managed to take part in a special operation – kidnapping of Martin Bormann, which was named "James Bond". Fleming died in London in August 12, 1965. By some quirk of fate, he returned to his native city to his mother's funeral. The writer's weak heart couldn't endure the flight. Fleming was only 56 years old.
When Fleming was 42, he moved to Jamaica and settled in picturesque place at villa "Golden Eye". Worrying about Empire collapse at safe distance, he was sipping gin and feeling nostalgia. That life resulted in literature essays of Fleming, describing incredible adventures of invincible secret agent. He got the name of ornithologist James Bond, who wrote a book on ornithology "Birds of the West Indies". Later Fleming admitted in his interview, published in the magazine "Reader's Digest", that he choose that name because of its simplicity and neutrality, as his Bond was "an anonymous blunt instrument, wielded by a government department, a neutral figure, surrounded by exotic things".
The writer didn't let exotic things down – Bond had enough most incredible adventures. And the trappings were correspondent – expensive luxurious cars, beautiful girls and heaps of technical things, such, as shooting pens or wrist watches, cutting metal.
All those attributes migrated to the movie about Bond. The first movie about that officer of British special service M16 – "Doctor No" – came out in 1962. The director Terence Young created the image of James Bond, using the car of Aston Martin brand and the wrist watch "Rolex Oyster".
Since that time the fans of "Bondiana" have been enjoying new episodes from adventurous life of agent 007 approximately every other year. Totally 22 movies about Bond have been issued today. It is one of the most long-drawn series of movies in the world, and at that it is the second most successful one. The creators earned on "Bondiana" totally USD 6 milliards. And it is only from box office. You can hardly invent a better way to promote a car or wrist watch than to show the Bond's fans that the agent 007 himself preferred just that one. He needs solid grounds to assume new habits. As over the history of "Bondiana" the biggest watch companies were fighting for the right to put on their wrist watches on Bond's wrist. To that end they had to exercise outstanding ingenuity, providing their items with fantastic functions, which couldn't exist in reality.

That's what you are, Bond!
Many people suppose that James Bond is a romanticized image of Fleming himself. These suppositions are not groundless at all: the author and his hero studied at the same school, made similar career in the navy, have the same habits – food (omelet and coffee), women.
However, Fleming himself asserted that one should regard of that character with irony. "If someone has his brains at place, - he admitted once in discussion with the writer Raymond Chandler, - he would never seriously discuss a hero like Bond".
But the readers didn't agree with him. The books about Bond were sold at 40 million pieces around the world. Perhaps, "Bondiana" became successful because the adventures of agent 007 were not available for people in everyday life. And the charm and man power of Bond, which can be copied more or less, gave birth to enormous number of imitators.
First of all, the fans of agent 007 take over his ironical way of interacting, perfect classic style of clothes and recognizable wrist watches. Even the most famous watch company wouldn't refuse such PR, therefore, they would be glad to give a sample of their production for filming. The directors only had to choose one of hundreds possible variants that would mostly reflect the character of agent 007.
The specific features of Bond are decisiveness, taste for various reckless schemes and power methods of conflicts solution. His weak points – passion to alcohol, gambling and, of course, women. Considering all that, Fleming himself helped Terence to choose the first watch for Bond. Then the wrist watches themselves chose their famous owner, competing in ingenuity for the place on his wrist.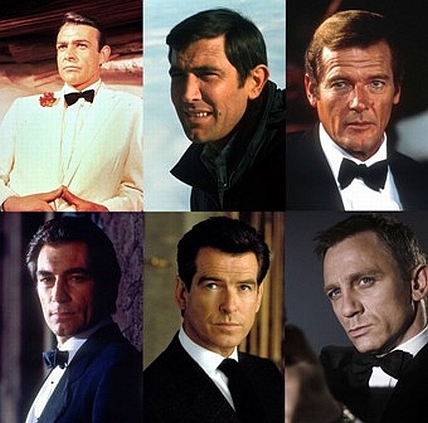 Today, totally 24 movies about the super agent are made. 22 of them are referred to the number of official movies:
1. "Dr. No", 1962, directed by Terence Yang, with Sean Connery in the lead role;
2. "From Russia with Love", 1963, directed by Terence Yang, with Sean Connery in the lead role;
3. "Goldfinger", 1964, directed by Guy Hamilton, with Sean Connery in the lead role;
4. "Thunderball", 1965, directed by Terence Yang, with Sean Connery in the lead role;
5. "You Only Live Twice", 1967, directed by Lewis Gilbert, with Sean Connery in the lead role;
6. "On Her Majesty's Secret Service", 1969, directed by Peter R. Hunt, with George Lazenby;
7. "Diamonds Are Forever", 1971, directed by Guy Hamilton, with Sean Connery in the lead role again;
8. "Live and Let Die", 1973, directed by Guy Hamilton, with Roger Moore in the lead role;
9. "The Man with the Golden Gun", 1974, directed by Guy Hamilton, with Roger Moore in the lead role;
10. "The Spy Who Loved Me", 1977, with Roger Moore in the lead role again, but directed by Lewis Gilbert;
11. "Moonraker", 1979, one more movie from Gilbert and Moore tandem;
12. "For your eyes only", 1981, directed by John Glen, with Roger Moore in the lead role;
13. "Octopussy", 1983, directed by John Glen, with Roger Moore in the lead role;
14. "A View to a Kill", 1985, directed by John Glenn, Roger Moore played the main role again;
15. "The Living Daylights", 1987, directed by John Glenn, Moore was replaced by Timothy Dalton;
16. "Licence to Kill", 1989, directed by John Glenn, with Timothy Dalton in the lead role;
17. "Golden Eye", 1995, directed by Martin Campbell, Pierce Brosnan played Bond for the first time;
18. "Tomorrow Never Dies", 1997, directed by Roger Spottiswoode, with Pierce Brosnan in the lead role;
19. "The World Is Not Enough", 1999, directed by Michael Apted, with Pierce Brosnan in the lead role;
20. "Die Another Day", 2002, directed by Lee Tamahori, with Pierce Brosnan in the lead role;
21. "Casino Royale", 2006, directed by Martin Campbell, Daniel Craig became new Bond that time;
22. "Quantum of Solace", 2008, directed by Marc Forster, with Daniel Craig in the lead role.

The filming of another, 23rd part of "Bondiana", which is planned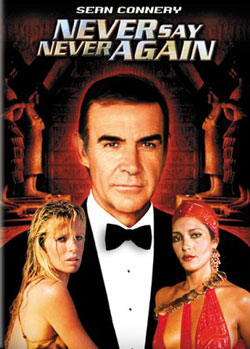 to come out approximately in 2012, is in process already. It is named "Skyfall". Sam Mendes is invited to be the director, and Bond will be played again by Daniel Craig.

There are also two films that were referred to the number nonofficial or non-canonical movies. They are "Casino Royale" (1967) and "Never say never again" (1983). The point is that the Hollywood studios "United Artists" and "MGM" were the initiators of creation of agent 007 adventures' TV versions. They offered the idea and got involved in its development and embodiment in famous movies. They created a certain set of necessary attributes indeed, which had to be used in each movie about James Bond. And the films "Casino Royale" (1967) and "Never say never again" (1983) don't have, for example, the famous jazz theme, created for Bond by a musician John Barry, or certain elements of graphic design, so on. So, why did those series appear after all?
It is generally known that in the early fifties the rights to the novel by Fleming "Casino Royale" were sold to some Gregory Ratoff, who made a television play from it, with Barry Nelson as Bond. Much later, when the rights to the rest of the Ian Fleming oeuvre were acquired by "MGM United" and "Artists", "Casino Royale" stayed by itself until Ratoff's widow decided to screen it. As a result Charles K. Feldman, who bore no relation to aforementioned studios, became its producer.

"Never Say Never Again" was screened by the novel "Thunderball". The screenplay was written by Fleming himself in conjunction with potential producing partners, who included English producer/writer Kevin McClory. However, that project, called "Longitude 78 West", was never filmed. In 1963, the film rights to Thunderball were awarded to Sean McClory. Exercising his rights, he essentially remade "Thunderball" in 1983 as "Never Say Never Again". His producing coup was to successfully cast Sean Connery, which is why Never Say Never Again is often erroneously thought to be part of the official series.
Rolex Oyster — the best for the best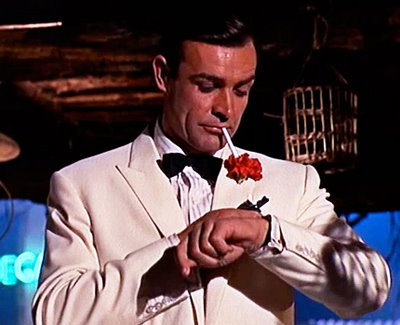 In the 15th chapter of novel "On Her Majesty's Secret Service" the special agent puts on Rolex Oyster Perpetual Chronometer – most prestigious and expensive watch of that time. The writer though out that the small accessory indeed could include many useful functions: from messaging to metal drilling and elimination of opponent due to absence of that weapon. Sure, Bond couldn't wear any cheapies, as he is perfect in everything. That's why in 1962 the first "movie" Bond from "Doctor No" acquired that certified chronometer with the function of perpetual calendar with wide metallic strap.
The case of Rolex Oyster Perpetual combines durability and reliability of steel and beauty of gold. To help special agent in most extraordinary situations this wrist watch is provided with magnifying sapphire glass; it is water-resistant at hundreds of meters, has the date aperture and self-winding function, providing 50 hours of power reserve. The wrist watch "Rolex Oyster Perpetual", belonging to first Bond, has a funny history. At the first day of filming Rolex turned out to forget to provide its watch sample. The director Terence Yang took off his Rolex Oyster Perpetual and gave it to Connery. Bond got his "own" one only in "Goldfinger", the third movie. But even then Rolex Oyster Perpetual could remain in one's memory as an accessory, expensive and stylish, but without any special functions. In "Thunderball" that wrist watch could already measure background radiation.
Speaking about accessories, we should note that Rolex GMT on the wrist of heroine Pussy Galore with red-blue rotating bezel ring and second time zone function. That wrist watch was created in 1954 and positioned as an ideal gadget for travelers. The actress Honor Blackman was the first in the history to appear in the movie with men wrist watch. Then it was very surprising and unusual, but today beauty Pussy would have been one of most fashionable women. A woman with men watch – one of latest trends.

Pulsar and Seiko — quartz workmates of Roger Moore
In 1973, enchanting Roger Moore played James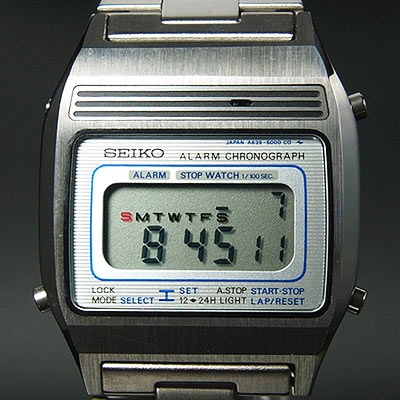 Bond in "Live and Let Die". Thanks to Doctor Q's good graces the agent 007 rustled up heaps of various gadgets, which could do his work. Moore's Bond had two wrist watches at once. First, it was an expected Rolex, already traditional for special agent. That time the wrist watch as if radiated magnetic field, protecting from bullets. By the way, that function didn't only save his life, but also entertained Bond much: once the agent 007 unzipped the dress of another beauty. The second wrist watch from Pulsar is considered to be a collection rarity to the present day. It's not just an electronic watch of unusual form, it's a technical novelty. Pulsar was provided with special button on side, activating red illuminating. The red numerals on black dial – a doggy thing for in-style man. In 1977, the Japanese watch company "Seiko" came out as Doctor Q, offering Bond a wrist watch with portable radio transmitter and computer. Receiving a message, the gadget from Seiko printed it at once, so we can say that it was also provided with mini-printer. In "Moonraker" Bond used the electronic wrist watch of that brand again. The agent 007 attached the rectangular case to the door, and pushing the red button, he blew it up. Also Bond demonstrated the arbalest function, built in Seiko, in that movie. A push on strap makes watch shoot with poisoned arrows. Next time Seiko appeared in "For your eyes only" (1981). That wrist watch was equipped with functions of pager and portable radio transmitter, although today hardly anyone would be amazed with that. Last time Bond wore Seiko in "Octopussy". That wrist watch served the agent as a GPS device and locator, like a radio tracking device. By the way, no one can still say who gained more from that collaboration: Bond, who acquired a useful device, or the company "Seiko" itself, which didn't pay any cent for such great promotion.

Omega — new habits of favorite hero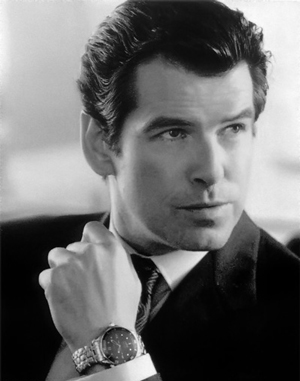 However, in 80s of past century the Swiss watch companies return their leasing positions at the market, impaired after quartz crisis. That's why no wonder in 1995 new Bond – Pierce Brosnan – came out with the wrist watch "Omega Seamaster Professional" in the movie "Golden eye". Quartz wasn't "comme il faut" already, and lasers and detonators were successfully crammed into mechanics in addition to available functions. The watch "Omega Seamaster Professional" with metallic strap from steel, provided with self-winding, points both time and date. Its dial is blue, and the 41-mm round case is completed with sapphire glass and water-resistant at even 300 m depth, in case the agent would have to dive. Omega Seamaster Professional is equipped with one-direction rotating bezel ring. The wrist watch of that brand accompanied Bond through five films.
The agent 007 remained true to Omega brand in "Tomorrow never dies" (1997) too. The watch was used as a detonator to blow out the studio of media-magnate. In 1999, Omega of Bond got a range of new useful functions. The dial could be used as a flash-light thanks to built-in powerful source of light. Besides, the agent 007 valued the miniature harpoon, built in Omega case. At that he could control its flight by means of bezel of wonder-watch. To crown it all, when Bond clutched to an object by harpoon, the bezel started reverse rotation, reeling on the rope and lifting up the agent.
The year of 2002 was marked for fans of bondiana by a new episode from famous agent 007 adventures. At the press-conference, devoted to new movie "Die another day", Pierce Brosnan demonstrated one of unique functions of wrist watch "Omega Seamaster Professional". When the actor slightly turned the bezel, there was a small explosion set off, just like in the movie.
By 40th anniversary of agent 007 adventures the company "Omega" released a watch series, repeating the models showed off on movie hero's wrist. The number of pieces, making up this limited series, is rather symbolic – 10 007. The wrist watches of this line have some common features: steel round case with aluminum rim, blue dial and luminescent marking. All of them are adorned with logo – a gun on the background of Bond's number – "007". It's true, these watches from Omega don't have the capabilities of their movie prototypes, but they have a range of other advantages. For example, the favorite model of Bond "Seamaster Professional" with classic set of functions is a reliable and utilitarian chronograph, which would be suitable on wrist of both man in smoking and diver in isoprene suit. The first sample from James Bond line was presented to the agent 007 of that time, Pierce Brosnan.

Daniel Craig and his Omega Seamaster
Now Brosnan has given his post of superagent to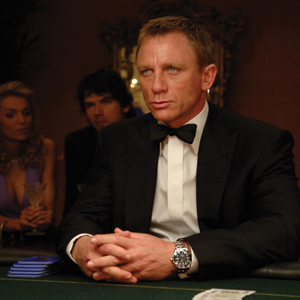 Daniel Craig. His Bond also wears Omega watch – the model "Seamaster". A special variation of wrist watch was released by the company for the preem of "Casino Royale". It is similar to the one Craig himself wears in the movie, only completed with a small logo "007" at second hand. In next movie Bond became the owner of Omega Seamaster Professional Planet Ocean 600 m with steel strap and complicated lock-buckle. This automatic wrist watch is an embodiment of elegant simplicity and functionality. With restrained design and average size of case (45,5 х 14 mm), luminescent hand and official status of chronometer it remains water-resistant event at 600 m depth. The issue of limited watch collection was timed by Omega to release of the movie "Quantum of Solace". 5 007 pieces with engraving "007 on back case and inscription "Quantum of Solace" reverse side of glass were made. Every watch has its own number.
In 2007 the watch of Omega, belonging to Bond – Craig, was sold at auction in Geneva for 207 thousand of dollars. It's interesting what motivated an anonymous cinema addict to buy it – either excellent play-acting in "Casino Royale", or love for that watch brand?
We don't know if Omega will become James Bond's companion in his new adventures, but it went down to history of famous agent 007 as well as his brand way of saying his name: "Bond. James Bond."
Rolex and Omega — the properties went to the hammer
The image of James Bond remains an unattainable ideal even today, although Fleming himself took him in good fun. Of course, one will have to toil a bit to make a career of British secret agent. Besides, even real special agents, perhaps, at least once in their service got into some mess, as much interesting and fascinating as the "screened" life of Bond.
But the fantasy is made to be so amazing. In that respect the actors, played Bond, were the luckiest ones. They experienced all adventures of their hero, even only at movie set, and the property, by the way, had no small share.
Various attributes, used in movies and later became famous, are often sold out at different auctions. Hollywood is very used to it. At different times the skeleton of cyborg ("Terminator 2"), the Holy Grail ("Indiana Jones and the Last Crusade"), the laser sword, belonging to Luke Skywalker ("Star Wars") were auctioned.
The property of bondiana had the same destiny. For example, last year the famous silver Aston Martin, manufactured in 1964, which was a faithful companion for the special agent, played by Sean Connery in "Goldfinger" and "Thunderball", was sold in London for 4 million 59 thousand dollars at RM Auctions in collaboration with Sotheby's. Some businessman, Harry Yeaggy from Ohio, became the lucky owner of the rarity. Now Bond's car has taken its place among exhibits of new owner's automobile museum. Before Aston Martin was owned by Jerry Lee, a businessman from the USA, who owned it in 1969 at Lagonda's plant, where it found a put-you-up after filming. Only after 40 years Jerry Lee decided to part with the famous car.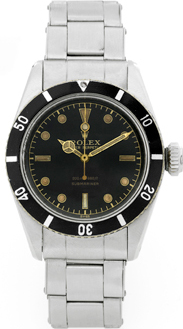 As it turned out there were many of those, who also wanted to own the wrist watches of Bond. Here the fans even have a choice: several watch brands that don't need to be presented and have their own amateurs showed off in movies.
In September 2011 the watch "Rolex Submariner" (Ref. 6538), released in 1956, has found its new owner. It was sold at the auction of modern and antique watches "Antiquorum", took place in New York. This time it has been named "Important modern and vintage timepieces". Rolex Submariner of Bond is an elegant and rare timepiece. This watch of stainless steel has round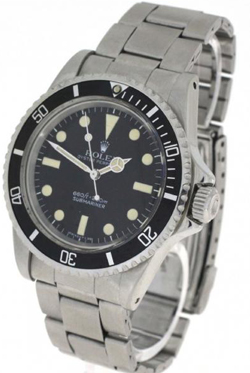 case of 38 mm diameter with screw-down back case and big crown (about 8 mm in diameter at case thickness, equal to 14 mm). Such model will easily sustain diving at 200 m. This sample of Rolex Submariner has a black "face" and is provided with automatic winding. The auction organizers planned to earn from 35 to 65 thousand dollars by its sale. But some fan of movies about Bond shelled out 76 thousand 900 dollars for the rarity.
One more model from Rolex adorned Roger Moore's wrist, who played James Bond in "Live and let die", was sold at another famous auction – Christie 's. In Geneva someone put up 242 thousand dollars for a watch that didn't even go! However, the accuracy is not its main advantage.
That watch, based on Rolex Oyster Perpetual Submariner (Ref. 5513), was specially created for filming in 1972. According to plot, that tricky gadget was created by Doctor Q for Bond. It was as if provided with magnetic field generator, by means of which Bond – Moore could decline the trajectory of bullets flying. Thanks to the same interesting function he unzipped the dress of Miss Caruso without touching her ("Sheer magnetism, darling!"). Besides, the bezel of Bond's Rolex Oyster Perpetual Submariner was able to transform into an elegant circular saw. Just with the help of that saw the hero or Moore managed to set himself and his girlfriend free from ropes, when they were saving themselves from quite unfriendly sharps. And while the magnetic field generator was performed by thin wires under the back case, the saw was absolutely real. The watchmakers had to take all "filling" out of the case and replace it with required mechanism. However, as a result that Rolex Oyster Perpetual Submariner couldn't show the time anymore. But that fact, obviously, hasn't confused its present owner. Apart from Rolex Oyster Perpetual Submariner itself with engraving "Roger Moore 007" he got several drafts, made by its creator – designer Syd Cain.
The wrist watch of present James Bond – Daniel Craig wasn't set aside either. Recently the Genevan auction "Antiquorum" has put up Omega Seamaster Professional (Ref. 222.80.00). That wrist watch became Bond's companion in "Casino Royale". The classic sample of Omega Seamaster Professional with blue "face" was sold at 207 thousand dollars. Despite the fact that it is a modern model, the watch can be already considered to be a rarity thanks to its brilliant "acting" career.
The auctions also sold other watches that weren't directly relevant to James Bond, but still were linked with his name. That unusual action was organized by the Ministry of Defense of Great Britain. The point is that the military allotment was reduced, resulted in significant budget deficit in that field. The state auditing service checked and concluded that in 10 years the budget deficit would reach 36 milliard pounds. As a result some programs, aimed at design of new weapons, would have to be scraped. To escape such situation the British Ministry of Defense made a decision to sell out unnecessary property.
However, if we're talking about defense, the term "unnecessary property" may include anything. For example, the aircraft-carrier "Ark Royal", the leader of Royal Air Forces before, has been sold at only 35 million pounds as a scrap-metal. Considering that it cost as much as 200 million pounds to the fleet, the price turned out to be almost knocked-down. Another aircraft-carrier "Invincible" shared the same fate. It was sold to some company from Turkey by Internet.
Besides, the British Ministry of Defense was successfully selling the jeeps "Land Rover", which "sat around" in military garages, the armored Jaguar. Also the armored Saxon, served the British militaries in Bagdad, and even the helicopters "Gazelle" went to the hammer. Such things, unusual for auctions, like portable dentist chair or Scottish guardsman full dress skirt, were also put up at auctions.
Moreover, the Swiss watch of Raymond Weil (model "Tango"), valued at 1 thousand pounds, Maurice Lacroix at 5 thousand pounds, also the women models from Christian Dior, adorned with 48 small diamonds, at 2 thousand 750 pounds were auctioned.
According to the Ministry of Defense, all those watches might have been passed to SAS officers and British military intelligence officers, who worked in British embassies abroad. According to their occupation, they are to visit different receptions and meet with diplomats and high officials to sustain a solid image. But now anyone, who has enough money, can become an owner of watches the colleagues of Bond wear. Especially that the reserve price has made up at most the tenth of their real value.

To be continued ...