Form - factor of wrist watches as a key to success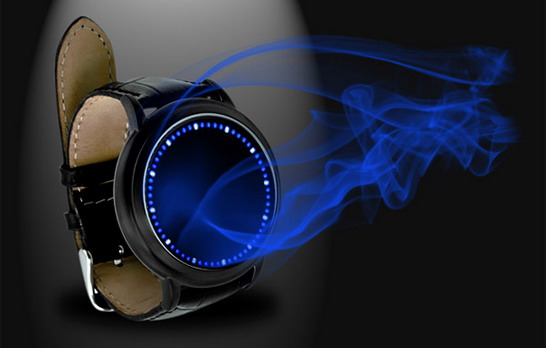 Do you like to be distinguished too? Do you like to attract the attention? To be unique and notable? From primitive times people have been trying to rise above "ruck", draw rapt looks. It's interesting that it happens even in animal world. For example, males of raven with brighter feathering attract more females, or bees are usually attracted by flowers of more beautiful and rich color. And what about us, human beings? Let's imagine a successful businessman, notable from far away. A luxurious suit from some famous designer, an expensive car of ultra-famous brand, an excellent mansion with beautiful interior and underground parking… I think something misses for complete image. You have probably guessed that it is an irreplaceable men accessory, almost the only adornment for men, which also help to "go with the times" – men wrist watch. The same can be said about fair ladies. Women try to rise above crowd even greater. A dress on her friend just the same she's bought recently is a sheer nightmare. The women wrist watches, as well as the men ones, also must be unique, they must admire and be notable at a distance. The same tendency to originality is traced in the watch business – the more recognizable, the "cooler". During many centuries the leading watch companies have been fighting for time, trying to conquer best clients from each other, to win the world fame and name. But the highest success is won only when the products are recognizable from several meters away. At that they must be recognizable by both collectors and experts that know everything about watches and ordinary people, fond of wrist watches like amateurs. A so-called form-factor plays a decisive role in this case. In other words, it is a special standard which sets dimensions of item and describes additional technical parameters. For example, it can be the watch form, additional elements and devices, some trade mark. Here we can draw an analogy with such interesting phenomenon as golden section. The principle of golden section is the highest structural and functional perfection of the whole and its parts in art, nature, science or, as in our case, technique and watchmaking. According to many scientists, the golden section is apprehended by people as something mostly harmonious, pleasant for perception, as a man distinguishes surrounding items by their form. A modern man strives for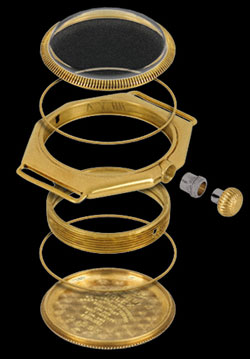 "finding" golden section in everything. The watch industry is not an exception. Figuratively speaking, the search of such desired golden section is the most difficult task for watchmakers. The world brands justly deserved enormous popularity and recognition by long laborious work and incredible efforts of best watchmakers and jewelers. Who won't recognize the excellent Rolex of legendary "Oyster" series? Oyster is a legendary watch, undoubted flagship of Rolex collection, which has become the most recognizable item of the company and also a standard of perfection and quality. You may object that "not a trace remained" of original famous Oyster after many years. It's true, the watch has undergone many aesthetical changes, but nevertheless originality of this watch and its bright character have remained unchangeable. The whole history of legendary Rolex is inseparably linked with its founder Hans Wilsdorf, who wanted to wear the watch on wrist, not in pocket by all manner of means. Rolex deserved breath-taking popularity just thanks to its excellent Rolex Oyster, created in 1926. The watch was dust- and waterproof, and its movement was safely protected by case that reminded of clam-oyster shell. As you might guess, the name of legendary watch is based on the name of this clam. The form-factor of Rolex Oyster is an incredible and recognizable watch case with tightly screwed back case, safely protecting the watch movement. Apart from "helical" case, the classic Rolex bracelet (Jubilee, Oyster, President) is one more unique peculiarity of Rolex Oyster. And, finally, Rolex deserved its unique status also thanks to one more model of Oyster – "Rolex Oyster Perpetual", provided with revolutionary at that time (in 1931) device – automatic winding movement. The world giant Rolex is a brand we can talk about endlessly. So, we'll just say about one more watch model that can't be but mentioned – it is "Rolex Oyster Submarine", created in 1953. It is the first watch with water resistance at up to 100 m depth. Besides unique case, a distinguishing peculiarity of model is its amazing crown "Triplock", providing reliable seal, and most important rotating bezel, which helps the diver to watch the diving time.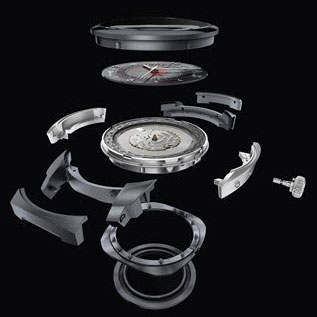 A unique line of other great watch manufacturer "Vacheron Constantin" with romantic name after the Genevan quay "Quai de l'Ile" has its specific feature – combination of three materials (pink gold, titanium and palladium) and four elements: "pillow-shaped" case, consisting of seven main elements, its central part, dial with engravings, movement and strap finishing. As a result of such variations, about 400 different combinations may come in. Such personalization will allow even the most sophisticated client to choose the watch he likes.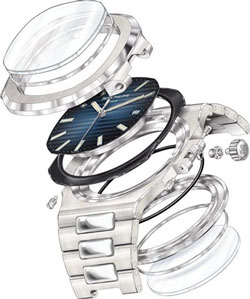 Now let's pay our attention to such great Swiss manufacturer as Audemars Piguet. You might have guessed what collection we would talk about. Of course, a true masterpiece of Italian watchmaker Gerald Genta, named "Royal Oak", is simply recognized. That collection, designed by Genta, brought enormous popularity to Audemars Piguet, which sometimes even called "the brand of one model" – "Royal Oak" model, born in 1972. The key constituents of this Swiss watch form-factor are steel, gold, platinum or even tantalum octahedral case and bracelet, as if "grown" in the watch. Gerald Genta connected octahedron with screws with classic round case. In due course of time that watch passed from simple to complicated watch, including Lunar phase indicator, annual calendar, chronograph counter, second time zone indicator and tourbillon. Great Gerald Genta made his enormous contribution also in the development of watch company "Patek Philippe" and worked on the creation of legendary watches "Nautilus". Initially that excellent sport watch was incredibly simple, like all genius things. Perhaps, everyone knows wonderful grey-blue jalousie on dial, like strips on sea shell. The round illuminator is imperceptibly screwed to whole case and, according to Genta's idea, the watch has smooth rounded lines, drawing sea waves in your imagination. In time, of course, that watch underwent a range of changes: for instance, the modern, already usual complications appeared in them; the back case became transparent; the one-piece case was replaced. But still the features of great Nautilus from Patek Philippe can't be confused with anything else.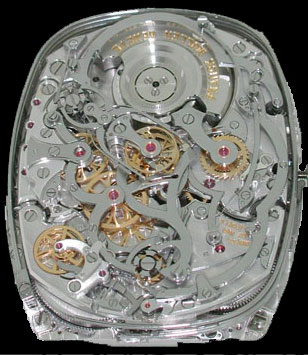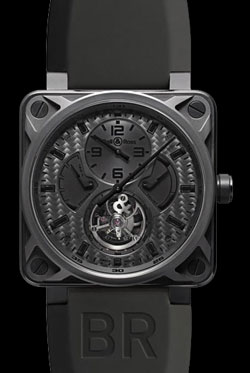 The watches with barrel-shaped cases are presented in some series of Franck Muller. You can't but agree that such watch will always be striking one's eyes and recognized even at several meters distance.
The Swiss craftsmen of Bell & Ross created extraordinary, notable form of their watches. Only the fact that the brand was created by a team of specialists in aviation devices in 1992 points that the watches must be something unforgettable. So, the design of "Aviation" collection is based on appearance of modern airplane devices. The watches are provided with square case, round dial; these watches can be easily changed from wrist into table watches or fix on control panel.
Speaking about unique form-factor,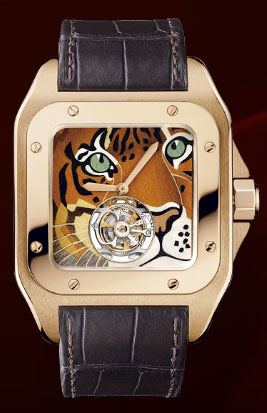 we can't but dwell on the watch company "Cartier" and its collection "Santos". The first watch "Santos" was created in far 1904 for pilots, who constantly were at control column. No doubt, in such conditions the wrist watches take priority of pocket ones, which were popular in that time. It's more comfortable to look at your wrist than to get the watch from your pocket. The "Santos" watch was distinguished by its unusual case form and open heads of screws on the rim. After the lapse of great amount of time Santos has changed, of course, but nevertheless remained easy recognizable. It has won the hearts of both men and women. The men models acquired more sporty appearance with rubber strap and rim around glass. As for women, the manufacturer gladdened them by excellent models without hands, which image is applied at two sapphire glasses. The brand style of Cartier is also very notable for Roman numerals on dial. And even the watch "Santos De Cartier Skeleton" has all traditional elements and brand style of Swiss watch company "Cartier", as the form of remained skeleton bridges perfectly copies outlines of Roman numerals.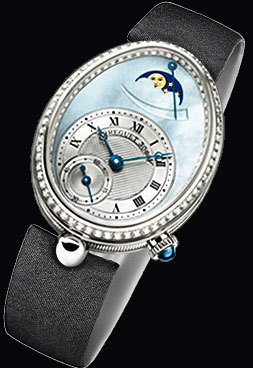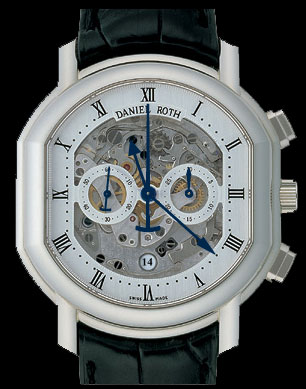 There are special models or, as they are also called, "piece unique" among women wrist watches. The watches with known form-factor can be created only by "generals" of watch industry. So, the Swiss watch company "Breguet", for example, doesn't stop using its favorite empire theme. All collectors know the series of women watches "La Reine de Naples", the cases of which are designed in the form of egg.
Many world watch manufacturers apply all their imagination, vary forms and colors of their masterpieces. The Swiss company "Daniel Roth" has been distinguished for making watches of unique case form. The so-called cut barrels are schticks of excellent Daniel Roth.
Panerai, a Swiss company with Italian roots,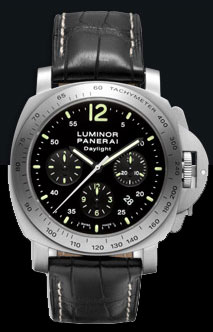 is also world-known for its specific series "Luminor". The company "Panerai" made a furore at the world market. "Paneraimania" gripped the whole world in 1997. The models from "Luminor" collection are distinguished by steel and titanium cases, rather big in diameter – 44 mm. Such unforgettable, sculptural forms are quite rare. An interesting pressing mechanism of watch crown gives special individuality to "Panerai Luminor" watches.
One more series of watches under the title "Mecha" from young, but prospective Swiss company "Azimuth" doesn't leave indifferent any fan of excellent watches. These watches are for purposeful individuals, who love active life and speed cars. These watches are specific for their unique barrel-shaped rounded form that gives an overwhelming depth to Mecha watches. The bezel, fixed by ten screws "Torx", and extraordinary time indication gives matchless cybernetic appearance to watches. Although Azimuth is a newcomer in the watch market, it managed to stand out and attract much attention. It's impossible to pass by such watches!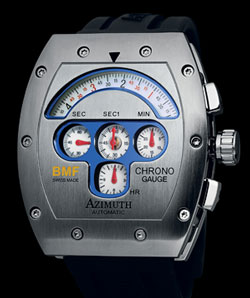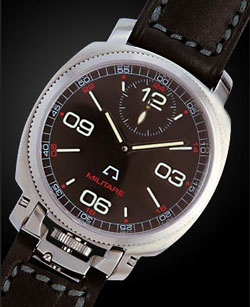 However, it should be noted that a unique form-factor is a prerogative of not only oldest Swiss brands. The pretty Florentine "Anonimo" is literally "close on the heels" of companies "Rolex", "Vacheron Constantin", "Audemars Piguet" and others. The company has greatly succeeded, even despite the fact that Anonimo is a beginner in watch business. The form-factor of Anonimo is, no doubt, its restrained unique "military" style that is notable and valued by all means. We should admit that the "Anonimo" watches reflect incredible strength and courage.
Of course, all of us understand that a watch doesn't need to have all the colors of the rainbow or be "stuffed" with many glittering, shining elements to be super recognizable. The form-factor is developed from, as it would seem, usual and undistinguished things. There are many similar watch models, which, in spite of good quality, are not notable at all. But the watches, which are recognizable on the wrists of their owners during decades, are peak of perfection. Such watches make you look at usual things from another point of view. Just such unique irreplaceable wrist watches bring breath-taking success and popularity to their watch companies, immortalizing their names in the world watch history. The most important thing is that if you once buy a watch with features, constituting its form-factor, you will wear it as long as you wish. You won't worry that next season your watch will be out of fashion. Of course, it won't happen, such "timeless" watches will never be out of fashion and become "old junks". Purchasing a watch, you'd better be oriented at your own taste, since you are lucky to be offered with wide range of products in modern watch world. As our views are like our watches: all of them show different time, but everyone believes in his own one.