How to store watch
Wristwatches are an integral part of the image of modern man. The era, when watches were used for its intended purpose to show the exact time, had long gone. Many of us are not limited to a single pair of watches, as our grandparents did, and acquire multiple pieces of beautiful watches - for all occasions.
"Where to store the watch?" - this question is unlikely to come to mind to the owner of cheap wristwatch, who keeps it on the nightstand beside the bed. In general, such pieces do not require special care, so they can be keep anywhere. And if such a usual watch is broken, their owner would not be so hurt, because at any time he can buy new ones that might be liked by him even more than its predecessor. But it is quite another thing – an expensive Swiss watches that can cost a fortune. For such models need be watched as many of them require special treatment and care appropriate to their high status. Do not store such watches in the nightstand, or, for example, on the table!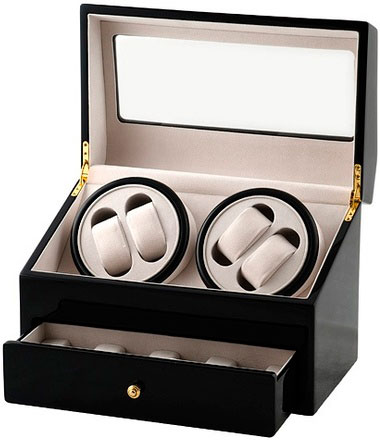 Watch box
Many owners of luxury Swiss watches treat them as human beings. In fact, many creations of watch making masters resemble animate creations: they like to live their little-understood life, only occasionally reminding of themselves by barely audible ticking. Wristwatches are no less capricious than some people, and "feel" uncomfortable being in one of the desk drawers or box in which they were purchased.

Expensive things must exist in luxury. No wonder there are a lot of wide variety of storage for Swiss watches in modern shops, which have not only exquisite "image", but also a complex mechanism which can be understood only by a true professional.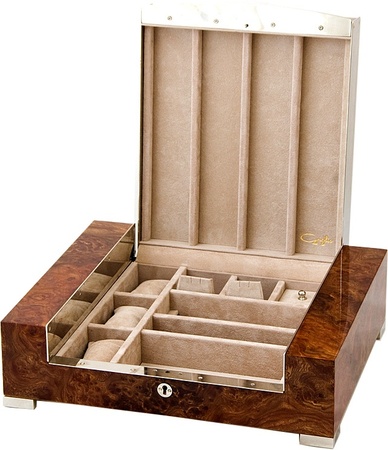 Watch box
The most popular storages for watches are boxes and they can be made of rare wood, trimmed with leather, covered with jewelry lacquer. Many storage boxes for watches are encrusted with precious stones. They look very nice and expensive - to match the watches for which the box can be a second home.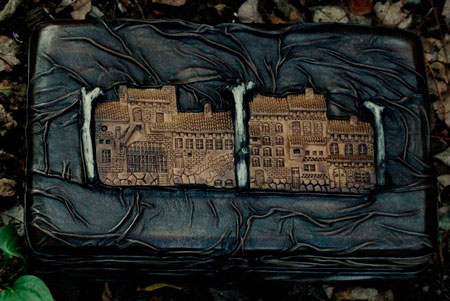 Handmade box for watches and cufflinks
But store for watches - is not only a beautiful shell. Often, the internal structure of the box looks more interesting than its luxury "wrapper". It may have one or more compartments intended for wristwatches. Of course, the most expensive items should be stored separately - it would be better for the watch itself, and for the owner (he will calm for his luxurious acquisition).
Time movers - luxury or necessity?
Boxes for storing automatic watches (many know them as time movers) are ideal for pieces with mechanical "stuffing." These watches are especially "capricious" because they can get damaged by moisture, shock, dust, and a great many unfavorable factors. In the fight with them there is a watch box. But the functions of time movers are not limited with it- for nothing this storage has got such an unusual name!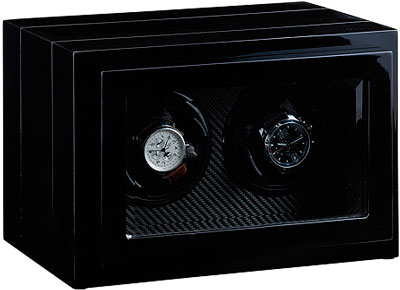 Time mover
Time mover - is not just a case for storage of luxury accessories, sealed case of which protects the wristwatch from dirt and dust. Inside the box for automatic watches there is a special rotating bowl, vibrations of which mimic the natural movements of the hand. Watch, placed in such a box, is not quiet – it is constantly in motion, and so its mechanism is supported in a state close to a complete winding.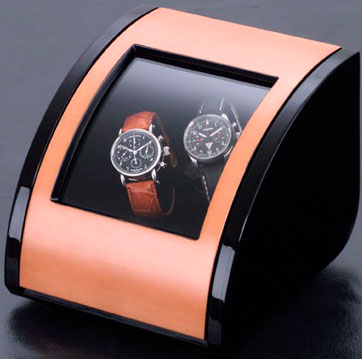 Time mover
"Why is all this necessary?" - you ask. The fact that mechanical watches should be constantly on the move - it helps them to function normally. This applies to models with features of perpetual calendar and moon phases. In case of stop of such accessories it can be difficult to bring back to life. In addition, if watch movement long stood in quiet, at winding it experiences tremendous pressure, the result of which will be very sad.
Time movers help mechanism of wrist watches to be constantly in motion, and thus save their lives. Definitely different watch models require different conditions – structure of watch box provides it. With special regulators which are brought out to the control panel, the owner of watch can set the desired mode and speed of integrated bowl. Although the watch box for automatic watches is always in working condition, it operates almost silently, that is good for lucky owner of such a device. Even lovers of peace and quiet will not be able to complain to the sounds produced by winding box, - the man cannot hear them.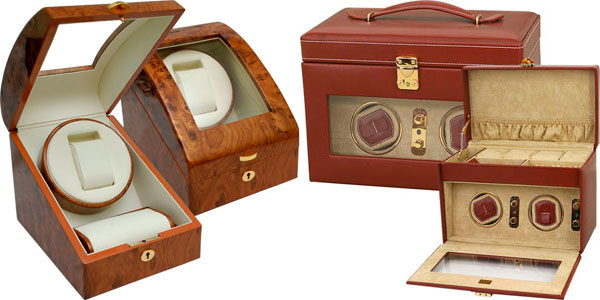 Watch winding boxes
But to store watch is possible not only in boxes. Of course, such repositories look very nice and are the pride of the owner. Many collectors of watches can give a lot of money for the original box, made of rare materials. But no matter how beautiful box is, it will not save the watch from thief. In order to secure a watch from thief, the owner needs something more serious. What could be safer than safe? May be only a cell in the bank. But I think that few collectors of luxury watches will dare to carry their treasures to the bank - who knows what could happen to them!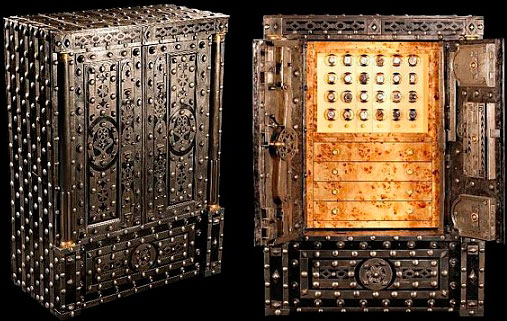 Antique safe for watches
For watches to be always under the supervision of the owner and at the same time be in safe, modern safe for watches were invented. Do not be afraid - this store has nothing to do with severe and often ugly metal locker, which can be seen in the movies about spies. Safes for watches in most cases look stylish and modern, and some of them do not look like boxes. They resemble the mysterious interior details.
For example, not so long ago a German company has released safes for watches that were deemed the smallest in the world. The height of each of them is only 278 mm, and the width and depth - 270 mm. In one such store can simultaneously be only three pairs of watch. Of course, it's not so much, but the main feature of these miniature safes - its design: they finished with a black quilted leather and adorned with decorative studs. This is a dream of every collector!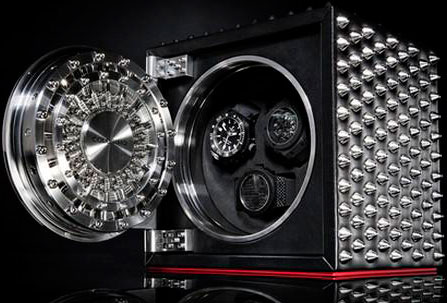 Watch safe with spikes - dream of every collector!
But safe for watches - it is primarily a reliable and functional storage, which should not only protect the watch from dust, moisture and dirt, but also from intruders. Just so many boxes for watches are equipped with a combination lock, and some even built special sensors that are able to memorize the fingerprints of the owner. These repositories are essential purchase for those who have expensive watches or rare models.

Many modern safes for watches, as the above mentioned boxes, are equipped with automatic winding. It allows to keep the models in working condition, excluding the possibility of their eventual stop. Particularly mistrustful owners of wrist watches can purchase safes that are equipped with GPS - positioning. In case of theft of the safe, it will help to track its location and even the speed of movement. Although for me, frankly, it's hard to imagine how a heavy safe can be stolen!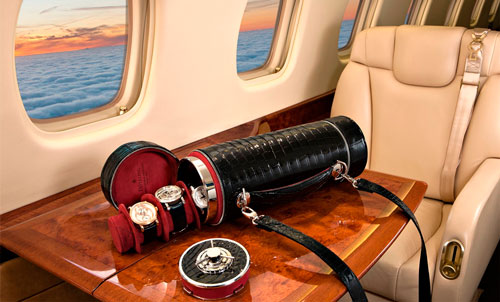 Bag-safe Guardian equipped with GPS
In addition, some innovative storage for watches can be connected to a home alarm system - then certainly expensive accessories are not going anywhere from the owner (at least, not far from).
There are safes in which you can even set the temperature, but they are met rarely. Why do we need such an exotic feature? I think the owners of luxury watches are aware that such accessories cannot tolerate too high or very low temperatures. Just to keep watch in pristine condition and to prevent breakage of parts, and there are safes in the regulation of temperature. If you are unable to purchase such a piece, do not despair. In order to ensure a comfortable environment for watches, it will be enough to put a safe in a cool and quiet place. Make sure that in that part of the room where you are going to put safe, avoid being insolated. And, of course, do not forget from time to time to wipe the surface from dust (only in any case, do not touch the inside of the safe!).
The safe should not be placed near powerful speakers, and any electrical devices that may have magnets in their device. Wrist watches can be magnetized and will show the wrong time.
If in your collection there are watches with manual winding, do not forget to take them out of the safe and start. It should be done regularly - experts advise not wind the watch at least once a month. Often "alarming" is not recommended - details of the mechanism can wear out quickly. Do not forget about this small but very important fact, which is a prerequisite for normal operation of the watch.
Come responsible for such an important thing, as storage of watches, and then a very long time they will please you for not only their elegant appearance, but also the accuracy, as well as flawless functioning in all conditions. Mostly, is not so important where you will store your wristwatch - in a box or safe. The main thing is to select high-quality and reliable storage for your favorite watches!

Written by Katya