Kid's watches — let your child learns to appreciate the time
Evil wizards, collecting time lost in vain and lazy bums, become children, and the children become old men. E. Schwartz, "The Tale of Lost Time"
Every kid wants to grow up quickly. Remember as a child you wanted to grow up quickly in order to drive a car or even become president of your country. And almost all of the children imitate their mothers and fathers. Girls, for example, like to wear clothes, heels, bling and take the makeup of their older sisters or mothers. The boys, looking at the car of their fathers, immediately ask the toy car and imagine them behind the wheel of steel horse or playing with pistols and machine guns, imagine that they are the defenders of the motherland. And it's not just about clothes, jewelry and toys, but also much needed in our day accessory as a wristwatch.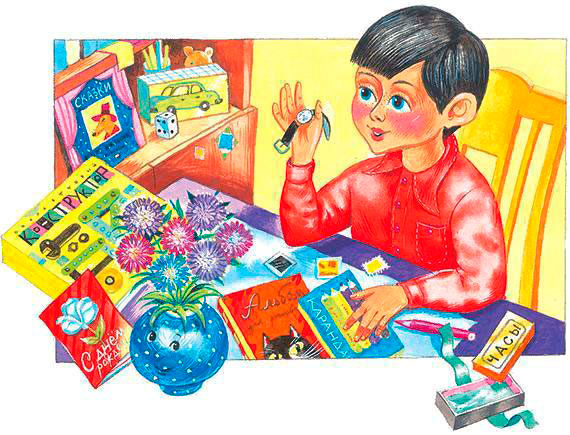 Kid's watches — let your child learns to appreciate the time
Baby's style starts with mom
But I will begin, perhaps, with kids who are still in the womb, to be exact - with their moms. Even a child in utero as its main rhythm sees the heartbeat of his mother. To the rhythm of the heart and the mother adjusts formed biorhythm child. All over the world specialized products are produced for expectant mothers with the appropriate symbols: tankards, bags, T-shirts and many other products. Watch brands are trying to keep up with the manufacturers of accessories and clothing. All self-respecting brands have long studied the market of pregnant women's requests. The popular company Swatch offers mothers a cheerful kids watch Origin of Love, made in pink color. On a bright dial shows the future baby, the umbilical cord of whom is firmly connected to the mother. Looking at this watch, a woman will wait for the birth of her baby with more impatience.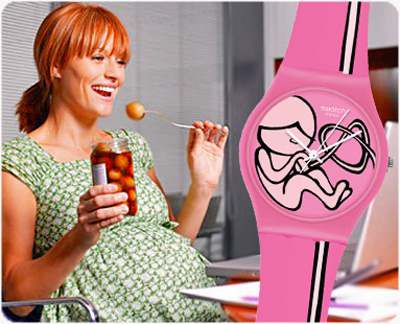 Origin of Love watch with the image of the future baby
And your child starts to grow up and be interested in everything, including watches. But before you buy baby a kid's wrist watch, it is worth to teach the child to understand the time. You should start to teach your child with four-, five-year. We must remember that teach children to tell time - not an easy task. So, dear parents, be patient, and when you realize that your child is prodigy and already learned how to "read" the time, it would mean that the long-awaited hour came and it is a time to go to the store and buy kid's watch.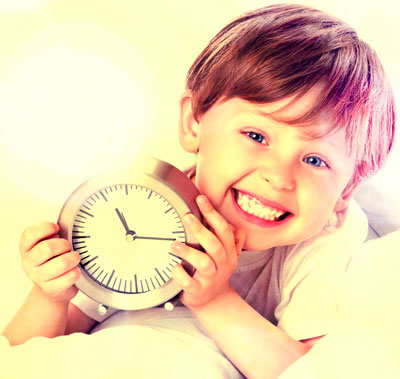 It is not an easy task to teach a child an understanding of time
The Soviet heritage
Not only in our modern times wristwatch are decoration of the children's wrists, but in the distant Soviet Union the kids were not forgotten. Youth watches and children's watches were always in vogue in the USSR. For example, the companies "Chayka" and "Zarya" produced interesting teenage chronograph with dials on which were images of cyclists, motorcyclists, hockey players, skaters.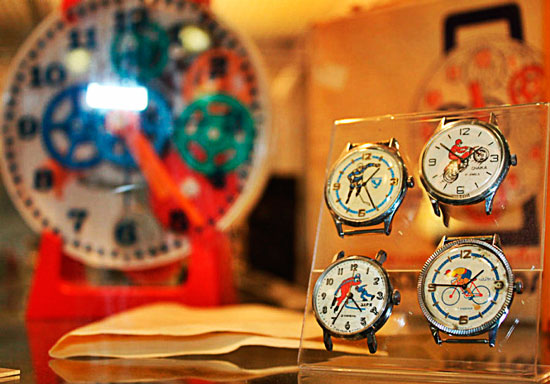 Cyclists, motorcyclists, hockey players, skaters were depicted on the juniors watches in USSR
For younger children the wizards depicted drawings from various fairy tales on round watch dials. On the most popular at that time watch by "Zarya" was painted a sly fox with a loaf on the nose or red phone on the dial of watch "Pobeda". In the early of 90s of XX century, when the Soviet Union gradually disappeared from the map of the world and the influence of the West is increasingly imposed the Soviet Union, masters started to decorate children's watches with American Mickey Mouse and Donald Duck. The company "Pobeda" released such watches. Cheerful and bright, Donald and Mickey cheerfully walked around the dial, pleasing Soviet children.

| | | |
| --- | --- | --- |
| | | Famous Mickey Mouse, strolling around the dial and delighting children |
Modern variety
In our progressive time when mobile phones, game consoles and other devices have become commonplace for today's kids, children's watch are still in vogue. Naturally, with the development of technology design and functionality of time meters has also been improved. The Swiss watch company Swatch is ahead of the whole planet in production kid's watches. Last year, in conjunction with the American manufacturer of designer toys Kidrobot, Swatch has released eight wonderful wrist devices for children. The world famous vinyl toy Danny, which is similar to the rabbit, comes with each watch. Measurers of time, called Love Song are covered with cheerful, colorful letters of the song Telephone, which a popular French rock band sang in the 80s. But a watch in shades of gray Bengali was created by artist Joe Ledbetter. On the creation of this watch he was inspired by visit to the zoo and his own pet cat. As a result, kid's watch has turned out in black and white shades as the toy of very strange breed itself. A Spanish artist Frank Kozik painted Danny White with luxurious brown mustache on the dial of yellow watch Ski Instructor. Kid's watch Shout Out was made by the professional illustrator under creative telling pseudonym MAD. On the dial of pink chronograph are imaged huge teeth and a blue tongue. Absolutely black quartz kid's watch Midnight Magi was created by artist Gary Beysman. The dial is decorated with a midnight magician, which is considered the protector of dreams from all the terrible and unpleasant. Kid's watch So Far Away is decorated with muzzle of unidentified green animal. A quartz watch for children The Eyes are Watching is decorated with many eye-color mutants. These cheerful kid's watches you can buy not only individually, but also with a whole set of Kidrobot.

| | |
| --- | --- |
| | Exclusive animals Kidrobot and Swatch watches will delight your child |
If you want your growing up princess accustomed to the modern art from childhood, buy her kid's watch for girls of Andy Warhole. Believe me, the bright and colorful time meters will satisfy any one girl. Children's watch for girls by Andy Warhole not only raises the spirits, but will suit with any clothes. A bright bird, planes, diamonds, berries and TV, imaged on the dial, will make a piece of summer even in the cold. As you know, at the age of 13 to 17 years, all the motley seems divinely beautiful, even if the dial shows a simple hamburger from McDonalds.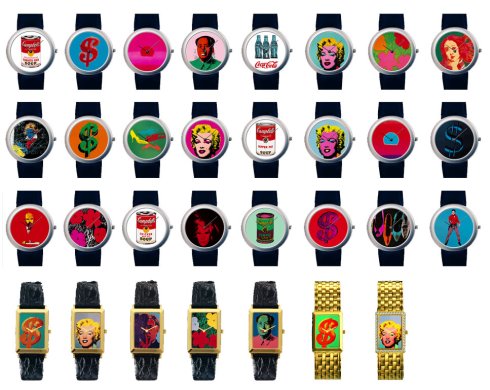 Bright Andy Warhole watches - the dream of every girl
But what about the girls-first-graders? - puzzled parents asked. Do not worry, your seven years old child will not lost in time! Kid's watch for girls Time 2 Change is not just a useful and beautiful accessory, but also developing toy. Your little daughter has to assemble a bracelet for this device to your little daughter manually out of beads that accompany the watch. Kid's watch for girls you can bought from the distributors of the company.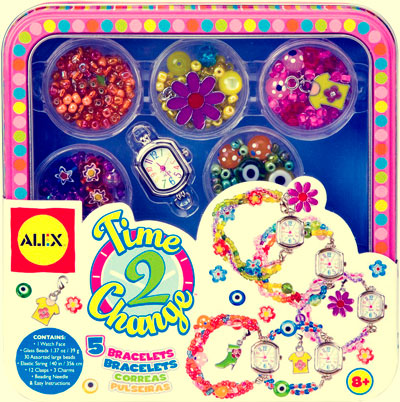 Time 2 Change watch for the little princess
If your daughter or sister is a teenager, then it is safe to give her youth watches by the company S.T.A.M.P.S. By the way, the brand has taken this name from the design of watches, which are made in the form of a postage stamp. These are truly exclusive chronographs, which have no analogues in the world. Youth watches S.T.A.M.P.S. can easily be transformed. Ability to change the straps in different colors and attach colorful dials with a variety of drawings will delight young ladies. At that moment there are more than 250 different buildings and over 40 kinds of straps. Youth watches S.T.A.M.P.S. have excellent quality. They are equipped with a Japanese quartz movement with perfect precision motion and picking this time meter, you will feel excellent German quality. Besides the fact that this watch can be worn on the wrist, they are also attached to the mirror, bag or computer monitor. In general, your child will be satisfied with such an excellent gift.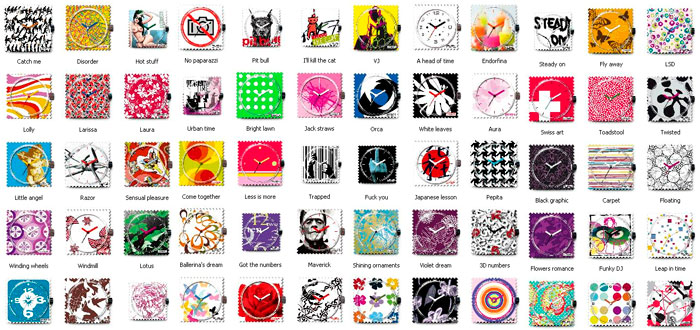 Children watch by the company S.T.A.M.P.S. is suitable for any occasion
I can tell you a secret, the dream of all children is to wear on the wrist Flik Flak watches. Quartz kid's watches Flik Flak are divided into several categories: for babies from 3 to 5 years, for pre-school children from 6 to 7 years and for school children 8 years and older. Kid's watch Flik Flak Cute-Size is decorated with hands, on which are the plastic brother and sister – Flick and Flack. This watch is perfect to teach children the time. Three-year old kids will love this useful and colorful toy. Cheap kid's watch Flik Flak Preschool is made in classic round case. The company provides a wide range of watches, decorated with images of the various characters of comics and cartoons, ranging from the superhero Batman and ending with the Winx fairies. Cheap children's Flik Flak watches are decorated with even the world-famous Japanese cat Hello Kitty.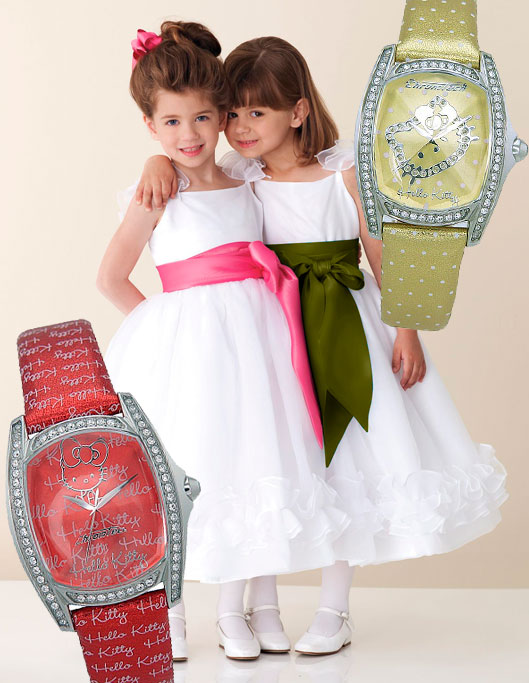 Hello Kitty children's watches for girls - dream of young ladies
Kid's Kitty watches perfectly suited to kiddies whose parents teach their kids everything beautiful from the cradle. Kid's watches Kitty from the Flik Flak include three models: Kitty Cute Fashion, Hello Kitty and Pencil Pot and Hello Kitty Angel. It remains to add that all the low-cost children's Flik Flak watches are equipped with Swiss quartz movement ETA, which testifies to their exceptionally high functionality and accuracy.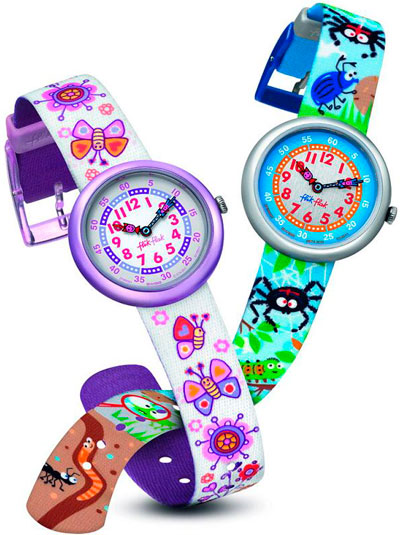 Flik Flak watches for the little ones
When we were children, we were playing cops and robbers, using all kinds of materials at hand, from the branches and ending with homemade swords, but the current advanced generation uses in the modern gaming devices. Spy kid's watch Spy Net Video Watch was developed and produced by the company JAKKS Pacific. An interesting accessory looks like a normal watch, but not so simple as it seems at first glance. Spy Net Video Watch is equipped with TFT-display, on which you can view the footage and even in-built camera! Beside of all these miracle of technology, kid's spy watches can do photographs. Children's watch for boys Spy Net Video Watch has an additional accessory - a camera that can be connected to the interface connector and photograph the happening as much as 20 minutes! The real breakthrough in the field of children's watches! Children's watch for boys Spy Net Video Watch will give your child that may be in the future will be the best agent of the FBI, the sea of positive emotions and joy!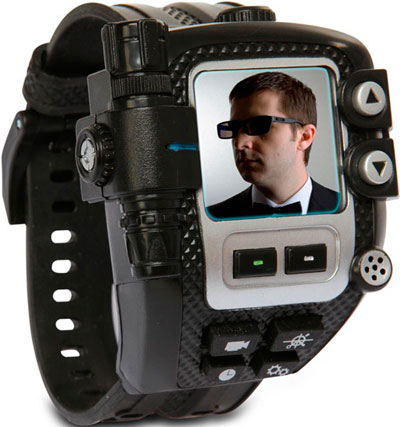 The boys will be happy to Spy Net Video Watch
And for the boys who dream to become true ninja, Ukrainian designer Andrey Kurovets created kid's watch Ninja Time. Fearless ninjas' eyes on the dial indicate the hours and minutes, and bulging ears - the wheels to adjust the time.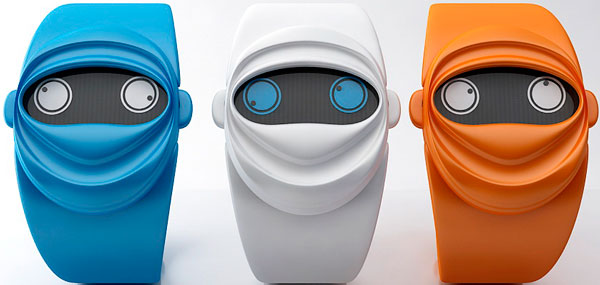 Ninja Time watches - accessory for true ninja
Russian manufacturers of children's watches are not too far behind their peers and produce equally interesting and high-quality models. For example the brand under the name Tik-Tak, registered in 2002, has already won the respect and affection of children across Russia. Kid's watch Tik-Tak is made for both boys and girls. Bright dials with cartoon characters satisfy even the most capricious child. In devices is set a high quality Quartz Seiko, which produces the same name Japanese company.


Russian watches Tik-Tak
Finally, if your child has grown up and started well oriented in time, you can purchase children's digital watch. Leader that manufactures children's digital watches is the legendary company Casio. Bright, sports, kid's Casio watches will be a real helper to your offspring. By the time it is easy to read, as well as children's Casio watches are equipped with an alarm clock, so the child does not sleep for school. Children's electronic accessory Casio Baby-G is designed specifically for active kids who cannot sit in one place and are in constant motion.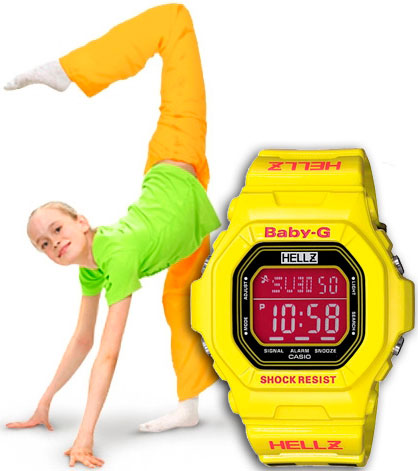 Casio - sports watches for sporty kids
In summary, we can safely say that the range of children's watches is so wide that choosing a specific brand is incredibly difficult. Still, if you decide to give your beloved child a watch, choose it wisely. And remember the words of the famous writer E. Schwartz of "Tales of the lost time" and do not let your kids are wasting their time!
Written by Samson