| | |
| --- | --- |
| Chimera Sideview by U-Boat | |
At the upcoming international watch exhibition BaselWorld- 2014, the watch brand U-Boat will introduce three new models Chimera, added to the known Sideview collection. All three products feature the peculiarities of the line - there is lateral window, opening to the eyes the splendor of the manufacturing mechanism.
The models are encased in a stainless steel case, released in a limited quantity of 300 items. The model in a case of gold is presented in an amount of 88 items. The third version is encrusted with the 309 black diamonds.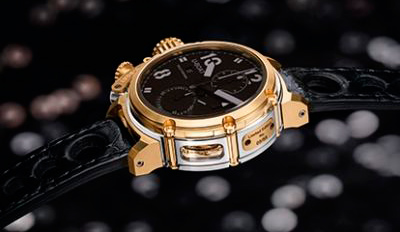 Chimera Sideview watch by U-Boat
Official site of U-Boat.
Written by Lucy Vuiton
20.02.2014
Interpretation of Classics from U-Boat: New Pocket Watch U-65
Creative genius of watchmaking company U-Boat Italo Fontana, which pays particular attention to detail in his work, and the latest trends, has presented a new project - a pocket watch U-65, combining skill and unique vision of time.
09.05.13 Comments(0)

The history of the company U-Boat, expressed in
Constructive mind of the company U-Boat creative designer Italo Fontana is always attracted with the forms and objects, characterized by a strong and timeless identity.
18.04.12 Comments(0)

Italian craftsmanship at the BaselWorld 2012: a luxury watch Black Swan by U-Boat
The well-known watch company U-Boat, the first watches of which were developed by Ivo Fontana in 1942 for the Italian Navy, now has firmly won its unshakable place in the watch industry, proving that the Italian watches are able to compete in all of its parameters with the Swiss, and with its design in some cases, even ahead of them.
26.03.12 Comments(0)

Novelties of U-Boat at Baselworld 2012
Italian watch company U-Boat has announced the release of two new watch models U-42 GMT and "B and B", the world premiere of which will be held at the upcoming watch exhibition Baselworld 2012.
13.02.12 Comments(0)



U-Boat is Italian brand, the first watch which was developed by Ivo Fontana in 1942 for the Navy in Italy. Development of watches was conducted in the laboratory «Officine Fontana». The military model of Ivo Fontana has different functionality and powerful design: a large building, readable dial with Arabic numerals hypertrophied, and specific detail - crown hours, was located on the left side, which essentially allowed to win in the functionality and security. However, because of the war the Italian watches were not released to mass production. Only in 1999 they were sold. Past reputation of the company restored the grandson of Ivo Fountains - ...
Detailed information U-Boat