| | |
| --- | --- |
| News of Montre24.com: exclusive video of U-Boat with Italo Fontana at BaselWorld 2012 | |
Information watch portal montre24.com presents to all lovers of fine watch making and lovers of original watches an exclusive video clip of the famous Italian watch company U-Boat, which kindly opened the door of its pavilion at BaselWorld 2012. U-Boat is an Italian brand, the first few watches of which were developed by the Ivo Fontana in 1942 for the Italian Navy. Today the world-renowned designer of U-Boat and grandson of legendary Ivo Fontana - Italo Fontana, whose wrist watches have gained immense popularity among celebrities, has kindly agreed to demonstrate the new U-Boat watches, presented at the annual exhibition BaselWorld 2012. The first novelty presented in the video clip, is U-Boat watch from the collection 1001. The main distinguishing feature of the new watch U-Boat, made of titanium with black PVD coating, has become an extremely convex sapphire glass, which allows dive to a depth up to 1000 meters. The next presented model is U - 42 with titanium case of diameter 53 mm. The model is equipped with a function of three time zones. U - 42 "B and B" is another new model, made of bronze and titanium with black PVD. The company also proudly introduced the new watch U-Boat Black Swan, decorated with black diamonds. Information watch portal montre24.com provides a unique opportunity for all, who could not attend this grand event of the watch industry and jewelry - the video clip http://montre24.com/video/90/ and http://montre24.com/video/91/, which introduce wrist watches U-Boat at BaselWorld 2012.
The annual exhibition BaselWorld now is one of the most important events of the surprising watch and jewelry world. BaselWorld exhibition has become a kind of "sacred" place - "Mecca" of watch industry, in which presents the latest achievements of the watch industry and the creation of luxury jewelry companies. BaselWorld is a unique opportunity for watch, jewelry, as well as for companies, producing related products, as well as for companies engaged in production and processing of precious stones to familiarize the general public, professionals, distributors, partners and potential customers with their latest achievements in the field of watch mechanics and various design ideas and new models that are the result of painstaking work of skilled craftsmen. BaselWorld is not just an exhibition, and exhibition - fair, because guests can purchase their favorite watch or jewelry on the spot.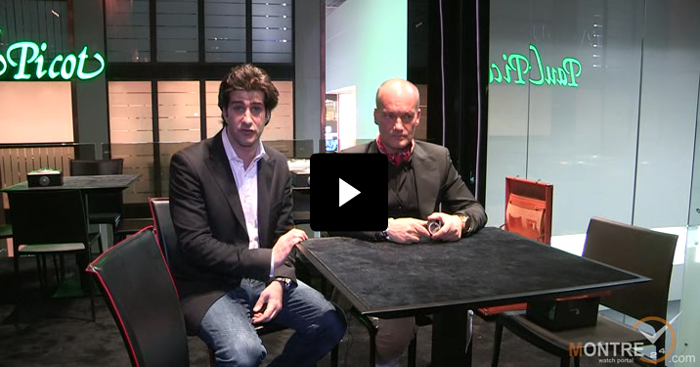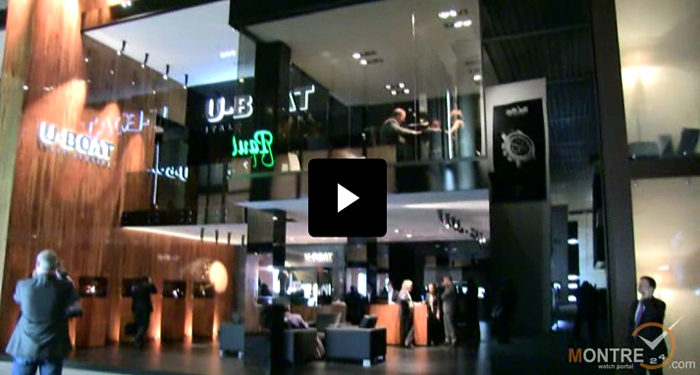 23.03.2012
Chimera Sideview by U-Boat
At the upcoming international watch exhibition BaselWorld- 2014, the watch brand U-Boat will introduce three new models Chimera, added to the known Sideview collection.
20.02.14 Comments(0)

Interpretation of Classics from U-Boat: New Pocket Watch U-65
Creative genius of watchmaking company U-Boat Italo Fontana, which pays particular attention to detail in his work, and the latest trends, has presented a new project - a pocket watch U-65, combining skill and unique vision of time.
09.05.13 Comments(0)

The history of the company U-Boat, expressed in
Constructive mind of the company U-Boat creative designer Italo Fontana is always attracted with the forms and objects, characterized by a strong and timeless identity.
18.04.12 Comments(0)

Italian craftsmanship at the BaselWorld 2012: a luxury watch Black Swan by U-Boat
The well-known watch company U-Boat, the first watches of which were developed by Ivo Fontana in 1942 for the Italian Navy, now has firmly won its unshakable place in the watch industry, proving that the Italian watches are able to compete in all of its parameters with the Swiss, and with its design in some cases, even ahead of them.
26.03.12 Comments(0)

Novelties of U-Boat at Baselworld 2012
Italian watch company U-Boat has announced the release of two new watch models U-42 GMT and "B and B", the world premiere of which will be held at the upcoming watch exhibition Baselworld 2012.
13.02.12 Comments(0)



U-Boat is Italian brand, the first watch which was developed by Ivo Fontana in 1942 for the Navy in Italy. Development of watches was conducted in the laboratory «Officine Fontana». The military model of Ivo Fontana has different functionality and powerful design: a large building, readable dial with Arabic numerals hypertrophied, and specific detail - crown hours, was located on the left side, which essentially allowed to win in the functionality and security. However, because of the war the Italian watches were not released to mass production. Only in 1999 they were sold. Past reputation of the company restored the grandson of Ivo Fountains - ...
Detailed information U-Boat