A well-known watch company HYT introduced its next watch creation - H2 Titanium & White Gold Blue. The new model has become the continuation of the famous line H1. The main feature of watches from the line H1, which has also been given to the models of new series H2, is the use of liquid to indicate the time. The watch has two flexible reservoir, which are fixed at the ends of the capillary.
They are filled with fluorescein and transparent viscous liquid, which it does not mix because of different densities. These reservoirs are located at the 6 o'clock position. In the case when one tank is compressed, and the second, in its turn, expands to provide movement of fluid. With the changing of time the fluid moves in the tube. The meniscus is a crescent-shaped marks the limit between the liquids, indexing time. At the 6 o'clock position is the last point. The fluid then moves to the initial position. Two bellows supporting tanks, is made of durable, flexible thermal insulation alloy, and are driven by a piston. All this hydro system works on the basis of mechanical caliber with manual winding.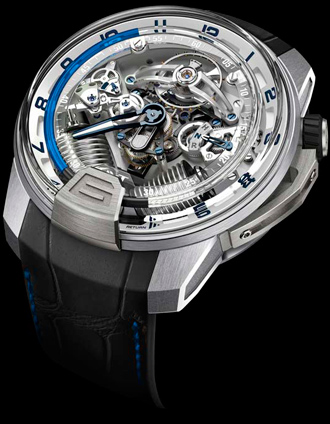 HYT H2 Titanium & White Gold Blue (Ref. 248-TW-00-BF-RA)
Compared with the model H2, presented in 2013, a new version of H2 Titanium & White Gold Blue is presented in case with diameter 48.8 mm, made of titanium and white gold polished to satin sheen.
The liquid used for the time display, is blue, in which indexes and numbers are also made.
The dial of watch H2 Titanium & White Gold Blue is skeletonized through which you could see the inner contents of watch.
The watch H2 Titanium & White Gold Blue comes with a leather strap, which is equipped with a black titanium buckle.
Official site of HYT.
Freya
31.01.2014