November 4, 2012 in Mexico City the watch exhibition Salon International ALTA RELOJERIA (SIAR) was held, on which the HYT H1 watch won the first place in the category of Best Concept Watch Award 2012.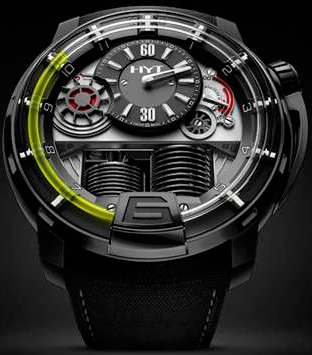 HYT Exclusive Watches were awarded Best Concept Watch Award
The unique watch of the company HYT works by a mechanism, which consists of two welded flexible tanks, which are fixed on the edges of the capillary tube. One of them is a fluorescent liquid, which is present in the water, in the second - a viscous, clear liquid. When the first tank is compressed, the second - is stretched and vice versa.
This unique piece, called HYT H1, was acknowledged at the Salon International ALTA RELOJERIA exhibition.
Official website of HYT watches.
Written by Angel
09.10.2012