| | |
| --- | --- |
| Mesut Özil - a new face of Cyrus | |
The famous football player Mesut Özil, who plays for Real Madrid and the German national team, has become the new ambassador of the Swiss watch company Cyrus Genève. Henceforth the exclusive chronographs of Cyrus will be gracing the athlete's wrist during his performances.
The successful athlete will represent the Cyrus watches in the international campaign, which includes print and online advertising, POS-promotion, as well as global charitable projects that will play a pivotal role in this cooperation.
Co-founder and CEO of Cyrus, Laurent Lecamp said: "I admire Mesut Özil, his athletic talent and skill, as well as his reserved character and a sense of the elbow. He embodies the highest level of professionalism, irrepressible energy and team spirit. This brings him to the philosophy of Cyrus, in our opinion, it is - the perfect ambassador of the company."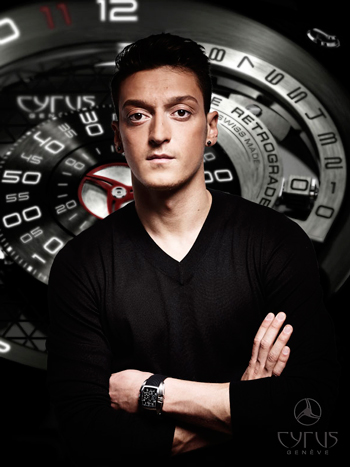 Mesut Özil – a new face of Cyrus
Mesut Özil, in turn, said: "Cyrus - is a powerful young company, applying the best materials for the design and manufacture of top-notch specimens of watchmaking. I was intrigued by the rare innovative watch design and desire for perfection down to the smallest detail. All this together shows my own style."
In the framework of cooperation, Mesut Özil may propose the design of a new exclusive model from Cyrus.
Official site of Cyrus.
Written by Lucy Vuiton
07.06.2013
Kambys Timepiece by Cyrus for Only Watch 2013
Swiss watchmaker Cyrus specifically for a charity auction Only Watch 2013, which will take place on September 28 in Monaco, has launched a unique new model Kambys.
30.05.13 Comments(0)

Cyrus Cooperates with W Motors
The company Cyrus has recently became a partner of W Motors (W - wolf) - a Lebanese car brand, the first Arab manufacturer of luxury cars in the Middle East, which has brought together engineers from Magna Steyr Torn and designers from Studio Torino.
16.03.13 Comments(0)

Watch from Mars CYRUS Klepcys Mars
Is there life on Mars or not – science doesn't know it. This popular saying is easy to refute. Today's scientists have proved that life on the red planet exists and there are even produce watches named Klepcys Mars! The maker of chronograph is Swiss company CYRUS.
14.08.12 Comments(0)

News of Montre24.com: exclusive video of the company Cyrus at GTE 2012
Information watch portal Pam65.ru time provides a unique opportunity to all lovers of the complex and amazing watch making, which are closely watching for its latest trends, innovations and ideological incarnations, to see the magnificent and certainly deserving of special attention models of the watch company Cyrus, which the company proudly presented at GTE 2012.
29.02.12 Comments(0)

Novelties of Cyrus at GTE 2012
The watch company Cyrus has presented at the GTE 2012 two new additions to Klepcys and Kuros collections. The novelty of the Klepcys line is developed in collaboration with Jean-Francois Mozhon.
17.01.12 Comments(0)

In September 23, 2011, a charity auction Only Watch was held
In September 23, 2011, on Friday, a charity auction Only Watch was held under the patronage of His Highness Prince Albert II. The proceeds for the auction will be given for research into Duchenne muscular dystrophy. The auction is held every two years, and among its members the most prestigious Swiss watch brands appear.
26.09.11 Comments(0)



The watch brand CYRUS was founded by two cousins - Julian and Laurent. The architect and engineer, Julien has been developing and designing of products, graphic design and brand responsible for the 3D-animation. Julien, closely working with Laurent, is watching for new trends and material selection. Laurent spent several years in marketing and selling of watch products in more than 60 countries. He has developed a marketing strategy and use special marketing and sales tools. The roots of the brand's history begin with the conqueror Cyrus the Great (2500 years ago). The watches CYRUS...
Detailed information Cyrus