| | |
| --- | --- |
| Watch from Mars CYRUS Klepcys Mars | |
Is there life on Mars or not – science doesn't know it. This popular saying is easy to refute. Today's scientists have proved that life on the red planet exists and there are even produce watches named Klepcys Mars! The maker of chronograph is Swiss company CYRUS.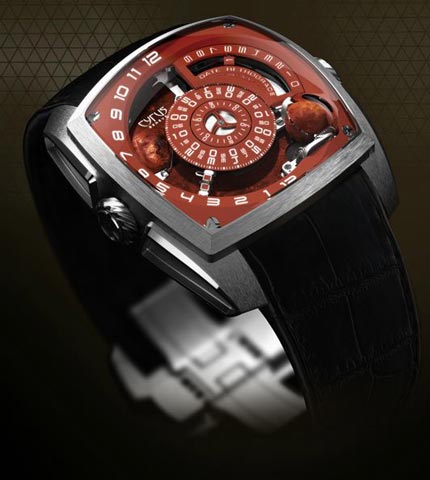 Klepcys Mars watch
Brand CYRUS was founded by cousins Loran and Julien. Every detail of their wrist watches is made absolutely in Switzerland. Chronographs are made by painstaking experienced watchmakers. Brand CYRUS developed and patented exclusive functions and properties of watches. Three-dimensional properties are one of a kind.
Not long ago Swiss watch company CYRUS presented the newest model called Klepcys Mars. This watch can be really called Martian. Wrist watch Klepcys Mars is the modified chronograph Cyrus Klepcys, where instead of Moon is set a model of Mars, which makes the turn around its axes in real time in 24 hours, 37 minutes, 22 seconds.
Wrist watch Klepcys Mars is high quality product of collective work brand CYRUS and popular watchmaker Jean-Francois Mojon, who has already worked with brand Harry Winston, and developed wrist watch Harry Winston Opus X.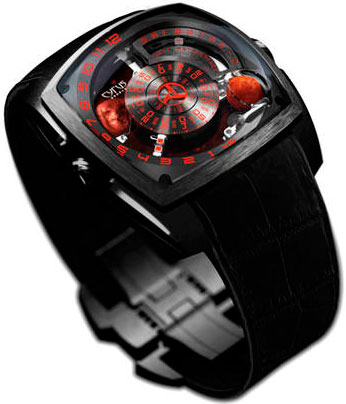 Klepcys Mars watch
In the right corner of the dial of exclusive watch Klepcys Mars there is miniature the copy of Mars, which moves with the same speed as the real planet. At the position of "7 hours" there is a picture of popular "Martian sphinx". "Martian sphinx" is a stone formation at the surface of the red planet, which is on the first pictures with cosmic station "Viking – 1" 1976 year was much more like a human face. New model of the brand CYRUS Klepsyc Mars is produced in limited series of 66 pieces. If you will like this novelty – just hurry up!
Official site of Cyrus watches.
Written by Samson
14.08.2012
Mesut Özil - a new face of Cyrus
The famous football player Mesut Özil, who plays for Real Madrid and the German national team, has become the new ambassador of the Swiss watch company Cyrus Genève. Henceforth the exclusive chronographs of Cyrus will be gracing the athlete's wrist during his performances.
07.06.13 Comments(0)

Kambys Timepiece by Cyrus for Only Watch 2013
Swiss watchmaker Cyrus specifically for a charity auction Only Watch 2013, which will take place on September 28 in Monaco, has launched a unique new model Kambys.
30.05.13 Comments(0)

Cyrus Cooperates with W Motors
The company Cyrus has recently became a partner of W Motors (W - wolf) - a Lebanese car brand, the first Arab manufacturer of luxury cars in the Middle East, which has brought together engineers from Magna Steyr Torn and designers from Studio Torino.
16.03.13 Comments(0)

News of Montre24.com: exclusive video of the company Cyrus at GTE 2012
Information watch portal Pam65.ru time provides a unique opportunity to all lovers of the complex and amazing watch making, which are closely watching for its latest trends, innovations and ideological incarnations, to see the magnificent and certainly deserving of special attention models of the watch company Cyrus, which the company proudly presented at GTE 2012.
29.02.12 Comments(0)

Novelties of Cyrus at GTE 2012
The watch company Cyrus has presented at the GTE 2012 two new additions to Klepcys and Kuros collections. The novelty of the Klepcys line is developed in collaboration with Jean-Francois Mozhon.
17.01.12 Comments(0)

In September 23, 2011, a charity auction Only Watch was held
In September 23, 2011, on Friday, a charity auction Only Watch was held under the patronage of His Highness Prince Albert II. The proceeds for the auction will be given for research into Duchenne muscular dystrophy. The auction is held every two years, and among its members the most prestigious Swiss watch brands appear.
26.09.11 Comments(0)



The watch brand CYRUS was founded by two cousins - Julian and Laurent. The architect and engineer, Julien has been developing and designing of products, graphic design and brand responsible for the 3D-animation. Julien, closely working with Laurent, is watching for new trends and material selection. Laurent spent several years in marketing and selling of watch products in more than 60 countries. He has developed a marketing strategy and use special marketing and sales tools. The roots of the brand's history begin with the conqueror Cyrus the Great (2500 years ago). The watches CYRUS...
Detailed information Cyrus